Easter Catering 2021
Order by calling us at 518-482-2667 x254.
Deadline is April 1st for pickup April 3rd or 4th
Easter Brunch for four is just $65.99 and features:
Leek and Chevre Quiche
Garlic and Dill Roasted Potatoes
Roasted Asparagus, Green Beans and Carrots
Blueberry Muffins
Cherry Cardamom with Hibiscus Mimosa Mixer(make sure to grab some Classic Nine Pin Cider when you're here!)
Both the quiche and muffins can be made vegan or gluten-free upon request!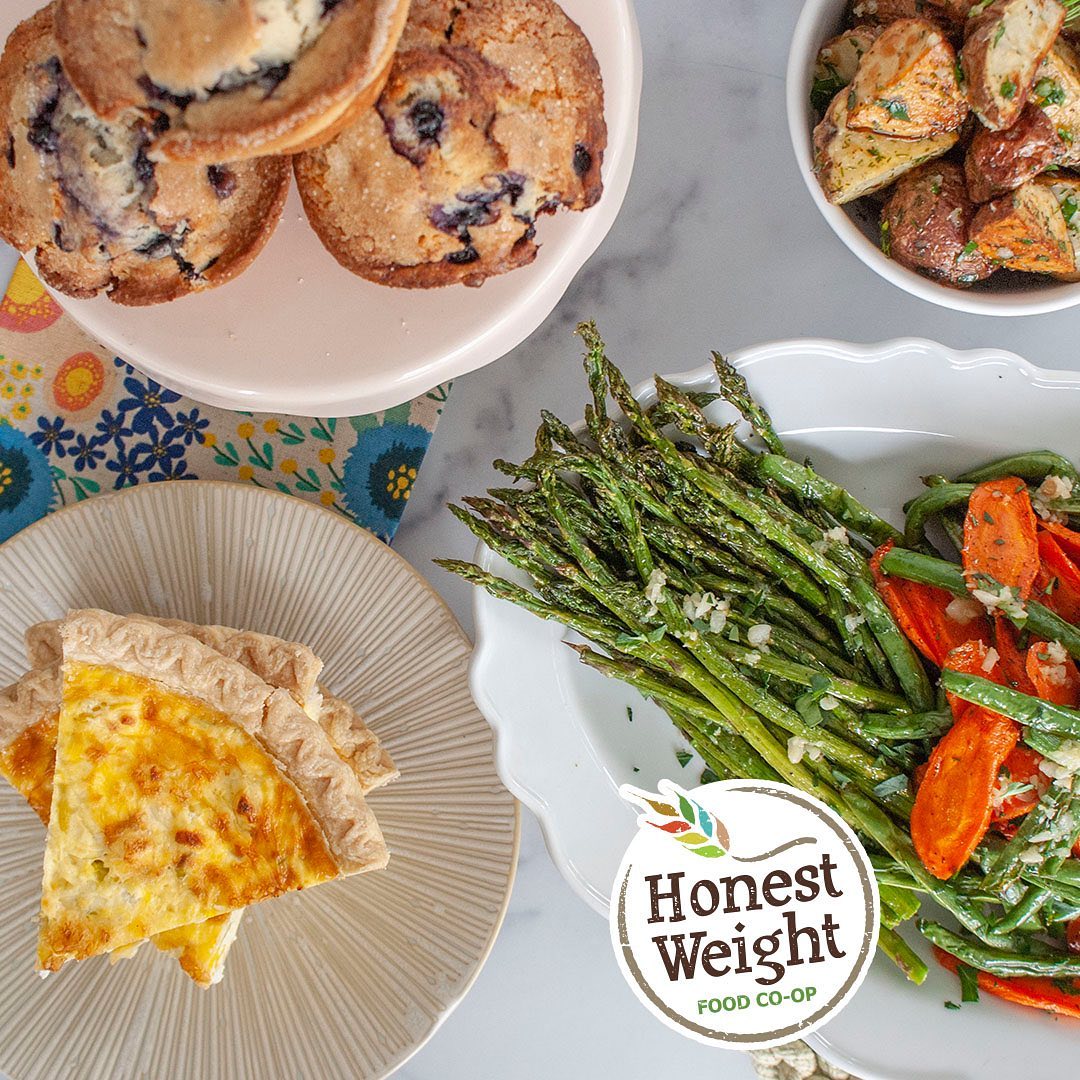 We're offering two dinner options for $69.99, both serve four and are completely gluten-free.
Our Classic Easter Dinner includes:
Old World Provisions Glazed Ham
Maple and Stone-Ground Mustard Glaze
Loaded Leek and Cheddar Mashed Potatoes
Roasted Asparagus, Green Beans and Carrot Medley
Our Vegan Dinner includes:
Glazed Smoky Grilled Tofu Steak
Maple and Stone-Ground Mustard Glaze
Leek Mashed Potatoes
Roasted Asparagus, Green Beans and Carrot Medley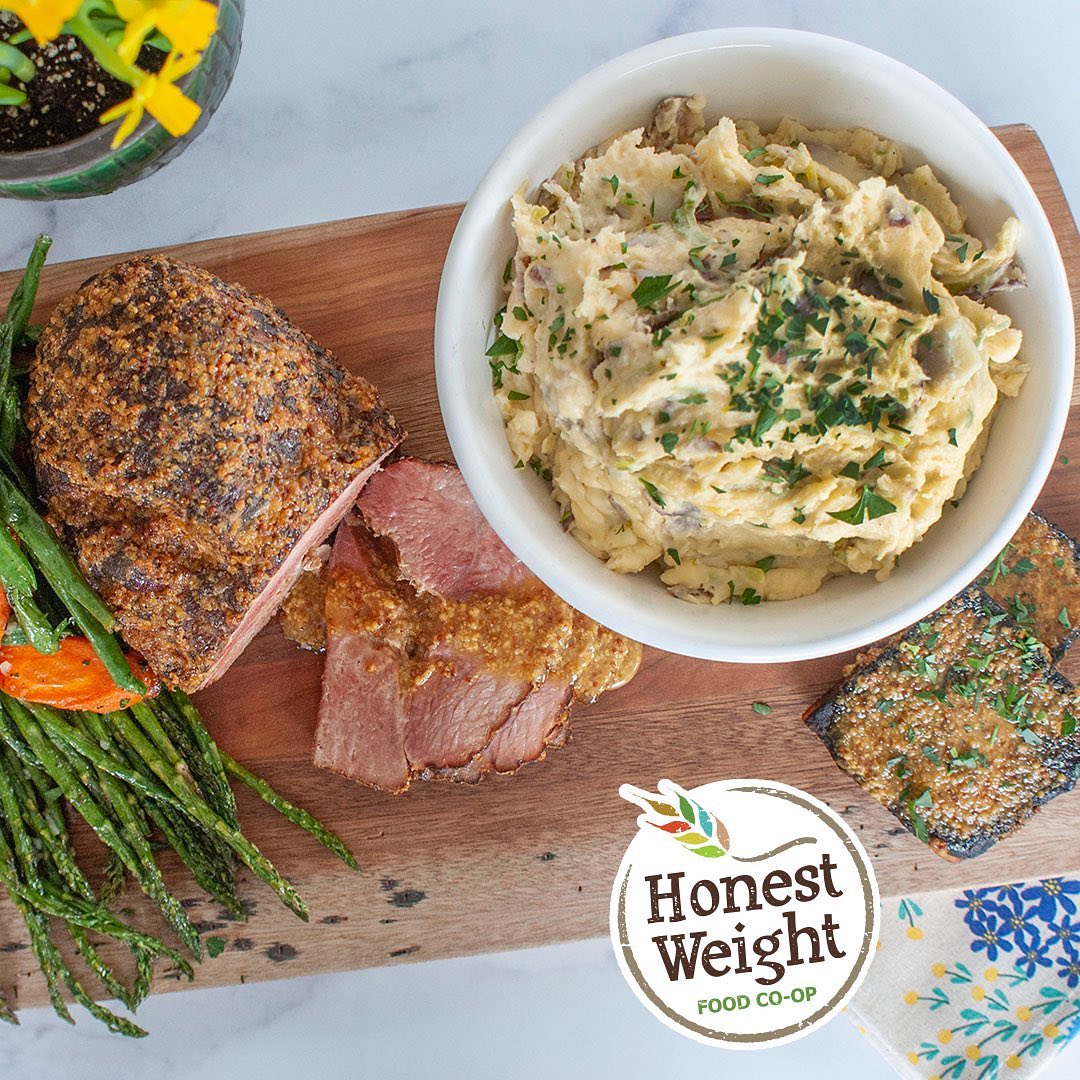 Ready to order? Give our kitchen a call at 518-482-2667 x254, or stop by in person!
Check out our everyday catering menu, featuring hot and cold appetizers, entrees, bag lunches, sides, salads, cheese platters, and sweets!
HOW TO ORDER
Catering orders may be placed in-store, by emailing catering@honestweight.coop, or by calling 518-482-2667 x254. Cheese platters are available by calling or through our online shop. For custom catering orders, specialty cake orders, or substitutions, please speak with one of our staff members in person.
We require a minimum of 48 hours to fill catering orders. A longer lead time may be required for custom and specialty orders, large orders, or holiday catering.
PAYMENT & PICK UP
Large or specialty orders may require a partial deposit. Full payment will required at time of pick-up. Member discounts apply to personal orders up to $400. We require 48 hours notice to receive a full refund on cancellations. Menu and prices are subject to change.
Your order will be available for pick up in our Deli & Food Service area at the agreed upon time and day. We do not offer catering delivery at this time. Items are unheated at time of pick up and require heating, unless otherwise specified. If you would like you items hot & ready-to-serve, please inquire when placing your order. Plates and utensils are not included.
INGREDIENTS & ALLERGENS
Our food is made fresh from scratch using only natural ingredients. All items are made in-house unless otherwise noted, in which case they are sourced from one of our local partner businesses. Our chefs use organic and local ingredients whenever feasible, and we partner with local farms to provide us with local, in season fruits and vegetables. Preference is also given to available regional and seasonal ingredients, whole grains, and whole grain products.
We strive to offer a wide variety of options to serve most diets. Our kitchen is not Certified Gluten-Free®, but we provide a large selection of items that are carefully made without gluten. Let our staff know yours and your guests' dietary restrictions when placing your order. Items are marked using the key below, and many items are available with modifications to adapt for different diets.
V- Vegan
GF- Made Without Gluten
VEG- Vegetarian
AVAILABILITY
Many of the local businesses we source from rely on a small team or an individual to craft specialty menu items. As unexpected circumstances occasionally arise after an order is placed, we cannot always guarantee their availability. In the event that we are unable to offer an item previously requested, our staff will notify and work with you to select other appropriate items. We appreciate your understanding!
Upcoming Classes & Events
Cancelled - All Upcoming Classes & Events Until Further Notice