Co-op Café Daily Hot Bar Menu
Our Hot Bar offerings change daily, with each menu crafted by one of our entrée chefs.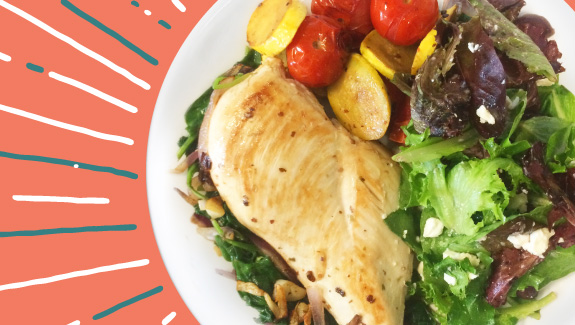 All our food is made fresh from scratch using only natural ingredients, following our strict buying policies, which you can read about in our Food & Product Manual. We always offer vegetarian, vegan, and gluten-free alternatives. Our chefs use organic ingredients whenever feasible, and we partner with local farms to provide us with local and in season fruits and vegetables.
You'll notice that the menus often honor the cuisine of a different country or people. Not sure what something is? Just ask! Ingredients are listed at the Hot Bar so you know exactly what you're eating.
Please note that sometimes last-minute changes are made based on ingredient availability, and they don't always make it onto our website. Please call ahead to be sure if you are planning to come in for a specific meal! You can reach us at 518-482-2667.
Monday, February 12
Eggplant Parmesan
Vegan Lasagna
Balsamic Vegetable Medley
Potato Mushroom Marsala
Brown Rice
Broccoli
Tuesday, February 13 - MARDI GRAS MENU
Cajun Chicken
Vegetable Gumbo
Creole Green Beans
Red Beans
Wednesday, February 14
CAJUN CHICKEN
VEGAN JAMBALAYA
VEGAN DIRTY RICE
RED BEANS
CAJUN VEGETABLE MEDLEY
BROCCOLI
Thursday, February 15
COQ AU VIN
FRENCH COUNTRY STEW
PROVENCAL POTATOES
MARSALA MUSHROOMS
CARROTS VICHY
BROCCOLI
Friday, February 16
PERUVIAN CHICKEN & PORK STEW
VEGAN CARBONADA CRIOLLA
CHEESY POTATOES
ROASTED CORN & LEEKS
AJI AMARILLO QUINOA
BROCCOLI
Saturday, February 17
CHICKEN PARMESAN
VEGAN PASTA BAKE
PARMESAN ROASTED POTATOES
WINTER VEGETABLE MEDLEY
GREEN BEANS
BROCCOLI
Sunday, February 18
Monday, February 19
Vegetable Pot Pie
Seitan Burgundy
Green Beans Almondine
Wild Rice
Roasted Potatoes
Broccoli
Tuesday, February 20
LEMON GARLIC CHICKEN
SEITAN CON SALSA VERDE
CUMIN CORN
PEAS AND MINT
ROASTED POTATOES
BROCCOLI
Wednesday, February 21
Chicken Francaise
White Bean & Potato Piccata
Rice Pilaf
Rosemary Potatoes
Green Beans & Carrots
Broccoli
Thursday, February 22
CAJUN RUBBED CHICKEN
SPICY CREOLE TOFU
COLLARDS AND CABBAGE
CARAMELIZED BUTTERNUT
RICE
BROCCOLI
Friday, February 23
CUBAN CHICKEN PIE
BLACK EYED PEA STEW
PLANTAINS & SPINACH
SPICY YELLOW RICE
COUCOU (Caribbean Grits)
BROCCOLI
Saturday, February 24
HERB ROASTED CHICKEN
CHEESY MUSHROOM POLENTA
GREEN BEANS & FENNEL
RATATOUILLE
BROWN RICE
BROCCOLI
Sunday, February 25
Chicken & Potato Stew
Three Sisters Casserole
Maple Bacon Cornbread
Iriquois Succotash
Wild Rice
Broccoli
Monday, February 26
ENCHILADA CASSEROLE
PAPAS CON SEITAN CHORIZO
SWEET CORN TAMALITOS
FAJITA VEGETABLES
ARROZ AMARILLO
BROCCOLI
Tuesday, February 27
CURRIED CHICKEN
GOANESE CURRY
CUMIN PEAS & CARROTS
CABBAGE & MUSTARD SEED
BROWN RICE
BROCCOLI
Wednesday, February 28
Chicken Cacciatore
Vegan Tempeh Bolognese
Balsamic Vegetables
Roasted Green Beans
Italian Herb Rice
Broccoli
HWFC Fresh News
This Friday, February 9th, from 11am to 2pm, stop by Honest Weight's Cheese and Specialty Department to meet Berle Farm's cheesemakers and dairy artisans, Beatrice Berle and Vi Huu Wood....
Did you know Honest Weight hosts community art exhibits? Our gallery is located in the hallway outside of the Community Room and Teaching Kitchen. Our winter show's theme is "Whatever Your...
Spicy food fans will find plenty to cheer about with these jalapeños stuffed with spiced pork and smoked cheddar. Serves: 18. Prep time: 10 minutes active; 30 minutes total. Ingredients