All of our hot coffee is Fair Trade and organic!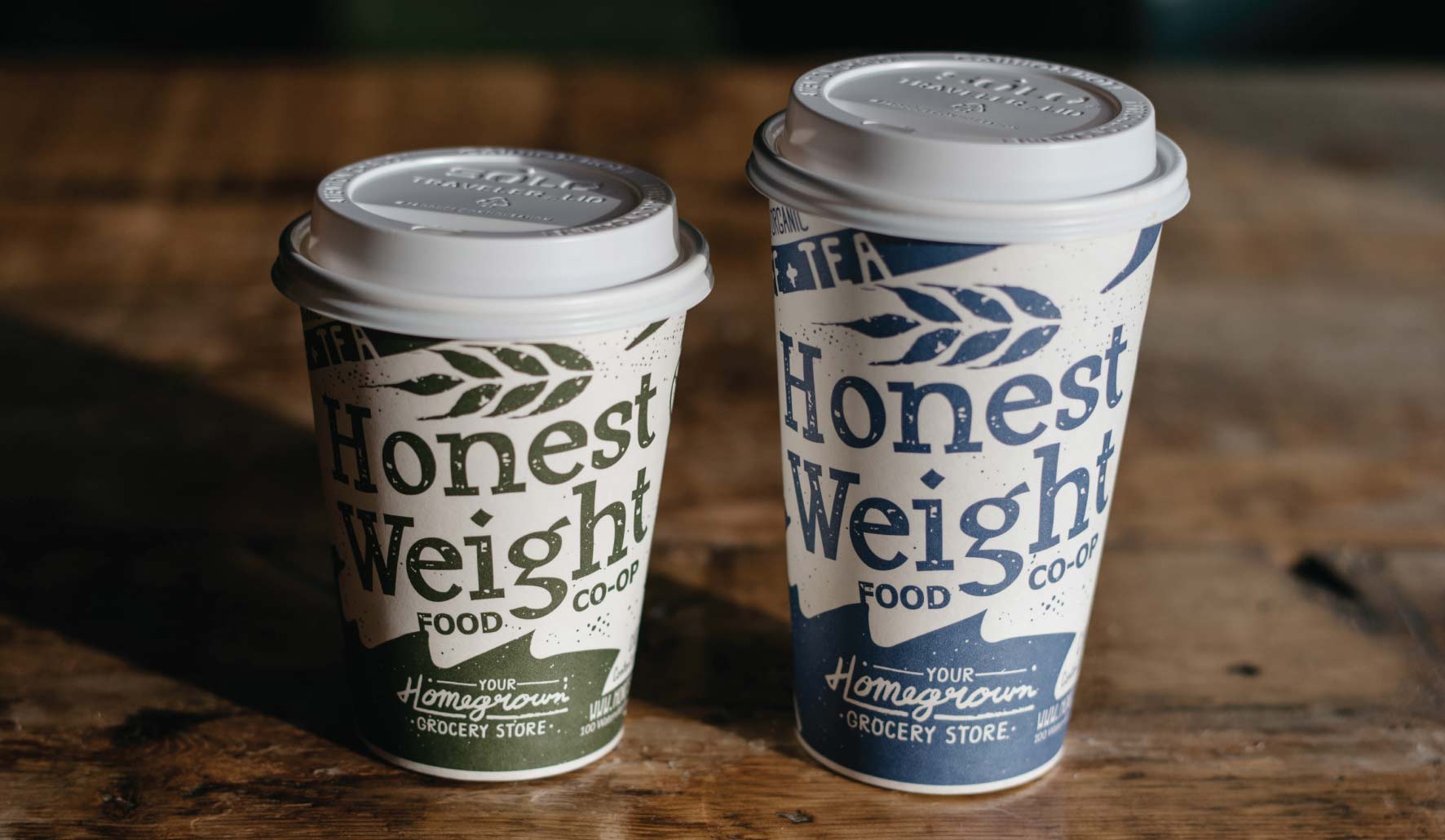 Every day, we offer a selection of light to dark roast coffees, herbal teas, seasonal specialty drinks that change weekly.
We offer self-serve natural, Fair Trade sugar, local honey, maple syrup, and a variety of dairy and non-dairy creamers: local, non rBGH, hormone-free milk and cream, soy milk, almond milk, coconut milk, and others on occasion.
We have paper to-go cups as well as ceramic mugs in 12 and 16 ounce sizes so you can enjoy your beverage in our cafe without creating waste. You're also invited to bring in your own travel mug and receive 15¢ off your purchase of coffee, tea, juices, and smoothies!

Buy 10 cups of coffee, tea or cider & get the 11th free!
Ask for a Co-op Coffee Club Card at the register.




Drip Coffee
12oz $1.49 16oz $1.99
(Locally-Roasted, Fair Trade, Organic)
Assorted Teas
All sizes $1.49
SerendipiTea (Local, USDA Organic)
Nitro Cold Brew
12oz only $2.99
Made with Capital City Coffee Roasters Espresso Blend

Cold Brewed Iced Coffee
12oz $1.99 16oz $2.49

Latte
Double Shot Espresso & Steamed Milk
12oz $2.99 16oz $3.49

Cappuccino
Double Shot Espresso & Foam
12oz $2.99 16oz $3.49

Café au Lait
Brewed Coffee & Steamed Milk
12oz $2.99 16oz $3.49

Breve
Double Shot Espresso & Steamed Half & Half
12oz $4.49 16oz $4.99

Mocha Latte
Double Shot Espresso, Steamed Milk, Fair Trade Sweetened Cocoa & Dark Chocolate
12oz $3.49 16oz $3.99

Caramel Latte
Double Shot Espresso, Steamed Milk, & Housemade Caramel Sauce
12oz $3.49 16oz $3.99

Chai Latte
House Brewed Chai Tea & Steamed Milk
12oz $2.99 16oz $3.49

Redeye
Brewed Coffee & Double Shot Espresso
12oz $2.99 16oz $3.49

Americano
Double Shot Espresso & Hot Water
12oz $1.99 16oz $1.99

Double Shot of Espresso
$1.99
Additional shot 99 cents
Our coffee beans are sourced from these local roasteries:
Capital City Coffee Roasters - Albany, NY
Liquid Assets - Troy, NY
Equal Exchange - West Bridgewater, MA
Democracy Coffee - Berne, NY
Tierra Farms - Valatie, NY
Upcoming Classes & Events
Cancelled - All Upcoming Classes & Events Until Further Notice