You're Invited To HWFC's Monthly Coffeehouse Open Mic, Now Every Month on the Third Wednesday!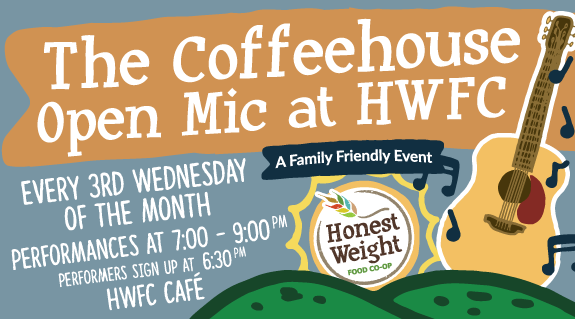 Join us on the third Wednesday of each month from 7-9pm for a night of community music, poetry, and storytelling in our Cafe. All are welcome to perform at this community event, or just grab a latte and listen to talented members of the HWFC community!
6:30pm performer sign-up
7:00pm - 9:00pm performances
Beverages and great snacks, goodies, and food can be purchased at HWFC. Alcoholic beverages of any kind are not permitted. Outside food and beverages of any kind are not permitted. This is family friendly event for all ages.
Interested in performing? Sign up and check in starting at 6:30pm in the Honest Weight Cafe. Time slots will be assigned in order of performer check-in. Contact the Membership Committee at Membershipcomm@honestweight.coop for more information.
Please note that Member-Owners will not receive time investment hours for performing or as audience members.
Upcoming Classes & Events
Cancelled - All Upcoming Classes & Events Until Further Notice
HWFC Fresh News
Eating Good on the Cheap – Smart Ways to Stretch Your Dollars! As we begin the new year, some of us are re-evaluating aspects of our lives that 2020 brought to...
Honest Weight Food Co-op is happy to announce that we will be 100% Community Solar Powered beginning in January 2021. Want to join us?
Updated Monday, October 19, 9:00 AM Monday, Wednesday, Friday: Open to elder and high risk shoppers 7am-8am Every Day: Open to all 8am-9pm We are closed on Thanksgiving Day. NEW UPDATE (effective Monday, October 19th) All...