Supporting Abany Wine & Dine 10 Years and Counting!
This year, we're honored to present Saturday's Grand Gala Reception & Six-Course Vegetarian Menu, prepared by Chef Courtney Withey! Our partnership with Chef Courtney for the Grand Gala Reception's Vegetarian Menu is a natural one--she shares in Honest Weight's dedication to supporting, preparing, consuming, and promoting local and sustainable food.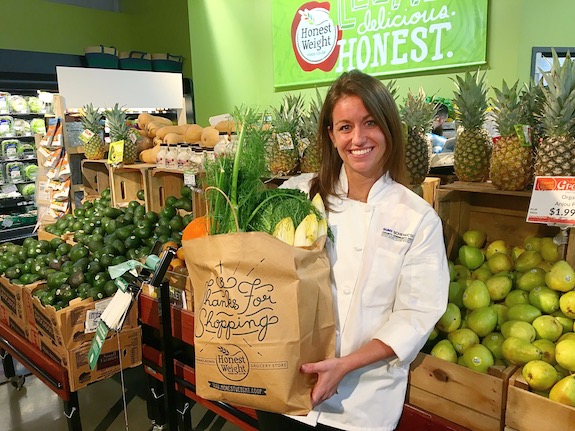 Chef Courtney was blown away by Honest Weight's extensive bulk goods and fresh produce and found all but a few of the ingredients needed for her Indian-inspired culinary masterpiece at Honest Weight. We are so honored to donate our fresh, local, and delicious food for Chef Courtney to prepare in support of Wine Festival Wine & Dine for the Arts!
"I knew you guys had a local focus, but I had no idea just how much great local produce, cheese, and bulk goods you guys have! I love this place!"
- Chef Courtney Withey, Culinary Instructor, SUNY Schenectady
& Certified Executive Chef, American Culinary Federation
The mission of the festival, which is celebrating its tenth anniversary in 2019, is to provide sustainable funding for the support and preservation of the not-for-profit arts community in Albany, NY, through an annual 3-day Food & Wine themed Festival that markets our restaurants, chefs, and their innovative cuisine; educates consumers on healthy, sustainable agriculture; and donates all net income directly to deserving non-profit arts organizations.
This year's Premier Beneficiarie are the Albany Barn, Capital Repertory Theatre, The Palace Theatre and Park Playhouse.
Spotlight Beneficiaries this year are the Albany Center Gallery, Albany Institute of History & Art, The Albany Symphony, Black Dimension in Art, Capitaland Chorus, eba, Capital Cinema and Steamer No. 10.
More information and tickets to the Grand Gala are available here!