We have some very exciting Happenings in Honest Weight's Cheese Department right now.
These cheeses are so delicious served around your table. Come in to try a taste and talk cheese with our staff.
» St. Stephen
This is a spectacular triple crème cheese made in the heart of the Hudson Valley.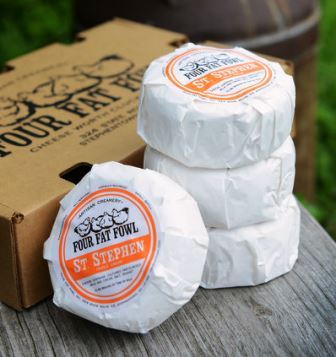 It is a beautiful, hand-crafted cheese that bursts with buttery and milky overtones. It has a smooth, silky interior made from all natural Jersey Cow's milk and fresh Jersey cream that creates the perfect texture. The soft, bloomy rind adds an earthy flavor with nutty undertones. St. Stephen will leave you wanting more to share with a friend and a glass of wine. This classic cheese works any time of the day. You can spread it on your toast for breakfast, serve it as an appetizer before dinner or dress it up with some honey or berries for an elegant dessert.
» Ubriaco Prosecco Cheese

This cheese is especially noted by its signature Grape Leaf decorated top. It is made in Veneto, Italy. The cheese is immersed for about two months in tubs full of Prosecco Wine and then aged for about six months. The pasteurized cow's milk cheese absorbs the flavor of flowers and fruits such as the golden apple and pears from the Prosecco wine. This cheese has a very fresh flavor and is elegantly salted.
» Saint Angel Triple Crème
This cheese is luxurious, pillow-like, and covered with a fluffy, white rind. Beneath its rind lies an ivory paste with the texture of whipped butter. Its flavor is buttery too, made from pasteurized cow's milk, with the right amount of salt. It has a pleasantly strong tang by the rind, and a hint of earth and white mushroom. It's very, very rich so pair it with crisp green apples, juicy grapes, and crunchy bread.
» Melkbus Gouda Cheese with Truffles
After the curd is formed and just prior to the pressing and shaping of this cheese, shavings of Italian Black Truffles are generously sprinkled throughout the curd. The name 'Melkbus' means 'Milk Can,' and these were used in earlier times to transport fresh milk directly from the farms to the creamery for cheese making. Each Dutch Farm was given an identifying number which was stamped on top of the can. This allowed the creamery to identify where the milk came from as well as ensuring that the empty cans were returned to the correct farm.
» Ricotta Lemon or Chocolate Baked Guffanti Cheese
If you're thinking it looks like cheesecake, that's because it more or less is. It is made with rice flour, buffalo ricotta cheese, and lots of lemon or chocolate. This baked treat is delightfully sweet and quite elegant.

See more about Honest Weight's Cheese & Specialty Foods Department.



HWFC Fresh News
Where the term "Nest Egg" comes from, what it means, and how to get one.
The more time children spend outdoors, experiencing all nature offers to them, the more likely they will grow to love,...
Indian Ladder Farms just celebrated its centennial. Founded by Peter Gansevoort Ten Eyck in 1916 and located in Altamont, New...