Trick or Treat at the Co-op on October 31st!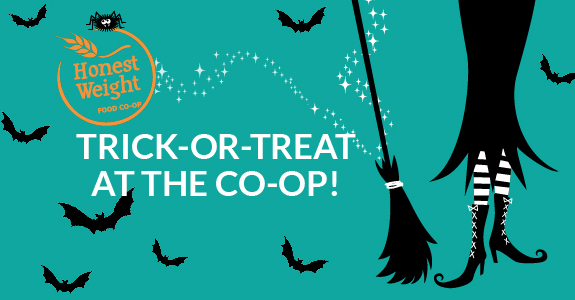 Join us on Tuesday, October 31st between 3 and 6:00pm for some not-so-scary snacks and activities! This year, we'll continue our tradition of opening the store to trick-or-treaters who will receive a treat at every department they visit! As always, we'll have healthy treats and some non-food gifts. This is a non-spooky event, perfect for smaller kids and bigger kids alike!
HWFC Fresh News
This Friday, February 9th, from 11am to 2pm, stop by Honest Weight's Cheese and Specialty Department to meet Berle Farm's cheesemakers and dairy artisans, Beatrice Berle and Vi Huu Wood....
Did you know Honest Weight hosts community art exhibits? Our gallery is located in the hallway outside of the Community Room and Teaching Kitchen. Our winter show's theme is "Whatever Your...
Spicy food fans will find plenty to cheer about with these jalapeños stuffed with spiced pork and smoked cheddar. Serves: 18. Prep time: 10 minutes active; 30 minutes total. Ingredients