Save 20% on Freebird Natural Chicken and Plainville Turkey!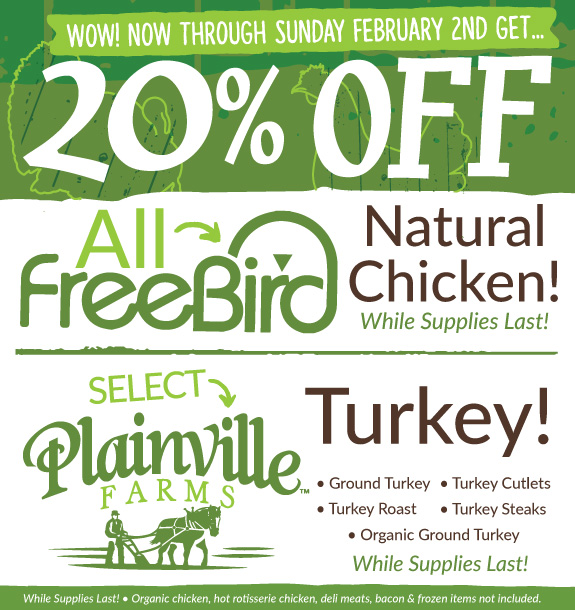 FreeBird and Plainville are Pennsylvania-based companies devoted to raising high-quality poultry on family farms. Their flocks are fed a high-quality, fortified diet of vegetarian grains and nutrients, because they know that better feed means better flavor. They have plenty of room to roam in comfortable barns where food and water are readily available. They never know hunger and have access to feed on their own schedules. They live in a stress-free environment and stay healthy without ever being given antibiotics.
Try this recipe for Feisty 5-Spice Chicken Wings!
or this one for Sriracha-Glazed Turkey Meatballs!
Now through February 2nd, you'll also save 20% on the following products:
Plainville Farms Ground Turkey
Plainville Farms Organic Ground Turkey
Plainville Farms Turkey Roast
Plainville Farms Turkey Steaks
Plainville Farms Turkey Cutlets
ALL Freebird Natural including Party Wings, Whole Chickens, Tenders, Drums, Thighs, Nuggets
Offer good while supplies last and does not include Freebird Organic Chicken, hot rotisserie chicken, Plainville deli meats, Plainville bacon, or frozen items.