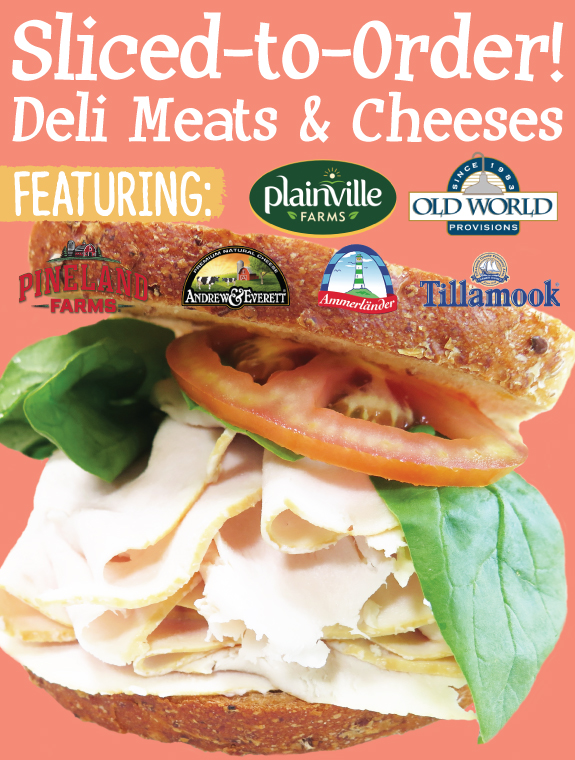 Stack your sandwiches with sliced-to-order meats that are free of preservatives and additives! Kinda like the cold cuts you're used to, just with more GOOD. Get picnic-ready or pack your lunches for the week with Honest Weight new sliced deli offerings, knowing that there's only good inside.
Featuring:
Plainville Organic Oven Roasted Turkey

Plainville Oven Roasted Turkey

Plainville Black Forest Uncured Ham

Plainville No-Salt Added Turkey Breast

Plainville Oven Roasted Chicken

Plainville Honey Roasted Turkey

Old World Provisions Grass-fed Pastrami

Old World Provisions Grass-fed Roast Beef

Old World Provisions Grass-fed Corned Beef

Ammerlander Swiss

Andrew and Everett Provolone

Tillamook Cheddar

Pineland Farms Monterey Jack
HWFC Fresh News
This Friday, February 9th, from 11am to 2pm, stop by Honest Weight's Cheese and Specialty Department to meet Berle Farm's cheesemakers and dairy artisans, Beatrice Berle and Vi Huu Wood....
Did you know Honest Weight hosts community art exhibits? Our gallery is located in the hallway outside of the Community Room and Teaching Kitchen. Our winter show's theme is "Whatever Your...
Spicy food fans will find plenty to cheer about with these jalapeños stuffed with spiced pork and smoked cheddar. Serves: 18. Prep time: 10 minutes active; 30 minutes total. Ingredients