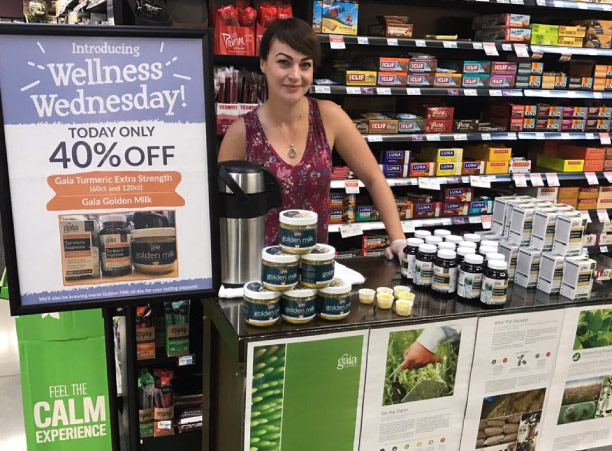 Visit our Wellness Department every Wednesday to enjoy flash sales, product sampling, and free wellness classes!
Each week, we'll highlight a different product to sample and offer at a discouted price. We'll have representatives from the company or our own wellness department staff on hand to educate and answer questions on the product. Keep an eye on our Facebook and Instagram accounts for weekly Wellness Wednesday details!
Every Wednesday, from 12-3, we'll also have Rebecca Hein of
Underground Alchemy
available in the Wellness Department as a resource. Rebecca is a Community Herbalist and urban farmer. In 2011 she founded Underground Alchemy, a local herbal apothecary. The herbs are grown on reclaimed vacant land in Albany's South End and handcrafted into a line of remedies aimed at promoting wellness and self care. Available at the Honest Weight Food Coop, the Troy Farmers Market and through her Herbal CSA. Some of her Wednesday demonstrations will include Fiery Cider, Immune Allies, and Propolis Sage Throat Spray
Be sure to check out our Wellness Wednesday classes and services!
Nutritional Counseling and Personal Training, 8:30am – 9:30am in our Practitioner Room
Weight loss concerns?
Confused about what to eat or not to eat?
Want to gain an edge in your athletic abilities?
Looking to remedy an injury?
Hollan, owner of TrU Fitness and Nutrition, is a nationally-certified personal trainer and nutritional consultant that brings a life-changing individualized approach to optimizing your body through cutting edge nutrition, better movement mechanics and functional fitness. Some of her services include guidance in nutritional approaches to managing autoimmune disease, setting up a functional kitchen, cooking and meal prep for busy folks, food log assessments, and myth busting nutritional fallacies.
Register for a FREE 30 minute session at our Service Desk