Introducing Death Wish Coffee!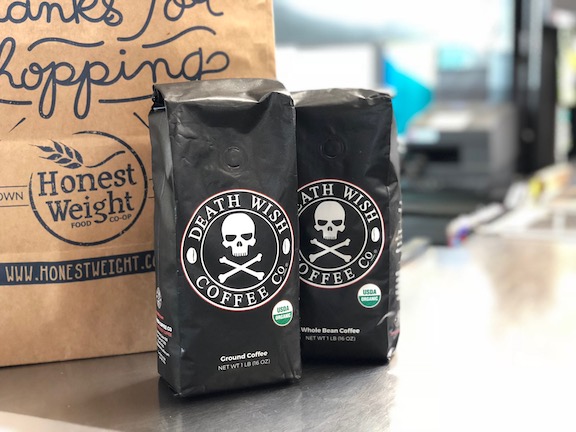 Death Wish Coffee is now available at Honest Weight! To celebrate our newest Local vendor, we're offering 1 lb. bags of whole and ground beans at $15.99 through June 12th. Save $4 per pound!
Death Wish Coffee Co. started in 2012 in a small coffee shop in Saratoga Springs, when founder Mike Brown saw a need for coffee that was both strong and delicious to serve his groggy morning customers.
By formulating a perfect blend of beans and combining it with his unique roasting technique, Brown was able to create the 'world's strongest coffee' with the highest-caffeine content available, kicking off a business that would go on to win fans the whole world over.
With 54.2 milligrams per fluid ounce, Death Wish Coffee has more than twice as much caffeine as Starbucks, which serves the next most caffeinated cup on a large scale. But don't take our word for it--check out this Huffington Post article complete with a caffeine-per-cup infographic!
And amazingly, this buzz is all-natural,, making them a perfect fit for Honest Weight's grocery shelves. Death Wish uses USDA-certified organic coffee beans because they're committed to preserving biodiversity, protecting natural resources, and avoiding the use of harmful GMOs. That, combined with their Fair Trade partnership, means farmers of our coffee get a livable wage and fair working conditions. The Death Wish Coffee Co. roasting technique treats customers to a low-acidity cup of joe that is smooth, fresh, robust, and delicious.
We're so excited to bring this world-renowned local business to Honest Weight. And if you haven't tried it, now is the perfect time! Through June 12th, you can save $4 per pound on the World's Strongest Coffee. See details and the rest of our current Great Deals here!