Local, sustainable, and free of preservatives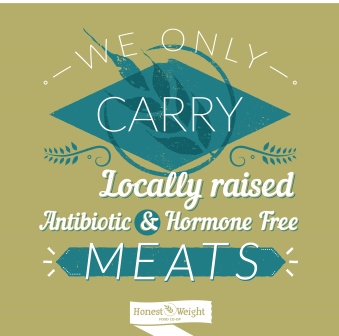 Our Meat & Seafood Service Case is open daily from 8am to 8pm!
At Honest Weight, we value the kind of transparency that lets you know exactly where your food is coming from, what went into its production, and who the farmers are that grew it. We are lucky to live in an area with a rich agricultural tradition and dedicated growers, committed to treating their animals and land with respect. We strive to offer information on the benefits of buying and cooking ethically raised meats and seafood, inform on the impact on the environment and our health, and to generally be available as a local resource.
Our Meat-Buying Guidelines
We give preference to local and regional farms, which our staff make every effort to visit personally.
The meat we sell is chosen for its high quality, sourced principally from small, local farms within a 250-mile radius, and with preference for pasture-based and free-range conditions.
Grazing animals are primarily fed on grass and may either be 100% grass-finished, or finished with minimal grain supplementation.
Pigs are pastured and may be fed grain.
Poultry is pastured or raised cage-free in open barns.
We will not knowingly stock products that contain or were treated with animal-by products in their feed, or with prophylactic antibiotics, growth-promoting antibiotics, hormonal additives in any form, or synthetic (artificial) nitrites, nitrates, additives, or preservatives.
When our customers are looking for something that we're unable to source locally or regionally, or can't access in adequate supply, we also offer Certified Organic and Natural meats that meet our criteria but are raised elsewhere in the United States. All of our meats are marked with their place of origin.
What's the deal with grass-fed?
Sustainable Seafood at Honest Weight
Honest Grilling & a Foolproof Marinade Recipe
Plus, check out this Times Union Article, featuring our Meat & Seafood Manager, Mo, from January 4th, 2018:
Area farms carve grass-fed, pasture-raised meat niche.
And see our entire Banned List of ingredients!