Entering our 6th Year of Enviro Tokens!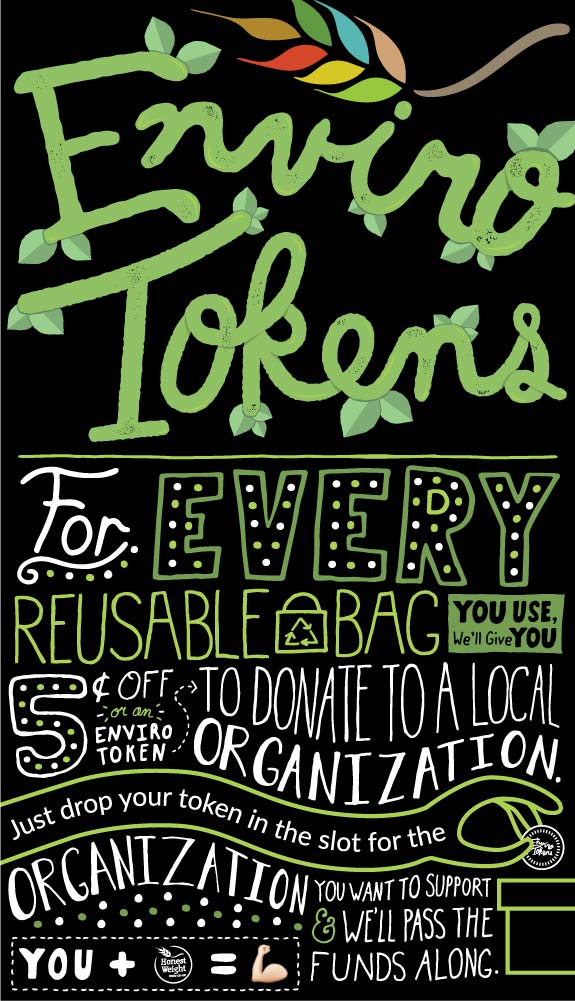 Honest Weight's Enviro Tokens program started in September of 2015. Prior to that, Honest Weight was reimbursing shoppers a nickel for each reusable bag they use to shop the Co-op, incentivizing reuse and reducing waste. With the Enviro Tokens program, shoppers have the choice to donate that nickel to a charity of their choosing. The goal is to turn a simple green living practice into a chance to give back – everybody wins!
Each quarter we select five charitable organizations. To date, we've been able to donate more than $51,984 to local non-profit organizations and our shoppers have reused over 1,000,000 bags.
So remember to bring your reused or reusable bags next time you shop at Honest Weight! When you checking out, opt for the Enviro Token wooden nickel instead of the five cent refund. Place your nickel in the box of your choosing on your way out the door and watch the tally raise from week to week as our collectivized nickels make a huge impact on our community!
Capital Area Against Mass Incarceration (CAAMI)
Umbrella of Colonie (Colonie Senior Service Center)
Northeast Organic Farming Association (NOFA)
Past Recipients:
2020
Albany County Land Bank
Grassland Bird Trust
Troy Bike Rescue
Albany Therapeutic Riding Center
Wizard's Wardrobe

2019
Huyck Preserve
Camp to Belong (Northern Rivers)
The Sylvia Center at Katchkie Farm
Albany Can Code
8
th
Step Coffeehouse
Albany Fund for Education
Crossroads Center for Children
The Albany Housing Coalition, Inc.
RISSE (Refugee and Immigrant Support Services of Emmaus)
The Rensselaer Plateau Alliance
GLSEN New York Capital Region
The Albany Damien Center
The Radix Center
Commission on Economic Opportunity
Oakwood Community Center
Hunger Solutions New York
Support Ministries Inc., Capital Region
Red Robin Song Animal Sanctuary
The Mohawk Hudson Land Conservancy (MHLC)
Albany Civic Theater
2018
Camp Little Notch
The Sanctuary for Independent Media
Citizens Campaign for the Environment (CCE)
Mom Starts Here
Old Friends at Cabin Creek
Scruff, Spaying Capital Region Unowned Feral Felines
NAMI, National Alliance on Mental Health
Wildwood Programs
Children at the Well
Rensselaer Land Trust
Capital Region Audubon Society
The Cue Theater
15 Love
Grassroot Givers
Long Table Harvest
New Baltimore Conservancy
Historic Albany Foundation
Strong Through Every Mile
New York Bicycling Coalition
Skribblers Magazine, Inc.


2017
Parks & Trails
Orange Street Cats
Sch. Theatre For Children
Equinox
HWFC Community Initiative
Hudson River Sloop Clearwater
Two Together
Warren Washington Albany ARC
Whiskers
Homeless Action CommitteeEnvironmental Advocates of New York
Interfaith Partnership for the Homeless (IPH)
Black Child Development Institute-Albany, NY
Kitten Angels
The Legal Project
Girls on the Run
Refugees & Immigrants
Riverkeeper
Albany Bike Rescue
Out of the Pits

2016
Unity House
MH Humane Society
Pine Hills Arboretum
Albany Barn
NE Association for the Blind
Social Justice Center
Coalition for the Homeless
Friend of Five Rivers
Special Olympics
Alliance for Positive Health
Albany Vegan Network
Peppertree Dog Rescue
Albany Bicycle Coalition
Albany Discovery Center
The Food Pantries
Youth FX (Grand Street Community Arts)
South End Children's Café
Vegetable Project
Hudson River Watershed Alliance
Equine Advocates


2015
Capital Roots
Albany Pride Center
Habitat for Humanity
Sierra Club
Literacy New York Greater Capital Region
Upcoming Classes & Events
Cancelled - All Upcoming Classes & Events Until Further Notice
HWFC Fresh News
Eating Good on the Cheap – Smart Ways to Stretch Your Dollars! As we begin the new year, some of us are re-evaluating aspects of our lives that 2020 brought to...
Honest Weight Food Co-op is happy to announce that we will be 100% Community Solar Powered beginning in January 2021. Want to join us?
Updated Monday, October 19, 9:00 AM Monday, Wednesday, Friday: Open to elder and high risk shoppers 7am-8am Every Day: Open to all 8am-9pm We are closed on Thanksgiving Day. NEW UPDATE (effective Monday, October 19th) All...