Enviro Tokens: Benefiting People and the Planet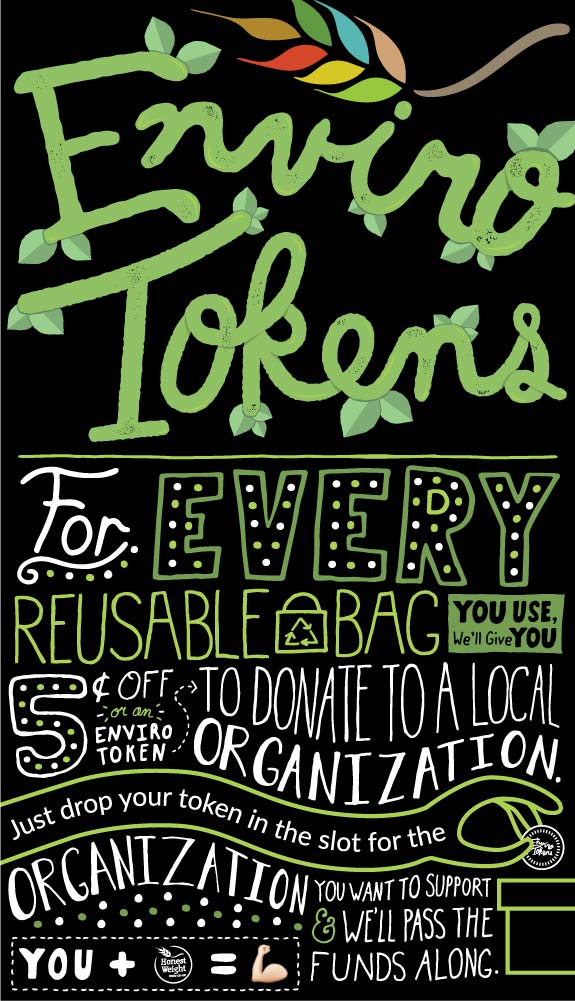 For every reusable bag you use at checkout, you'll receive either five cents off your bill or an Enviro Token to donate those five cents to a local organization!
Honest Weight's Enviro Tokens program started in September of 2015. Prior to that, Honest Weight was reimbursing shoppers a nickel for each reusable bag they use to shop the Co-op, incentivizing reuse and reducing waste. With the Enviro Tokens program, shoppers have the choice to donate that nickel to a charity of their choosing. The goal is to turn a simple green living practice into a chance to give back – everybody wins!
Each quarter we select five charitable organizations. To date, we've been able to donate more than $31,900 to 70 local non-profit organizations and our shoppers have reused over 638,006 bags.
So remember to bring your reused or reusable bags next time you shop at Honest Weight! When you checking out, opt for the Enviro Token wooden nickel instead of the five cent refund. Place your nickel in the box of your choosing on your way out the door and watch the tally raise from week to week as our collectivized nickels make a huge impact on our community!
This quarter, April 1st-June 30th, 2019, you can choose from the following charities:
Founded in 1931, the Huyck Preserve encompasses 2,000+ acres in Rensselaerville, NY and is dedicated to environmental conservation and education, ecological research, and outdoor recreation. Its mission is to preserve the natural beauty of the Rensselaerville Falls, the watershed of Lake Myosotis and surrounding lands, to conduct long-term research on natural systems as part of a global effort to understand and protect the Earth's biodiversity, and to increase appreciation of this effort through innovative, field-based educational programs for students, teachers, and the community. Find more about our 12+ miles of trails, lake, public events, and school and summer education programs on their website.
Camp to Belong (Northern Rivers)
Camp To Belong New York reunites siblings separated by foster care for a week of camp at the YMCA's Camp Chingachgook in Lake George. Children in foster care who have been removed from their homes and families often suffer from the effects of abuse, neglect and trauma. Camp To Belong allows siblings to connect and bond with each other through various camp activities making for a memorable week. For many, this is the only time they will see their siblings.
The Sylvia Center at Katchkie Farm
The mission of The Sylvia Center is to inspire young people and their families to establish independent healthy eating habits — so that they may lead healthy and productive lives.
The Sylvia Center is a part of a movement to develop the next generation of healthy eaters, cooks, and advocates that can fundamentally change the future of food. We work in partnership with others because we know that we can not do it alone. The problem may be big, and the stakes high, but together we can lift up young people to take their own place at the table.
AlbanyCanCode's mission is to create gender, racial and economic equity in the Capital Regions tech sector workforce. We shift mindset about who can work in technology, and create pathways to high-paying tech careers throughout the region. Some folks have gone from unemployment to $75,000 starting salaries through participation in our software coding programs offered to low-income individuals throughout the region -- truly life-changing economic impact in Capital Region families!
The 8th Step, a Capital Region arts tradition, was founded 1967 along Albany's Washington Park. They are now in their 51st season and still singing strong! For over five decades "The Step" has brought to Upstate New York, Western Massachusetts, the Hudson Valley and lower Vermont - and often way beyond - a steady stream of incredible acoustic music including folk, blues, jazz, bluegrass and celtic music, plus theater, dance and more!
Totals from last quarter:
RISSE (Refugee and Immigrant Support Services of Emmaus) - $679.99
The Albany Housing Coalition, Inc. - $485.89
Albany Fund for Education - $476.43
Crossroads Center for Children - $455.99
The Rensselaer Plateau Alliance - $452.49
Past Recipients:
2019
Albany Fund for Education
Crossroads Center for Children
The Albany Housing Coalition, Inc.
RISSE (Refugee and Immigrant Support Services of Emmaus)
The Rensselaer Plateau Alliance
2018
Camp Little Notch
The Sanctuary for Independent Media
Citizens Campaign for the Environment (CCE)
Mom Starts Here
Old Friends at Cabin Creek
Scruff, Spaying Capital Region Unowned Feral Felines
NAMI, National Alliance on Mental Health
Wildwood Programs
Children at the Well
Rensselaer Land Trust
Capital Region Audubon Society
The Cue Theater
15 Love
Grassroot Givers
Long Table Harvest
New Baltimore Conservancy
Historic Albany Foundation
Strong Through Every Mile
New York Bicycling Coalition
Skribblers Magazine, Inc.


2017
Parks & Trails
Orange Street Cats
Sch. Theatre For Children
Equinox
HWFC Community Initiative
Hudson River Sloop Clearwater
Two Together
Warren Washington Albany ARC
Whiskers
Homeless Action CommitteeEnvironmental Advocates of New York
Interfaith Partnership for the Homeless (IPH)
Black Child Development Institute-Albany, NY
Kitten Angels
The Legal Project
Girls on the Run
Refugees & Immigrants
Riverkeeper
Albany Bike Rescue
Out of the Pits

2016
Unity House
MH Humane Society
Pine Hills Arboretum
Albany Barn
NE Association for the Blind
Social Justice Center
Coalition for the Homeless
Friend of Five Rivers
Special Olympics
Alliance for Positive Health
Albany Vegan Network
Peppertree Dog Rescue
Albany Bicycle Coalition
Albany Discovery Center
The Food Pantries
Youth FX (Grand Street Community Arts)
South End Children's Café
Vegetable Project
Hudson River Watershed Alliance
Equine Advocates


2015
Capital Roots
Albany Pride Center
Habitat for Humanity
Sierra Club
Literacy New York Greater Capital Region