Enviro Tokens: Benefiting People and the Planet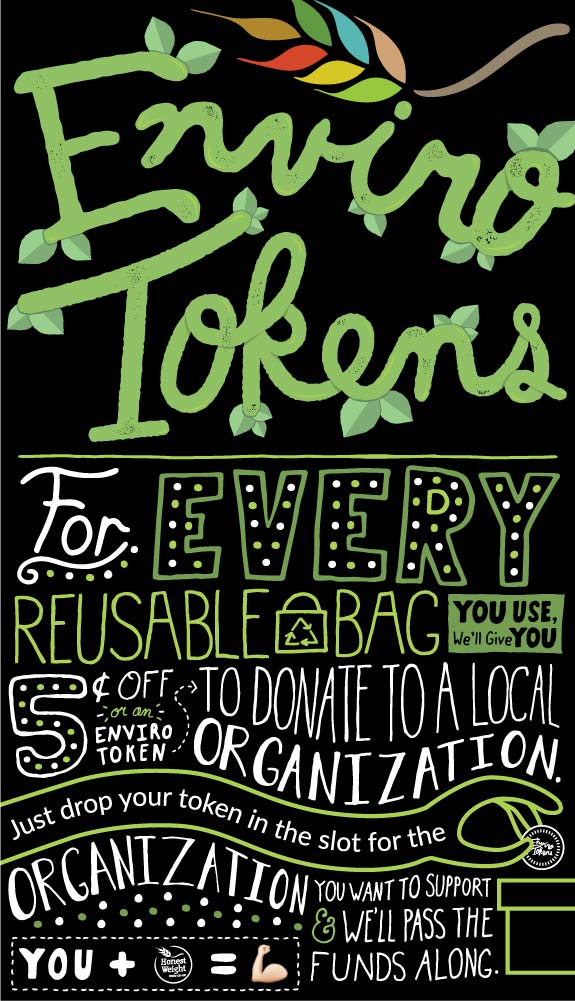 Honest Weight reimburses shoppers a nickel for each cloth reusable bag they use to shop the Co-op, incentivising reuse and reducing waste.
With the Enviro Tokens program, shoppers have the choice to donate that nickel to a charity of their choosing. Just opt for the Enviro Token wooden nickel instead of the five cent refund, and place your nickel in the box on your way out the door. Watch the tally raise from week to week as our collectivized nickels make a huge impact on our community!
This quarter (July 1-September 30), you can choose from the following charities:
Out of the Pits is a not for profit organization that was founded in 1994. We seek to educate the public about the true nature of the American Pit Bull Terrier and to make them aware that they used to be one of America's favorite breed of dogs. Our efforts are aimed at restoring the breed to its former position of esteem in the hearts and minds of people everywhere. We provide adoption and spay/neuter services along with community-based educational programs like therapy dog training, public education clinics and Elementary and Secondary School workshops. We provide owners with counseling and specialize in offering shelter outreach.
Albany Bike Rescue provides a community for the exchange of bicycle maintenance and repair skills and to make cycling accessible to people in the Albany NY area by the re-use or recycling of donated bicycles, parts and accessories.
U.S. Committee for Refugees and Immigrants works in the neighborhoods across Albany and the Capital Region, opening doors for uprooted people, helping the world's most vulnerable rebuild their lives. We are part of a nationwide network that breaks through social, cultural, and economic barriers so previously interrupted lives can flourish. The first welcome begins with navigating American culture, laying solid foundations for a fresh start, and making essential community connections to successfully integrate into our community.
Girls on the Run Capital Region inspires girls to recognize their inner strength and celebrate what makes them one of a kind. Trained coaches lead small teams through our research-based curriculum which includes dynamic discussions, activities and running games. Over the course of the ten-week program, girls in 3rd-8th grade develop essential skills to help them navigate their worlds and establish a lifetime appreciation for health and fitness. The program culminates with girls positively impacting their communities through a service project and being physically and emotionally prepared to complete a celebratory 5K event.
Riverkeeper is an independent organization funded and driven by concerned individuals like you. Our vision is to have clean, swimmable waters, a Hudson River teeming with life, and safe and abundant drinking water supplies. We are the model for over 300 "keeper" groups worldwide, reaching new levels of achievement and setting big new goals.
To nominate a 501(c)3 organization as a recipient of our Enviro Tokens, contact Amy, Honest Weight's Outreach Coordinator, by emailing Amy-AT-honestweight.coop or calling 517-482-2667.