Enviro Tokens: Benefiting People and the Planet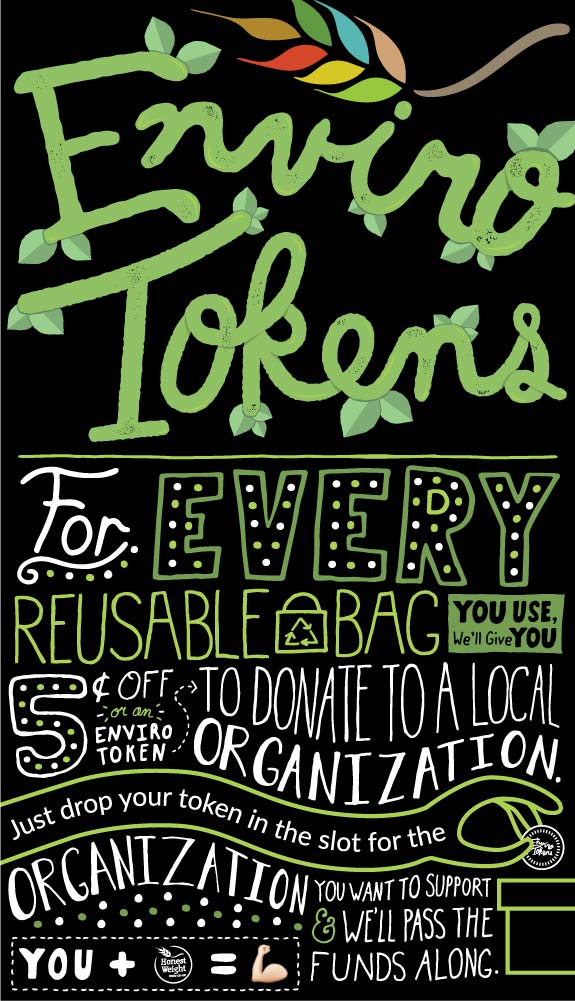 Honest Weight's Enviro Tokens program started in September of 2015. Prior to that, Honest Weight was reimbursing shoppers a nickel for each cloth reusable bag they use to shop the Co-op, incentivising reuse and reducing waste. With the Enviro Tokens program, shoppers have the choice to donate that nickel to a charity of their choosing. The goal is to turn a simple green living practice into a chance to give back – everybody wins!
Each quarter we select five charitable organizations. To date, we've donated more than $22,000 dollars to over 40 local non-profit organizations and our shoppers have reused more than 400,000 bags.
So remember to bring your cloth bags next time you shop at Honest Weight! When you checking out, opt for the Enviro Token wooden nickel instead of the five cent refund. Place your nickel in the box of your choosing on your way out the door and watch the tally raise from week to week as our collectivized nickels make a huge impact on our community!
This quarter, April 1st-June 30th, 2018, you can choose from the following charities:
Rensselaer Land Trust
- Our mission is to conserve the open spaces, watersheds and natural habitats of Rensselaer County for the benefit of our communities and future generations. They envision sufficient conserved land to maintain clean water, clean air, wildlife and plant habitats, local farms, working forests, and scenic beauty. Through year-round nature outings, workshops, and events they connect people to nature with access to outdoor places; educate on the benefits of land and watershed conservation; and provide opportunities for the quality of life created by a balanced mix of urban, suburban and rural communities. The Rensselaer Land Trust owns and operates six public nature preserves with trails free and open to the public for passive recreation, such as wildlife observation, hiking, or fishing.
Children at the Well
-
Children at the Well Youth Storytellers for Peace & Understanding, one of two programs of WithOurVoice, Inc., is based in the Capital Region of New York and teaches the art of storytelling to teenagers of various religions and ethnic origins to raise confident, compassionate and capable community leaders. We are publishing a book to inspire others to want to start a program like ours, and give them the tools to do so.
Wildwood Programs
- Working collaboratively with individuals, families and the community, Wildwood Programs empowers and enables children and adults with neurologically-based learning disabilities, autism, and other developmental disorders to lead independent, productive and fulfilling lives.
NAMI, National Alliance on Mental Health
- a non-profit, 501 (c) 3 organization that provides support, education and advocacy for those living with mental illness and their families. NAMI-NYS offers free classes and support groups, operates a resource and information helpline and focuses on outreach activities to raise awareness about mental illness and promote overall mental wellness.
Scruff, Spaying Capital Region Unowned Feral Felines
- a Trap-Neuter-vaccinate-Return (TNvR) organization for feral and stray cats. Run by dedicated volunteers, SCRUFF provides low-cost spay/neuter services for this unchecked population of unowned cats. Founded by Dr. Susan Sikule of Just Cats Veterinary Clinic, SCRUFF's mission is to work with the public to humanely reduce the population of feral and stray cats and to educate the public on ways to care for these "community" cats.
To nominate a 501(c)3 organization as a recipient of our Enviro Tokens, contact Amy, Honest Weight's Outreach Coordinator, by emailing Amy-AT-honestweight.coop or calling 517-482-2667.
Past Recipients:
2018
Camp Little Notch
The Sanctuary for Independent Media
Citizens Campaign for the Environment (CCE)
Mom Starts Here
Old Friends at Cabin Creek
2017
Parks & Trails
Orange Street Cats
Sch. Theatre For Children
Equinox
HWFC Community Initiative
Hudson River Sloop Clearwater
Two Together
Warren Washington Albany ARC
Whiskers
Homeless Action CommitteeEnvironmental Advocates of New York
Interfaith Partnership for the Homeless (IPH)
Black Child Development Institute-Albany, NY
Kitten Angels
The Legal Project
Girls on the Run
Refugees & Immigrants
Riverkeeper
Albany Bike Rescue
Out of the Pits

2016
Unity House
MH Humane Society
Pine Hills Arboretum
Albany Barn
NE Association for the Blind
Social Justice Center
Coalition for the Homeless
Friend of Five Rivers
Special Olympics
Alliance for Positive Health
Albany Vegan Network
Peppertree Dog Rescue
Albany Bicycle Coalition
Albany Discovery Center
The Food Pantries
Youth FX (Grand Street Community Arts)
South End Children's Café
Vegetable Project
Hudson River Watershed Alliance
Equine Advocates


2015
Capital Roots
Albany Pride Center
Habitat for Humanity
Sierra Club
Literacy New York Greater Capital Region