Enviro Tokens: Benefiting People and the Planet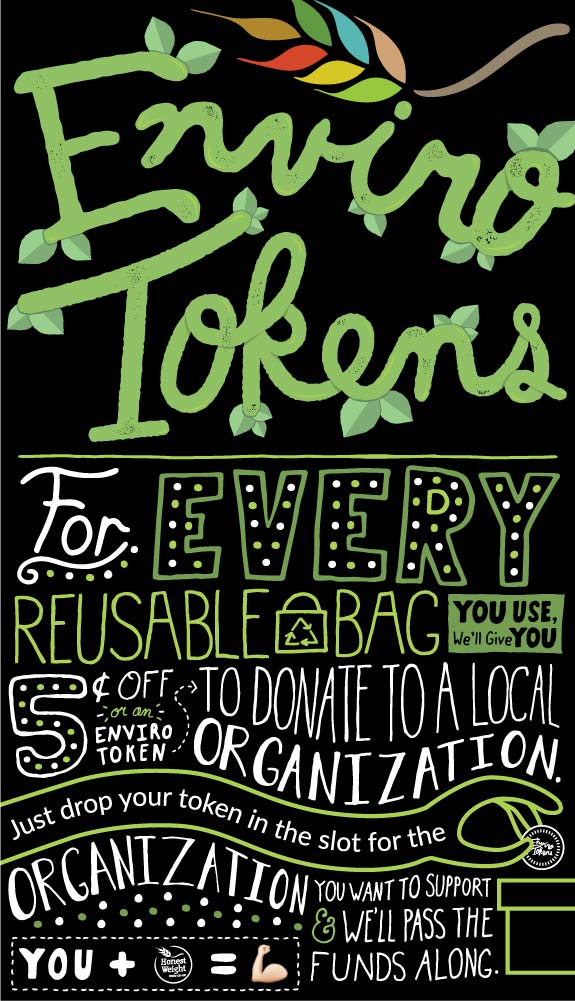 Honest Weight reimburses shoppers a nickel for each cloth reusable bag they use to shop the Co-op, incentivising reuse and reducing waste.
With the Enviro Tokens program, shoppers have the choice to donate that nickel to a charity of their choosing. Just opt for the Enviro Token wooden nickel instead of the five cent refund, and place your nickel in the box on your way out the door. Watch the tally raise from week to week as our collectivized nickels make a huge impact on our community!
This quarter (October 1-December 31), you can choose from the following charities:
Environmental Advocates of New York's mission is to protect our air, land, water, and wildlife and the health of all New Yorkers. Based in Albany, we monitor state government, evaluate proposed laws, and champion policies and practices that will ensure the responsible stewardship of our shared environment. We work to support and strengthen the efforts of New York's environmental community and to make our state a national leader. For more information visit www.eany.org.
Interfaith Partnership for the Homeless (IPH) is an organization dedicated to supporting the homeless and low-income community in the Capital Region and beyond. With program areas such as emergency shelter, drop-in center, housing, health and wellness, youth, and employment, our hope is to provide services that promote self-sufficiency, empowerment, and stability.
Black Child Development Institute-Albany, NY offers opportunities for our children and families through our Mentoring Programs at different schools, our annual Entering The College Zone (a program for middle and high school students and their parents) and our new initiative "Raise A Reader" (a reading program for parents with children 0-8 years old). Additionally, Parent Empowerment classes at our local schools. We offer lectures and workshops from nationally recognized professionals in the field of education, health and wellness, spirituality, effective parenting for single mothers & fathers and much, much more.
Kitten Angels is a non-profit rescue dedicated to abandoned/orphaned kittens and their mamas, as well as pregnant cats in our community solely through fostering. Our goal is to get these cats off the streets and into loving homes. Everything we do works towards that goal, from spaying and neutering our kittens, to guaranteeing future placement of every kitten we adopt out. We do our best to give every one the best shot at a life of love.
The Legal Project provides a variety of free and low cost legal services to the working poor, victims of domestic violence and other underserved people in the Capital District and beyond. The Legal Project believes that all people, regardless of income, gender, disability, race, religion, age, sexual orientation or ethnicity should have access to legal services. This belief reflects a deep commitment to fairness and equal justice under the law. The Legal Project strives to make the law more accessible to those in need, to increase the legal community's involvement in pro bono work and to serve as a resource on legal and policy issues.
To nominate a 501(c)3 organization as a recipient of our Enviro Tokens, contact Amy, Honest Weight's Outreach Coordinator, by emailing Amy-AT-honestweight.coop or calling 517-482-2667.