Enviro Tokens: Benefiting People and the Planet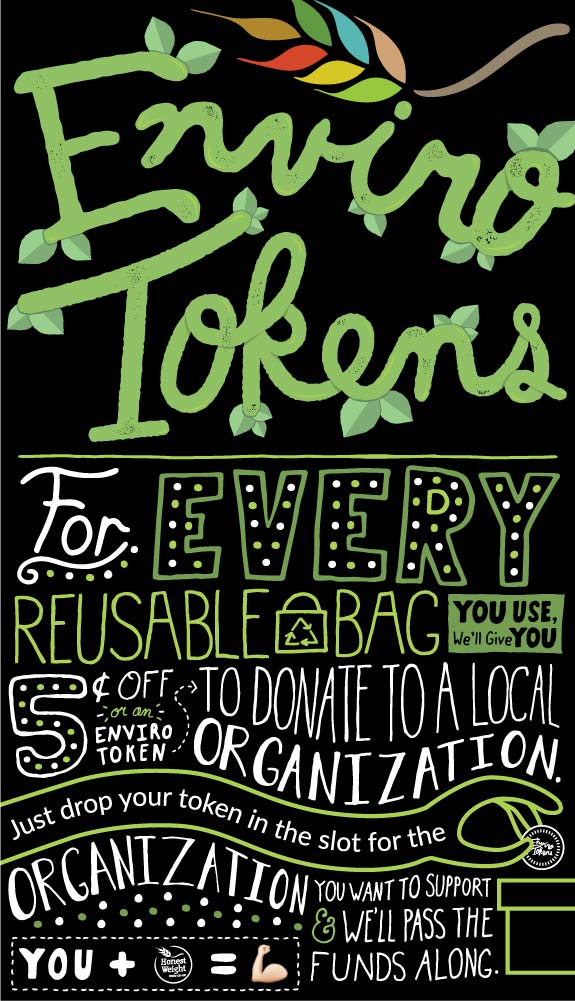 Honest Weight's Enviro Tokens program started in September of 2015. Prior to that, Honest Weight was reimbursing shoppers a nickel for each cloth reusable bag they use to shop the Co-op, incentivising reuse and reducing waste. With the Enviro Tokens program, shoppers have the choice to donate that nickel to a charity of their choosing. The goal is to turn a simple green living practice into a chance to give back – everybody wins!
Each quarter we select five charitable organizations. To date, we've donated more than $22,000 dollars to over 40 local non-profit organizations and our shoppers have reused more than 400,000 bags.
So remember to bring your cloth bags next time you shop at Honest Weight! When you checking out, opt for the Enviro Token wooden nickel instead of the five cent refund. Place your nickel in the box of your choosing on your way out the door and watch the tally raise from week to week as our collectivized nickels make a huge impact on our community!
This quarter, January 1st-March 31st, 2018, you can choose from the following charities:
Camp Little Notch is an authentic wilderness camp and outdoor center in the Southern Adirondacks of New York State. Formerly a Girl Scout camp, Little Notch continues its tradition of inspiring and challenging girls during its three-week summer camp program, July 7-27, 2018. Also – new this year – a week for boys, July 28-August 4. Camp Little Notch is also available for group rentals, open camping, and events, and welcomes everyone with opportunities for all people to practice living in harmony with nature, each other, and themselves. Owned and operated by Friends of Camp Little Notch, Inc., a 501 (c) (3) not-for-profit organization.
The Sanctuary for Independent Media is part of Media Alliance, a 501(c)3 nonprofit. Since 2005 we have been building an arts and environmental campus in North Troy. We operate indoor and outdoor presenting and production facilities (the Sanctuary and Freedom Square), a radio station (WOOC 105.3 FM), community gardens (Collard City Growers), a STEM learning project (NATURE Lab), and youth programs (Uptown Summer and Youth Media Sanctuary).
Citizens Campaign for the Environment (CCE) is a nonprofit, non-partisan organization working to empower communities and advocate solutions to protect our environment and public health. We conduct grassroots campaigns that advance the fight to ensure our land, water, air, and health of all New Yorkers is protected. Our key campaigns include promoting renewable energy, reducing plastic pollution, protecting our oceans and Great Lakes, preserving parks and open spaces, and preventing drinking water contamination. We work to give the Earth a strong voice!
Mom Starts Here is a new nonprofit with a goal of connecting young women in unplanned pregnancies to the resources available to them. We look to empower young women and assist them in planning for their futures as mothers.
Old Friends at Cabin Creek, the Bobby Frankel Division, is Saratoga County's only thoroughbred retirement farm and one of the few that will take thoroughbred stallions. Our purpose is to provide dignified retirement for all racehorses, both known and unknown. Completely staffed by volunteers and run entirely on donations, our goal is to provide a natural, nurturing forever home to retired race horses, and offer the public an up-close and personal experience with our thoroughbred horses. We are open to the public year round with many special events during track season.
To nominate a 501(c)3 organization as a recipient of our Enviro Tokens, contact Amy, Honest Weight's Outreach Coordinator, by emailing Amy-AT-honestweight.coop or calling 517-482-2667.
Past Recipients:
2017
Parks & Trails
Orange Street Cats
Sch. Theatre For Children
Equinox
HWFC Community Initiative
Hudson River Sloop Clearwater
Two Together
Warren Washington Albany ARC
Whiskers
Homeless Action CommitteeEnvironmental Advocates of New York
Interfaith Partnership for the Homeless (IPH)
Black Child Development Institute-Albany, NY
Kitten Angels
The Legal Project
Girls on the Run
Refugees & Immigrants
Riverkeeper
Albany Bike Rescue
Out of the Pits

2016
Unity House
MH Humane Society
Pine Hills Arboretum
Albany Barn
NE Association for the Blind
Social Justice Center
Coalition for the Homeless
Friend of Five Rivers
Special Olympics
Alliance for Positive Health
Albany Vegan Network
Peppertree Dog Rescue
Albany Bicycle Coalition
Albany Discovery Center
The Food Pantries
Youth FX (Grand Street Community Arts)
South End Children's Café
Vegetable Project
Hudson River Watershed Alliance
Equine Advocates


2015
Capital Roots
Albany Pride Center
Habitat for Humanity
Sierra Club
Literacy New York Greater Capital Region
HWFC Fresh News
This Friday, February 9th, from 11am to 2pm, stop by Honest Weight's Cheese and Specialty Department to meet Berle Farm's cheesemakers and dairy artisans, Beatrice Berle and Vi Huu Wood....
Did you know Honest Weight hosts community art exhibits? Our gallery is located in the hallway outside of the Community Room and Teaching Kitchen. Our winter show's theme is "Whatever Your...
Spicy food fans will find plenty to cheer about with these jalapeños stuffed with spiced pork and smoked cheddar. Serves: 18. Prep time: 10 minutes active; 30 minutes total. Ingredients