Entering our 5th Year of Enviro Tokens!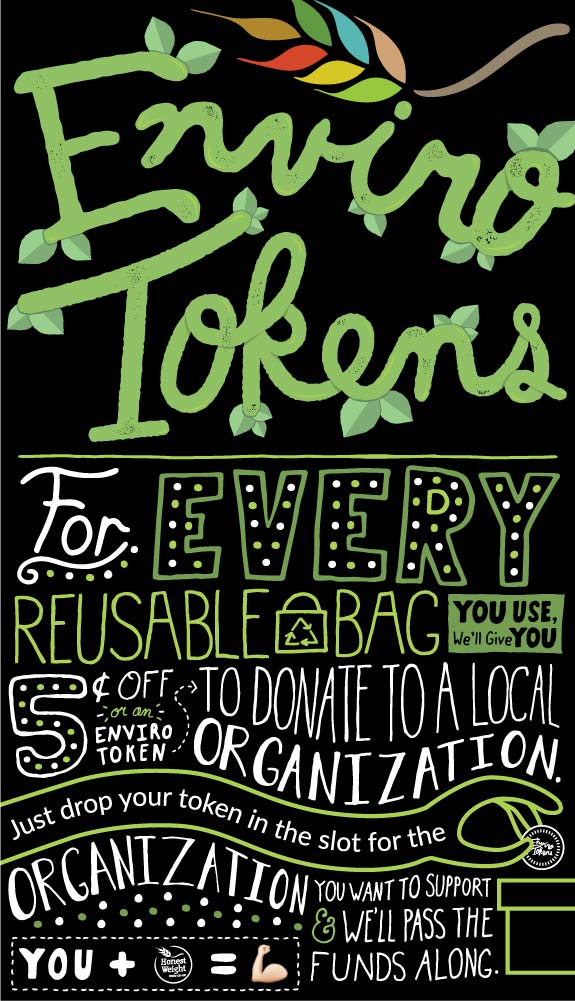 For every reusable bag you use at checkout, you'll receive either five cents off your bill or an Enviro Token to donate those five cents to a local organization!
Honest Weight's Enviro Tokens program started in September of 2015. Prior to that, Honest Weight was reimbursing shoppers a nickel for each reusable bag they use to shop the Co-op, incentivizing reuse and reducing waste. With the Enviro Tokens program, shoppers have the choice to donate that nickel to a charity of their choosing. The goal is to turn a simple green living practice into a chance to give back – everybody wins!
Each quarter we select five charitable organizations. To date, we've been able to donate more than $46,488.20 to 95 local non-profit organizations and our shoppers have reused over 929,764 bags (as of June 30th, 2020).
So remember to bring your reused or reusable bags next time you shop at Honest Weight! When you checking out, opt for the Enviro Token wooden nickel instead of the five cent refund. Place your nickel in the box of your choosing on your way out the door and watch the tally raise from week to week as our collectivized nickels make a huge impact on our community!
This quarter, July 1st-September 30th, 2020, our EnviroTokens is dedicated to non-profits working to fight racial injustice in our community. As we have adapted to a touchless exchange, the funds will be split equally between the five organizations at the end of each week.

Capital Area Against Mass Incarceration (CAAMI) seeks to challenge and dismantle mass incarceration and the systems of oppression that sustain it. We do this through coordinated actions and by opening the dialogue about mass incarceration and the criminal injustice system in a way that is empowering to all individuals and communities affected by them. CAAMI defines "mass incarceration" as both the excessive quantity of people caught in the criminal justice system, and the racially discriminatory and cruel quality of the current punitive model of social control. Police brutality, racially disparate sentencing, and post-prison discrimination function as a self-reinforcing system that damages communities. We are all impacted by mass incarceration. It does not affect only those in prison and those who have a loved one in prison. It devastates all our communities and diminishes quality of life and basic human rights for everyone. However, not all communities are affected equally. Communities of color, the poor, the LGBT community, and those with disabilities suffer disproportionately at all stages of the system.
The process of dismantling mass incarceration can only begin by bringing passionate people together to share ideas, spread awareness, and take action. CAAMI seeks to do just that while building a strong and proactive local movement.
Social Justice Center Through the Social Justice Center we are working for a world in which international conflicts are settled without war, and in which people treat each other with love, dignity and justice. We are striving to end the threat of nuclear annihilation by promoting nuclear disarmament. We are working to stop harmful U.S. military and economic intervention in the affairs of other countries. We oppose the violation of human rights. We stand for economic and environmental justice and are fighting for the rights of all people to adequate housing, employment, health care, food and other needs. We believe in the equal worth of all persons and are struggling against discrimination on the basis of race, sex, sexual orientation, physical challenge (disability), age and religion. In our coming together, we strive to work in co-operative ways consistent with these beliefs and values. The center helps us work for progressive social change through mutual support and collective action.
A Village, Inc. At this time we at AVillage Inc., want to establish solidarity with all of those who are committed to anti-racism, equity, and prioritizing marginalized voices and the needs of vulnerable people.
AVillage…, Inc. welcomes all neighbors and community members, groups, organizations, officials to join us in crafting and delivering a collective statement to combat racism, and systemic oppression with outlined demands, action steps and milestones to track progress. This statement will serve as the barometer for behavior and accountability in our community as well as communicate our priorities and how we wish to engage. Our vision is a just community where empowered people have equitable access to opportunities and resources. We identify inequities and confront their root causes by galvanizing the community and leveraging resources to create transformational change.
We prioritize marginalized voices.
We fight systemic racism and oppression.
We deliver strategic solutions.
We are stronger together.
Center for Law & Justice The Center for Law and Justice was founded by Dr. Alice Green in 1985. For the past 30 plus years, the Center has been serving low-income and disadvantaged communities in the Capital Region through services, education and advocacy.
The Center for Law and Justice envisions a peaceful, just, and compassionate community that provides each resident with equal access to the goods, services and opportunities of that community. It also seeks the fair and just treatment of all people throughout the civil and criminal justice systems, and works to reduce reliance upon incarceration.
Youth FX Youth FX primarily works with young people of color who reside in the South End, Arbor Hill and West Hill neighborhoods of Albany, NY, areas that have been historically under served and in need of meaningful opportunities for training and engagement in new digital media technology. The skills they learn not only enable them to be more creative and express their ideas, but they are also valuable skills that are in high demand in today's technology based world. Youth FX participants engage in their communities by creating documentary and short fiction films that reflect their understanding and vision of the world around them as well as their imagined futures.
Totals from last quarter
Last quarter, we raised $2763.35. Due to COVID-19 precautions, we did a contactless exchange and divided the total equally amongst the five organizations for $552.67 each.
Umbrella of Colonie (Colonie Senior Service Center)
Northeast Organic Farming Association (NOFA)
Past Recipients:
2020
The Albany County Land Bank
Grassland Bird Trust
Troy Bike Rescue
Albany Therapeutic Riding Center
Wizard's Wardrobe

2019
Huyck Preserve
Camp to Belong (Northern Rivers)
The Sylvia Center at Katchkie Farm
Albany Can Code
8
th
Step Coffeehouse
Albany Fund for Education
Crossroads Center for Children
The Albany Housing Coalition, Inc.
RISSE (Refugee and Immigrant Support Services of Emmaus)
The Rensselaer Plateau Alliance
GLSEN New York Capital Region
The Albany Damien Center
The Radix Center
Commission on Economic Opportunity
Oakwood Community Center
Hunger Solutions New York
Support Ministries Inc., Capital Region
Red Robin Song Animal Sanctuary
The Mohawk Hudson Land Conservancy (MHLC)
Albany Civic Theater
2018
Camp Little Notch
The Sanctuary for Independent Media
Citizens Campaign for the Environment (CCE)
Mom Starts Here
Old Friends at Cabin Creek
Scruff, Spaying Capital Region Unowned Feral Felines
NAMI, National Alliance on Mental Health
Wildwood Programs
Children at the Well
Rensselaer Land Trust
Capital Region Audubon Society
The Cue Theater
15 Love
Grassroot Givers
Long Table Harvest
New Baltimore Conservancy
Historic Albany Foundation
Strong Through Every Mile
New York Bicycling Coalition
Skribblers Magazine, Inc.


2017
Parks & Trails
Orange Street Cats
Sch. Theatre For Children
Equinox
HWFC Community Initiative
Hudson River Sloop Clearwater
Two Together
Warren Washington Albany ARC
Whiskers
Homeless Action CommitteeEnvironmental Advocates of New York
Interfaith Partnership for the Homeless (IPH)
Black Child Development Institute-Albany, NY
Kitten Angels
The Legal Project
Girls on the Run
Refugees & Immigrants
Riverkeeper
Albany Bike Rescue
Out of the Pits

2016
Unity House
MH Humane Society
Pine Hills Arboretum
Albany Barn
NE Association for the Blind
Social Justice Center
Coalition for the Homeless
Friend of Five Rivers
Special Olympics
Alliance for Positive Health
Albany Vegan Network
Peppertree Dog Rescue
Albany Bicycle Coalition
Albany Discovery Center
The Food Pantries
Youth FX (Grand Street Community Arts)
South End Children's Café
Vegetable Project
Hudson River Watershed Alliance
Equine Advocates


2015
Capital Roots
Albany Pride Center
Habitat for Humanity
Sierra Club
Literacy New York Greater Capital Region
Upcoming Classes & Events
Cancelled - All Upcoming Classes & Events Until Further Notice
HWFC Fresh News
Honest Weight Food Co-op is happy to announce that we will be 100% Community Solar Powered beginning in January 2021. Want to join us?
Updated Thursday, October 1, 9:00 AM Monday, Wednesday, Friday: Open to elder and high risk shoppers 7am-8am Every Day: Open to all 8am-8pm NEW UPDATE (effective Monday, October 19th) All who enter the co-op must...
We're ecstatic to be the first sponsor of Free Food Fridge Albany, a new grassroots initiative working to provide free and accessible food for marginalized neighborhoods and people. We are...