Board Meeting Minutes are available to all member-owners.
Please Note:
These PDF files have been moved to Dropbox. NO Dropbox account is required to view these files.
The below links take you to Dropbox. All you have to do once you get there is to make sure you click in the text box like in the image below, enter the PDF's password then click OK.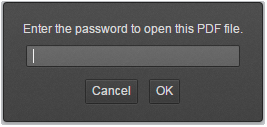 Please make sure that your web browser is updated. We recommend the most current version of Google's Chrome, Apple's Safari or Microsoft's Internet Explorer.
Some of the files below are password protected. If you do not already have the password for member-owner protected files, please call the Co-op with your member number to obtain the password or email memberservices-AT-honestweight.coop.

2017
January 3 and attachments
January 17 and attachments
February 21 and attachments
March 7 minutes, and attachments
March 21 decisions, minutes and attachments
April 4 decisions, minutes and attachments
May 2 decisions, minutes and attachments
June 6 minutes, attachments
July 11 minutes and attachments
August 1 agenda, minutes and attachments
October 3 agenda, minutes and attachments
October 29 agenda, decisions, minutes
November 7 agenda, decisions, minutes
December 5 agenda
2016

January 5 and attachments
January 19 and attachments
February 2 and attachments
March 1 and attachments
March 15 and attachments
April 5 and attachments
May 3 and attachments
May 17 and attachments
June 7 and attachments
July 12 and attachments
August 2 and attachments
August 23 and attachments
September 6 and attachments
September 20 and attachments
October 5 and attachments
November 1 and attachments
November 15 and attachments
December 6 and attachments

2015
January and attachments
February 3 and attachments
February 17 and attachments
March 3 and attachments
March 17 and attachments
April 7 and attachments
May 5 and attachments
May 19 and attachments
June 2 and attachments
June 16 and attachments
July 7 and attachments
August 4, August 20 and attachments
September 1 and attachments
September 15 and attachments
October 6 and attachments
October 20 and attachments
November 3 and attachments
November 17, attachments and member petition
December 15 and attachments
2014
January 7 and attachments
February 2 and attachments
March 4, March 12 and attachments
April 1 and attachments
April 23 and attachment
May 6 and attachments
June 3 and attachments
July 1 and attachments
August 5 and attachments
September 2 and attachments
October 7 and attachments
November 4 and attachments
November 20 and attachments
December 2 and attachments
December 16 and attachments

2013
January and attachments
February and attachments
March and attachments
April and attachments
May 7th, May 20th and attachments
June 4th, June 12th and attachments
July 2nd, July 10th and attachments
August 6th, August 14th, August 20th and attachments
September 3rd, September 11th, September 17th and attachments
October 1st, October 9th and attachments
November 5th, November 13th and attachments
December 3rd, December 11th, and attachments

2012
January and attachments
February and attachments
March 6
March 29
April and attachments
May and attachments
June and attachments
July and attachments
August and attachments
September and attachments
October and attachments
November and attachments
December and attachments

2011
January and attachments
February and attachments
March and attachments
April and attachments
May and attachments
June and attachments
July and attachments part one and two
August and attachments
September and attachments
October and attachments
November and attachments
December and attachments

2010
January and attachments
February and attachments
March and attachments
April and attachments
May 4th & 12th and attachments
May 20th
June 1st and attachments part one and two
June 8th
June 30th
July 6th and attachments
July 26th
August 3rd and attachments
August 12th
September and attachments
October and attachments
November and attachments
December and attachments
2009
January and attachments
February and attachments
March and attachments
April and attachments
May and attachments part one, two, and three
June and attachments part one and two
July and attachments
August and attachments
September and attachments
October and attachments
November and attachments part one and two
December and attachments
2008
January and attachments
February
March and attachments
April and attachments
May and attachments
June and attachments
July and attachments
August and attachments parts one, two, three, and four
September and attachments
October and attachments parts one and two
November and attachments
December and attachments
2006 & 2007
All minutes are available in hard copy in the Co-op's Community Room