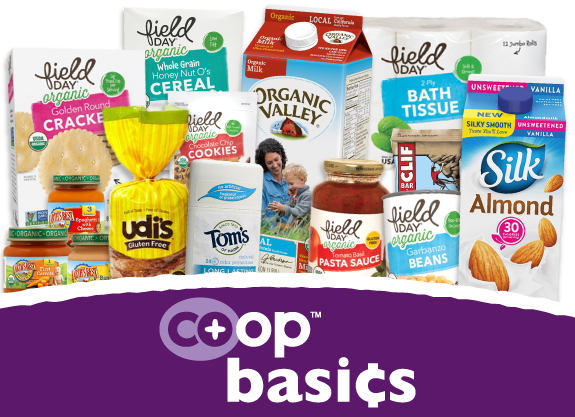 We want to help make healthy, nutritious food more affordable for everyone.
In the current food industry in the United States, food that was raised organically or without the use of chemicals, growth hormones, antibiotics often costs more. We don't allow food with those ingredients into our store, so we encourage our shoppers to use these tools to make the good-for-you food at Honest Weight more affordable. Here are some ways you can save every day at Honest Weight.
At Honest Weight, we have two sales flyers: the weekly Fresh Flyer features amazing sales on organic produce (often making it more affordable than conventional produce here and at other stores), all-natural and sustainable Meat and Seafood, local and boutique Cheese and Specialty Foods, and our Co-op Cafe and Deli offerings, which are made from scratch in-house or brought in from local bakeries and restaurants.
Our Great Deals Flyer changes every other Wednesday and features great savings on our impressive Grocery, Bulk, Gifts, and Wellness Departments.
The Co+op Basics program is a selection of pantry staples and household items—including tons of natural and organic products—that are priced below the suggested retail. Look for purple labels on 250 items throughout the store, including name brands such as Seventh Generation, Organic Valley, Cascadian Farms, Everyday Shea, Field Day, Luna & Clif Bars, Silk, and more! And our network of food co-ops continues to work hard to give you fantastic prices on even more of our best-selling pantry essentials, so that you can spend your dough where it counts most for you and your family.
Honest Weight offers an 8% discount to Seniors on Wednesdays and to Students on Sundays! Click the link for details.
Just like our founding members knew, when you buy a large quantity of unpackaged dry goods you receive a better rate. That doesn't mean that YOU have to buy a large quantity--we do that and pass those savings on to our shoppers. Learn how to shop bulk while saving money and reducing package waste at the link!
You'll find more coupons, along with our Great Deals! and Fresh Deals! sales fliers, at the store entrance and occasionally in our grocery aisles.
You can also find Honest Weight Coupons in the Savings Source and Clipper and follow us on Facebook for notices of online coupons!
Upcoming Classes & Events
Cancelled - All Upcoming Classes & Events Until Further Notice
HWFC Fresh News
Honest Weight Food Co-op is happy to announce that we will be 100% Community Solar Powered beginning in January 2021. Want to join us?
Updated Monday, October 19, 9:00 AM Monday, Wednesday, Friday: Open to elder and high risk shoppers 7am-8am Every Day: Open to all 8am-9pm We are closed on Thanksgiving Day. NEW UPDATE (effective Monday, October 19th) All...
We're ecstatic to be the first sponsor of Free Food Fridge Albany, a new grassroots initiative working to provide free and accessible food for marginalized neighborhoods and people. We are...