Treat Yourself to Coupon Savings!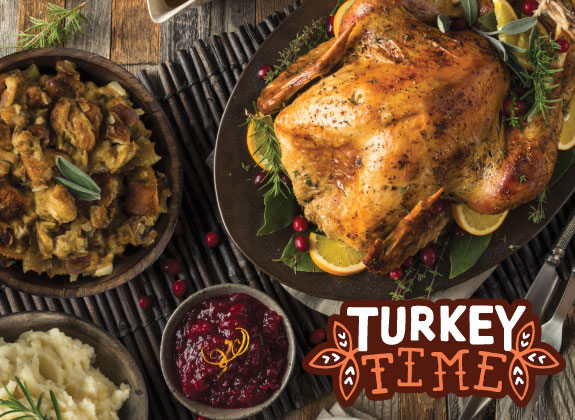 This Thanksgiving, treat your family to a turkey dinner they'll really give thanks for. Naturally, a fresh turkey tastes better than a frozen turkey, and natural turkeys taste better than ones that are pumped full of weird stuff like growth-hormones. Our turkeys come from local farms that we visit to make sure the birds are healthy and happy. Like anything else, better birds cost a little more, but why serve anything less than the best to your family at one of the most important meals of the year? All our turkeys are:
Fed a vegetarian diet
Allowed to roam free
Raised without hormones or antibiotics
Fresh, never frozen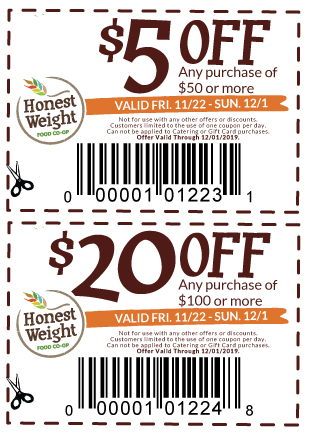 Show these coupons to your Honest Weight cashier on your device or click the coupons to print.
Plainville Natural and Organic Turkeys are here!
Honest Weight's Made-From Scratch Holiday Catering Menu
A delicious take on cranberry relish!
Talking Turkey: How Much To Buy, How Long to Cook It, and Other Helpful Tips

More Coupons and where to find them:
You'll find more coupons, along with our Great Deals! and Fresh Deals! sales fliers, at the store entrance and occasionally in our grocery aisles.
You can also find Honest Weight Coupons in the Savings Source and Clipper.
And follow us on Facebook for notices of online coupons!
We want to help make natural, organic, healthy food affordable for everyone.

The Fine Print: Our Coupon Policy
Store Coupons
Not for use with any other offers or discounts

Customers limited to the use of one coupon per day

Excludes catering or gift card purchases

For store coupons with a specific dollar amount off the total amount, only receipts from a single date may be combined to reach the total sales amount. Amounts from receipts on different dates may not be combined

We will only refund store coupons two weeks after the purchase date. Coupon must have valid date at time of purchase and customer must present receipt at the time of refund.

Clipper and Savings Source coupons must be physically present
Vendor/Manufactures Coupons
Honest Weight Food Co-op does not accept coupons from other retail locations, such as Hannaford, Whole Foods etc.

HWFC does not accept more than one coupon if the coupon states "Limit of one coupon per shopping trip"

HWFC does accept one coupon per product from coupons that state "Limit of one per purchase" as long as the customer has the same number of products as coupons allowed.

A physical coupon must be present

HWFC does not accept coupons on "reduced for quick sale" products
We do not accept any coupons that:
Appear to have been photocopied

Appear to have been screenshot or photographed

Have expired or are missing an expiration date

Have been identified as fraudulent by the manufacturer
Additionally, coupons with high dollar amount discounts off original retail value will be reviewed by management.
We will only accept coupons while they are valid according to the dates listed on the coupons. Coupons will not be accepted beyond their expiration dates. Store management has final discretion in accepting, denying or limiting the use of any coupons presented.