Read It! Together with HWFC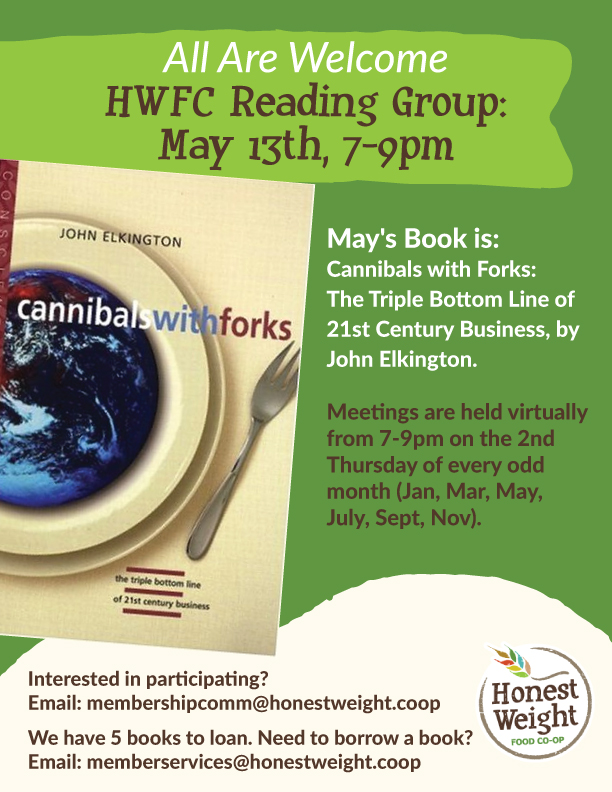 Join the Membership Committee and other fellow HWFCers for the next Reading Group to discuss Cannibals with Forks: The Triple Bottom Line of 21st Century Business by John Elkington
Ever wonder where the People, Planet, Profit triple bottom line originated? Are you interested in how HWFC could better evaluate itself based on this triple bottom line? Do you think it's an important time in the co-op's history to evaluate how we're adhering to our mission? We have just the book discussion for you! The Membership Committee is joining with the Finance Committee to discuss Cannibals with Forks: The Triple Bottom Line of 21st Century Business at our May 13 event.
Support Local!
The BookHouse can get its hands on a few more if you'd like to own your copy. Mention HWFC for 20% off of the current Reading Group selection.
If you'd prefer an e-book, consider using Archive.org to read this title for free. A free account is necessary to read this book in Archive.org.
Like to plan? Join the Facebook Event for this group
Questions? Email: MembershipComm@honestweight.coop
Thursday, May 13 from 7-9pm
Join Zoom Meeting Online
https://zoom.us/j/93245124472
Meeting ID: 932 4512 4472

To join by phone
+1 929 205 6099 US (New York)
Meeting ID: 932 4512 4472
Upcoming Classes & Events
Cancelled - All Upcoming Classes & Events Until Further Notice