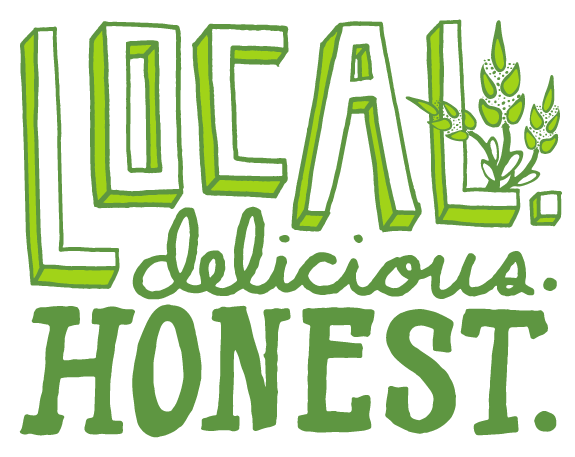 We pride ourselves on sourcing products locally from 285 farms and 319 producers, allowing us to carry over 4,200 local products. This means the produce and meat you feed your family is fresher. This cuts down on fossil fuels, we know our farmers, and supporting them means supporting the local economy.
SUPPORT LOCAL: CREATE COMMUNITY
Honest Weight donates 5% of our profits to local community initiatives. We reach 25,000 people annually through outreach at local schools, libraries, and community-based organizations. Supporting local creates community.
STAY LOCAL
When you shop at Honest Weight, you support the local economy that Honest Weight has been supporting for the past 40 years. Money that is spent locally, stays local. In fact, one Chicago study found that for every $100 spent at a local business, $68 remained in the city, while only $43 of each $100 spent at a chain retailer stays local. Local business owners often have incentive to support other local businesses, patronizing local establishments for both business and personal reasons. Chain businesses, on the other hand, tend to get their supplies from corporate, as well as having store managers and employees that aren't as personally invested in buying local.
BUY HONEST
Honest Weight has been owned by community members for forty years. Anyone can become an owner and you decide how involved you'd like to be.
We strive for total transperancy in buying policies and sourcing, and are run through democratic decision-making process.
Your Homegrown grocery store is the Capital Region's place to stay local and buy honest.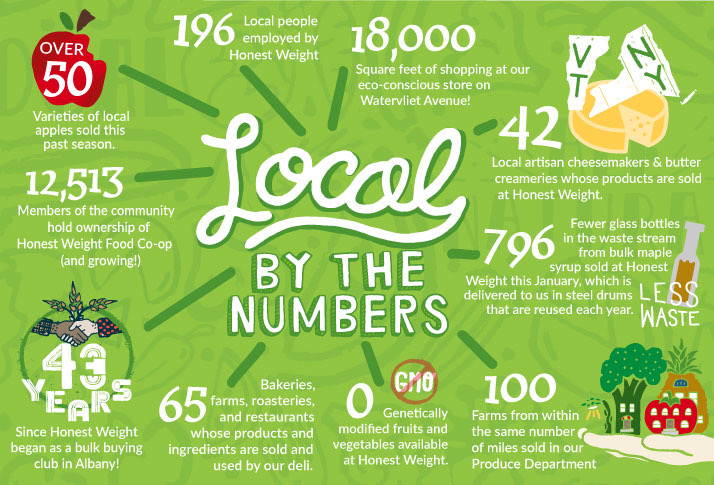 Cheese & Specialty Foods
We are fortunate to live in such a prime spot for LOCAL cheeses! Dairy farms dot the landscape in Vermont, Massachusetts, and our own Upstate, and we carry cheese from all of the above!
Food Service
Our chefs create fresh, made-from-scratch food containing all-natural ingredients, and we partner with local farms to source our most-used fruits and veggies.
Produce
"Eating locally goes hand in hand with eating seasonally," says Brendan Kelly, Produce Manager. "And eating what's in season means food is cheaper, fresher, more ripe, and better for you." Not only that, but purchasing from small, local farms means supporting livable wages, sustainable growing practices, and the local economy.
Bulk
Our Bulk Department features a host of locally produced products, with maple syrup and honey, flours and granolas, and locally roasted, fair-trade coffee.
Wellness
Thanks to our independence and dedicated team, we're able to work with local entrepreneurs who create small-batch wellness products, many of whom only sell at farmers' markets otherwise. We're able to support them as they scale up with education and marketing opportunities. As a result, we carry more local wellness products than any other store in the area.
Meat & Seafood
The meat we sell is sourced principally from small, local farms within a 250-mile radius, and with preference for pasture-based and free-range conditions. It is never treated with hormones, antibiotics, or unnatural preservatives. Our seafood is fresh, healthy, humane, and free of chemicals, hormones, or GMOs.