Together, we can Be the Change
we wish to see in the world.
Each time you visit the register, you'll have the opportunity to round your purchase up to the nearest dollar to empower organizations serving the local community. Honest Weight will match the first $500 raised each month.
Since Be the Change began in October 2021, the co-op community has raised over $79,658!
Learn more about current & past Be the Change recipients below.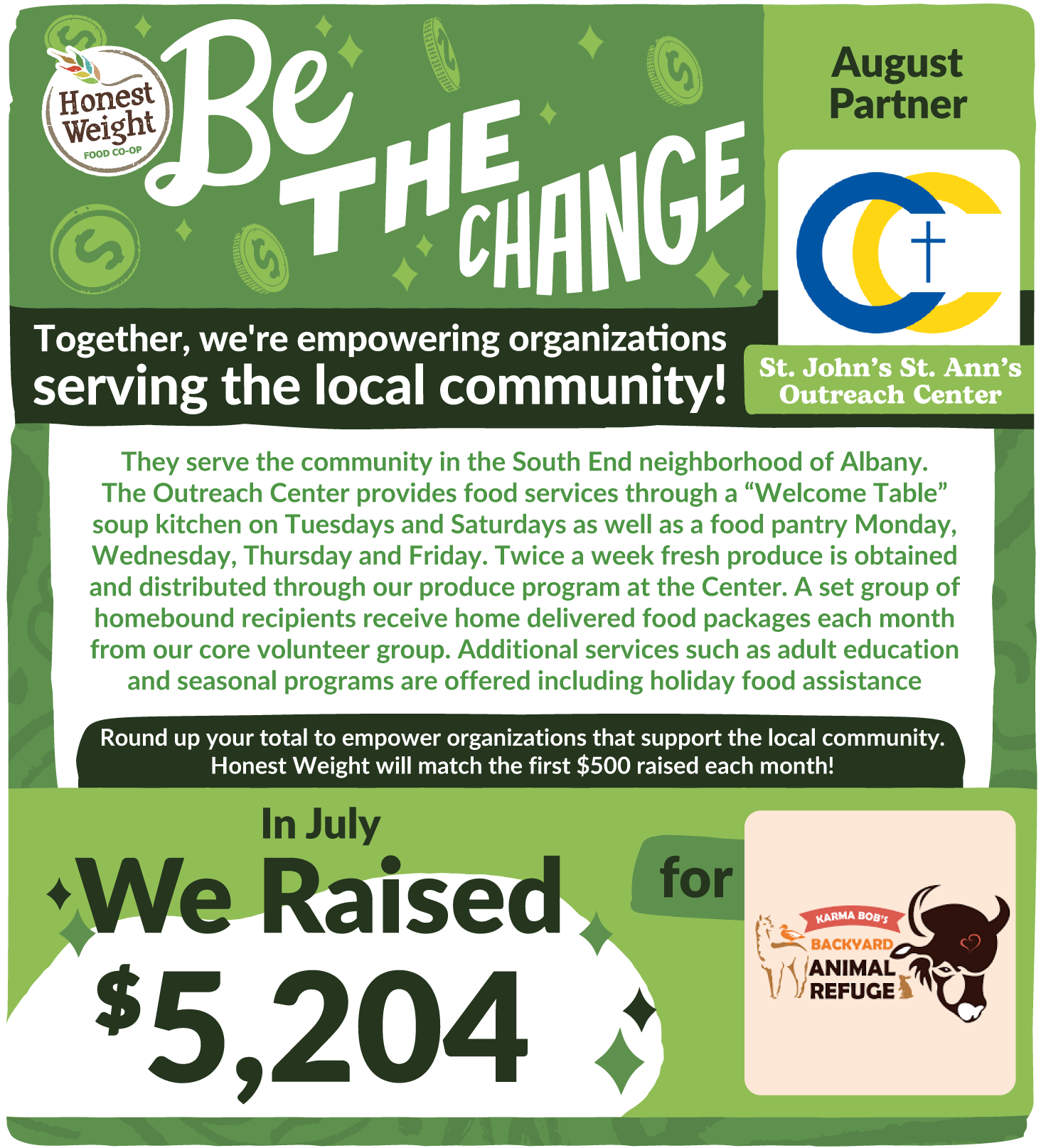 August 2023: St. John's & St. Ann's Outreach Center
St. John's St. Ann's Outreach Center serves the community in the South End neighborhood of Albany.
The Outreach Center provides food services through a "Welcome Table" soup kitchen on Tuesdays and Saturdays as well as a food pantry Mondays, Wednesdays, Thursdays, and Fridays. Twice a week fresh produce is obtained and distributed through our produce program at the Center. A set group of homebound recipients receive home-delivered food packages each month from our core volunteer group. Additional services such as adult education and seasonal programs are offered including holiday food assistance
July 2023: $5,203.50 raised for Karma Bob's Backyard Animal Refuge
Karma Bob's Backyard is a place of refuge for animals, most of whom have been abused, abandoned, rescued, or bought from farms that intended to sell them for their meat. Following Buddhist teachings on the kinship of all beings, they welcome our animal kin who come to them with absolute respect. They make it possible for them to live out their lives with them in accord with their natural inclinations, while they meet their needs for food, shelter, safety, medical treatment, end of life care, and, most of all, love.
June 2023: $4,654 raised for South End Grocery
The SEGS is a non-profit that opened in 2022 to combat the food desert in Albany's South End by providing equitable access to healthy produce and groceries. The South End Grocery worked with over 75 organizations, led by BlueLight Development Group and the African American Cultural Center of the Capital Region, to create a full-service operation offering an array of food sourced locally through charity-controlled farm production in Albany County. This nonprofit has already served thousands in the South End with healthy, affordable meals and groceries.
May 2023: $4,214 raised for Community Fathers Inc.
Since their founding in 2009, Community Fathers Inc. mission has been to provide self help opportunities and supportive services to fathers, families, and communities. The core of their efforts is to bring the communities ideas and passions to the range of activities they're involved in. Through all of their endeavors they strive to display the conviction behind their vision, that they can create a world where all men realize their value as caretakers of their communities!
April 2023: $6,031 raised for The Mr. Mo Project
The Mr. Mo Project is to rescue senior dogs from shelters nationwide so they can live out their lives in a loving home setting. They coordinate the transport of senior dogs from all over the the United States, recruits foster families for the dogs, and provides ongoing support by being a partner in the dogs' care including paying the medical and vet bills for the duration of their lives.
March 2023: $5,181 raised Grafton Peace Pagoda
The Grafton Peace Pagoda is a symbol of peace and nonviolence, stewarded by Jun San Yasuda, a nun in the Buddhist Nipponzan Myohoji order. Built entirely by volunteers and with donated materials, the Pagoda has brought together Christians, Jews, Muslims, Hindus, Native Americans, Baha'is, Sufis, Buddhists, Spiritualists and Agnostics to work for peace since 1985. Currently, the Peace Pagoda is working to protect Mohican sacred sites in Grafton, and accepting donations to support the purchase and conservation of 250 acres of land.
February 2023: $4,287 raised Greene Land Trust
The Greene Land Trust is dedicated to helping to protect the many places that make Greene County such a special place. Scenic vistas that inspired the Hudson River school of painters, agricultural lands that are an important part of our heritage; mountains and valleys that have attracted visitors for generations, habitat for an abundance of wild things and open spaces that offer recreation opportunities for us and future generation; all of these deserve our care and our concern.
January 2023: $4,915 raised for Up-Stitch
Up-Stitch is a 501(c)3 nonprofit creative reuse organization that collects donated fabric, yarn, and other sewing and needlework materials to distribute and sell back to the crafting community at an affordable rate. They endeavor to keep useful material out of landfills, facilitate creativity, and increase environmental awareness throughout the Capital District.
November/December 2022: $18,024 raised for The Food Pantries for the Capital District
Did you know? Just $1 can provide 6.25 pounds of food to a hungry neighbor. For some, a food pantry is a source of emergency assistance. For many, it is a supplement to low or fixed income, loss of income due to illness or job loss, or loss of second income for single parents. Food pantries help provide nutritious food to babies, children, seniors, veterans, and struggling families. The Food Pantries for the Capital District works diligently to support 65+ local food pantries.
October 2022: $4,889 raised for Literacy Volunteers of Rensselaer County
For more than 50 years, Literacy Volunteers of Rensselaer County has helped to build a more literate society by providing free, confidential tutoring to adults and out-of-school teens in reading, writing, and English for speakers of other languages (ESOL). Founded in 1968, the program began with basic literacy students and later included ESOL students.
September 2022: $5,351 raised for Albany High School Falcon Farm
Albany High Falcon Farms provides space for students to get their hands in the dirt and grow fresh food and flowers as part of their biology and ecology programs. A collective effort of community partners, students, and staff, the sprawling gardens on the East Side of Albany High School welcome families and community members to help themselves to fresh flowers and veggies at its farm stand.

Stop by at any time for veggies including squash, eggplant, basil, and peppers, and take some flowers to spruce up your summer table!
Learn more at: www.albanyschools.org/schools/albanyhigh/news/1714350/falcon-farms
August 2022: $5,829 raised for the Fresh Air Fund
The Fresh Air Fund is about so much more than summer. Through year-round programs that include tutoring, college preparation, and career and leadership development. they keep NYC kids learning and discovering. Learn more at www.freshair.org
July 2022: $4,722 raised for Grand Community Street Arts
An organization that has been largely focused on the arts: for youth, for adults, for musical, theatrical, and artistic expression. They have historically done this through individual events, through programs for the youth, and now through their community radio station, WCAA-LP 107.3 FM, with 35 local community members producing radio shows around the clock (available streaming 24/7 at grandarts.org).
June 2022: $4,257 raised for African Heritage Food Co-op
African Heritage Food Co-op exists to create a world where marginalized neighborhoods can become communities. Where no one goes without fresh, healthy and affordable food options. Most importantly, a world in which to create ownership and employment opportunities within the community through programming like mobile produce markets, black business events bazaars and Kiddie Kickstand, a children's entrepreneur program where AHFC teaches children how to own and operate their own business.
The AHFC seeks to not only to promote ownership in communities in the Buffalo and Niagara Area, but to spread its model to empower inner city communities everywhere. By encouraging residents in the community to become engaged with their local food system, AHFC can guide more communities to cease participation in oppressive structures and build, own, and operate inclusive systems that heal the local economy and reverse systems of oppression and discrimination.
May 2022: $5,467 raised for Supporting Colonie Senior Services
Colonie Senior Service Centers provides comprehensive services to those in our community who are in or approaching their mature years, and to provide services and support to their families and caregivers. Through these services, CSSC strives to ensure the physical, mental, emotional, and financial well-being of our participants, improve the quality of life, and enhance the structure and stability of our community as a whole.
April 2022: $7,399 raised for Ukraine through World Central Kitchen
World Central Kitchen is the first to the frontlines, providing meals in response ot humanitarian, climate, and community crises. They build resilient food systems with locally led solutions. To date, one million meals have served to familiies across Ukraine, Poland, Romania, Moldova, and Hungary. The new WCK Relief Kitchen is located in Przemysl — a Polish city just several miles from the border with Ukraine that is receiving tens of thousands of refugees every day. From this kitchen, their team has the capacity to scale up and cook 100,000 meals per day.
March 2022: $5,152 raised for Community Loan Fund of the Capital Region
The Community Loan Fund of the Capital Region is a community development financial institution providing financing, training, and technical assistance for small businesses and nonprofits. They focus on small businesses owned by women, minorities, and people of low income, and nonprofits providing essential community services. They have been in operation for 35 years, serving the 11 counties of the Capital Region. They were essential to securing the funding for the Honest Weight building that we are standing in right now!
February 2022 - $5,276 raised for Capital Roots
Capital Roots works to reduce the impact of poor nutrition on public health in the Capital Region by organizing 55 community gardens, providing healthy food access services, and coordinating urban greening projects.
For over 45 years they have made locally sourced, top-quality nutritious food accessible to our neighbors, students, and seniors. Make this year their most impactful yet!
Learn more at www.capitalroots.org
January 2022 - $3,165 raised for the Capital Region Vegan Network
Capital Region Vegan Network empowers our community to adopt and maintain a vegan lifestyle through outreach, education, support, and advocacy. Learn more at: https://capregionvegans.org/
November & December 2021 - $21,149 raised for The Food Pantries of the Capital District.
The Food Pantries for the Capital District was our Be the Change partner for the months of November and December, maintaining the long-standing tradition of the co-op's holiday season Food Pantries fundraiser. Through the generous contributions of our shoppers and a remarkably generous $2,500 match from our friends and neighbors at MyBacon, this year was our largest contribution EVER at $21,149!

Through the Food Pantries, just $1 can provide 6.25 pounds of food to a hungry neighbor. For some, a food pantry is a source of emergency assistance. For many, it is a supplement to low or fixed income, loss of income due to illness or job loss, or loss of second income for single parents. Food pantries help provide nutritious food to babies, children, seniors, veterans, and struggling families. The Food Pantries for the Capital District works diligently to support 65+ local food pantries.

October 2021 - $7,076 raised for The Miracle on Craig Street
The Miracle on Craig Street was our very first Be the Change program recipient. Founded in 2015, the Miracle on Craig Street is on a mission to root a culturally competent network of resources and opportunities for children and families, with a focus on health and wellness through physical activity, food and farming, and personal development and healing. They provide programming for youth summer sports leagues, yoga in the park, self-care workshops, a community gardening project, and a poetry series.
---
With the introduction of Be the Change, we have fully retired the beloved Enviro Tokens program. In six years, Enviro Tokens raised over $57,584 for local nonprofit organizations and saved 1,151,693 paper bags.