Together, we can Be the Change
we wish to see in the world.
Each time you visit the register, you'll have the opportunity to round your purchase up to the nearest dollar to empower organizations serving the local community. Honest Weight will match the first $500 raised each month. Learn more about current & past Be the Change recipients below!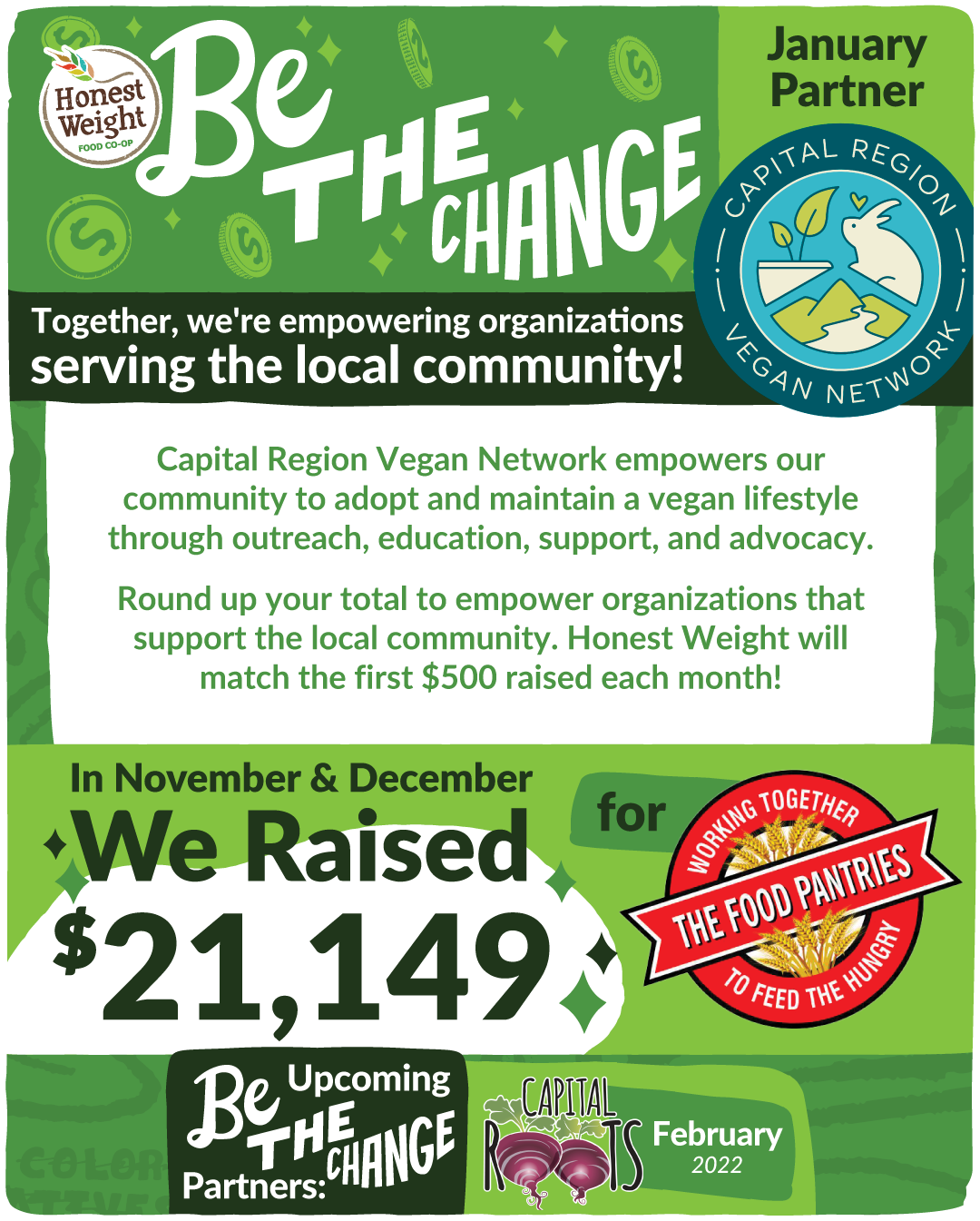 January 2022 - Capital Region Vegan Network
Capital Region Vegan Network empowers our community to adopt and maintain a vegan lifestyle through outreach, education, support, and advocacy. Learn more at: https://capregionvegans.org/
November & December, 2021 - $21,149 raised for The Food Pantries of the Capital Distirct.
The Food Pantries for the Capital District was our Be the Change partner for the months of November and December, maintaining the long-standing tradition of the co-op's holiday season Food Pantries fundraiser. Through the generous contributions of our shoppers and a remarkably generous $2,500 match from our friends and neighbors at MyBacon, this year was our largest contribution EVER at $21,149!

Through the Food Pantries, just $1 can provide 6.25 pounds of food to a hungry neighbor. For some, a food pantry is a source of emergency assistance. For many, it is a supplement to low or fixed income, loss of income due to illness or job loss, or loss of second income for single parents. Food pantries help provide nutritious food to babies, children, seniors, veterans, and struggling families. The Food Pantries for the Capital District works diligently to support 65+ local food pantries.

October, 2021 - $7,076.63 raised for The Miracle on Craig Street
The Miracle on Craig Street was our very first Be the Change program recipient. Founded in 2015, the Miracle on Craig Street is on a mission to root a culturally competent network of resources and opportunities for children and families, with a focus on health and wellness through physical activity, food and farming, and personal development and healing. They provide programming for youth summer sports leagues, yoga in the park, self care workshops, a community gardening project, and a poetry series.
---
With the introduction of Be the Change, we have fully retired the beloved Enviro Tokens program. In six years, Enviro Tokens raised over $57,584 for local nonprofit organizations and saved 1,151,693 paper bags.