Governance Review Council Reports
Minutes are available to all member-owners. They are in password-protected files. Please call the co-op with your member number to obtain the password and download instructions, or email memberservices-AT-honestweight.coop.

Please Note:
These PDF files have been moved to Dropbox. NO Dropbox account is required to view these files.
The below links take you to Dropbox. All you have to do once you get there is to make sure you click in the text box like in the image below, enter the PDF's password then click OK.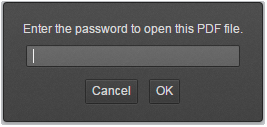 Please make sure that your web browser is updated. We recommend the most current version of Google's Chrome, Apple's Safari or Microsoft's Internet Explorer.

Upcoming Classes & Events
Cancelled - All Upcoming Classes & Events Until Further Notice
HWFC Fresh News
Honest Weight Food Co-op is happy to announce that we will be 100% Community Solar Powered beginning in January 2021. Want to join us?
Updated Monday, October 19, 9:00 AM Monday, Wednesday, Friday: Open to elder and high risk shoppers 7am-8am Every Day: Open to all 8am-9pm We are closed on Thanksgiving Day. NEW UPDATE (effective Monday, October 19th) All...
We're ecstatic to be the first sponsor of Free Food Fridge Albany, a new grassroots initiative working to provide free and accessible food for marginalized neighborhoods and people. We are...