If you're looking for flowers, veggies, herbs, fruits, and other plants that will grow well in the Capital District, Honest Weight is the place to shop!
Our local farms provide us with only their best, grown in this region, for this region. The Honest Weight plant selection includes a great selection of locally grown organic seedlings.
That's right - all of our outdoor plants are only for New York's Capital region planting zones. We do this by buying our plants and seeds directly from local farms and growers or from the cooperative wholesale Farmers Market in Menands. It's only one of the many ways we keep our owners and customers eating healthy - by helping you grow your own garden.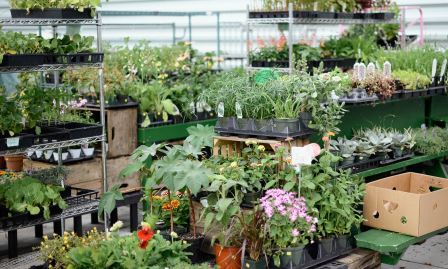 Our garden section is open April through the first frost in the fall. Items we carry include:
Locally grown organic herbs, veggies, and flowers
Locally grown conventional flowers and some herbs & veggies
Heirloom tomatoes
Blueberries, figs, & other fruits
Hanging baskets
Organic potting soil, starter soil, compost, top soil, & fertilizers
Locally grown straw
Flower and vegetable seeds (in stock and to order)
Locally grown succulents
Hanging baskets
A large variety of indoor potted plants, including air cleaning plants
...and so much more!
We also have friendly, helpful garden experts who love to share advice and guidance about growing a successful and nutritional garden in your own backyard.



If you can't find what you're looking for, ask one of our experts—they may be able to special order it for you!
Succulents - Inside the store, we stock a diverse selection of houseplants, including terrarium-sized plants, succulents and air plants, along with a wide variety of tropicals. Our succulents are mostly locally grown, and predominantly from a great grower in Mechanicville, NY.
Bouquets - We generally have a small selection of bouquets that we strive to source locally during the Northeast's growing season. During the fall and winter holiday times we feature locally grown wreaths, poinsettias and greenery as well as holiday arrangements, some of which are created in-house.
Soil - Outside the store, we stock various organic soils, with the bulk of our products coming from a long-time source in Millerton, NY, McEnroe Farm. We also sell Organic Mechanics from Pennsylvania.
Straw - We carry conventional straw year-round, and have added organic straw as an option this year.
Amendments - We also stock a great organic poultry fertilizer for outdoor gardens, as well as organic fertilizers for indoor plants.
Plants - Our outside plants include wonderful offerings for those looking to add plant materials to their garden or home. We offer organically grown veggies, herbs, and flowers from the same farmer we have been doing business with for over 20 years! Our conventionally grown plants are purchased at the local farmers market, from farmers and growers who deliver their plants and plant products directly to the Co-op, and from local farms where we go ourselves to buy plants. Over the many years we have carried plants at the Co-op, we have established great relationships with all of our farmers and growers whom we regularly engage in open dialogue with, so these farmers and growers know what our customers are looking for as well as what our customers' concerns are.
A note on Neonicotinoids:
One recurring topic of particular concern this year is neonicotinoids. For many years now, neonicotinoids have been on the radar screen of the Plants Department, all of our farmers and growers, and many of our customers. In 2017, the Nutrition and Education Committee of the Co-op set a goal to have a written policy in place concerning neonicotinoids in the Plants Department beginning in 2018. This policy is to be created this year, with the Nutrition and Education Committee members working cooperatively with the Plants Department Manager. As with all policy changes, this will be voted on by the Co-op's Membership before it becomes effective.