You've probably noticed that Honest Weight isn't your average grocery store. We're one of more than 200 cooperatively-owned grocery stores in the United States, governed through democratic process by our Member-Owners (shareholders who commit an investment of their time to the Co-op on a weekly or monthly basis).
Our Co-op is community-owned (as opposed to an employee-owned co-op, a farmer co-op, or a federal credit union) which means that community members (in our case, somewhere around 14,000) have each purchased a Certificate of Ownership and own a stake in our store. These Owners, as we call them, get certain benefits, like 5% of all local products and 2% off their groceries. Owners who choose to do so may attend an orientation and participate in a weekly or monthly time exchange in order to receive a greater discount on groceries--they are then called "Member-Owners". This means we have some people committing three hours a week or three hours a month who are not employees, but these valuable helpers assist with everything from stocking shelves to teaching free classes (which are also open to the public!) to administrative duties. Learn more about becoming a Member and a Member-Owner here!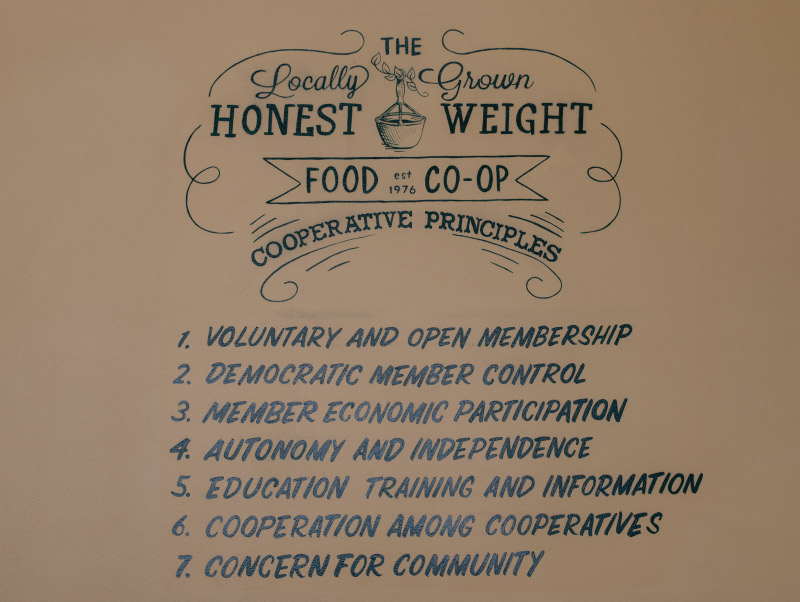 Co-ops are everywhere!
Cooperatives are member-owned, member-governed businesses that operate for the benefit of their members according to common principles agreed upon by the international cooperative community. In co-ops, members pool resources to bring about economic results that are unobtainable by one person alone. Most simply put, a cooperative is a business:
voluntarily owned by the people who use it, and
operated for the benefit of its members.
Co-ops can be organized for the benefit of consumers, producers and workers and operate in almost all areas. For instance, consumer co-ops provide food, housing, health care (the original HMOs were co-ops), financial services (credit unions), and other goods and services. Producer co-ops most typically offer agricultural services for farmers - either inputs (e.g. seed, fertilizer, fencing) or processing and marketing (e.g. milk bottling and cheese production). Worker co-ops offer cab services, cleaning, manufacturing, and food production. Regardless of the goods and services provided, co-ops aim to meet their members' needs.
Honest Weight Food Co-op is a consumer cooperative, which means that it is owned by the people who shop here. Consumer members exercise their ownership by investing in co-op shares, patronizing the store, and electing a board of directors to hire, guide, and evaluate the general manager who runs day-to-day operations. Learn more about Membership at Honest Weight here!