Our Bulk Department boast 999 items, making it one of the largest in the northeast!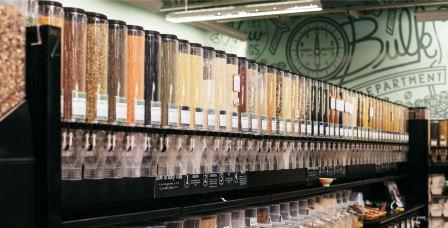 Honest Weight Food Co-op started out as a bulk foods buying club back in 1976, so we think of bulk as our flagship department. In today's culture of ready-to-eat and food-on-the-go, we invite you to peruse our huge bulk department and enjoy the colors, textures and scents. Here you can get all of the whole and natural ingredients you need to make...well, just about anything!
Plus, in our Bulk Department, you can buy as much as you want or as little as you need. A teaspoon of nutmeg? No problem. A fifty pound bag of all-purpose flour? We can do that, and we'll help you carry it to your car.
With everything from popular favorites like freshly-ground peanut butter and coffee to items you've been meaning to try, like avocado oil or brown rice pasta, you won't believe what you can get with 20 bucks. That's because our bulk foods use less packaging, processing and labor. That saves us money so we can pass the savings directly on to you. Just scoop and save.

Bulk PLU Finder: If you get home and can't tell which baggie is filled with baking powder and which one has baking soda, look up the PLU number here!

Why Buy Bulk?
There are so many reasons! Read some of them, taken from the Spring 2016 issue of our Coop Scoop magazine, below:
Buying in bulk is what our Co-op was founded on. As a buying club in 1976, the original HWFC members placed orders for huge bags of brown rice, beans, and other shelf-stable hippie staples and divided them into portions for individual members to purchase. This saved money, enabled access to foods that weren't widely available at the time, and eventually fostered the sense of community that has landed us, 40 years later, in a huge store, with a membership of over 12,000.
Shopping in the Bulk Department not only saves packaging, it enables you to reuse your old packaging. Were you gifted a really beautiful bottle of oil, or a pretty jar of jam, and have used it all up? Not to worry! You can continue to enjoy a trusted jar or the world's most-beloved honey bear for years to come. Just bring your container into the store and refill it - it's so simple, and conserves so many resources. You'll save piles of plastic, glass, and cardboard, not to mention the energy that goes into producing, recycling, and/or disposing of them.
The selection is vast. Want some dried mulberries, guar gum for a special baking project, or wild-harvested Maine seaweed? Need a little Vietnamese cinnamon for a recipe? Sometimes the things we love or need for a special meal are impossible to find at conventional groceries. Bulk carries a huge assortment of items, from a range of cuisines, for a range of diets.
In our Bulk Department you can buy exactly what you need, and just that amount.Are you making something new that calls for an ingredient you've never tried before? If you buy a large package of a rarely-used item, you may be creating a lot of waste and taking up valuable real estate in your kitchen cupboards.
It saves money. Just like our founding members knew, when you buy a large quantity you receive a better rate. We're able to pass those savings on to our shoppers and members in the Bulk Department.
It's educational and interactive, just like our Co-op itself. Grab a recipe card near the soup mixes or a pamphlet on Soy Products, Beans, Rice or Flours near the pasta. Ask one of our friendly Bulk Department staff or member workers for tips on how to prepare any of the items you'll find there. Did you know we have an entire mini-section of gluten-free items within the Bulk Department, slightly isolated to prevent cross-contamination? Did you know that all but one of our coffee roasters is local, and the other is a not-for-profit? There is really so much to learn, just from strolling the aisles.