Newly Expanded Co+ops Basics Program!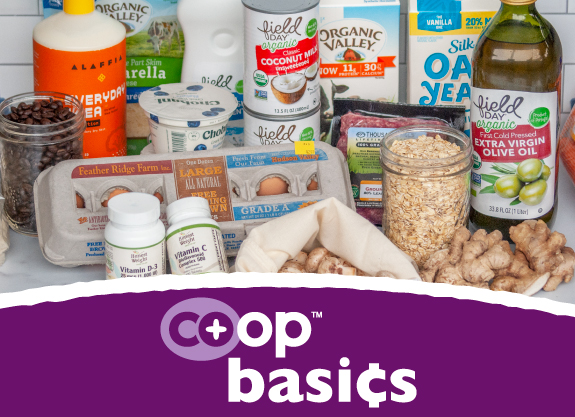 Why shop at the Co-op when you've got so many other choices? Because we've got the good stuff!
We've got local stuff, organic stuff, fair-trade stuff. Stuff that makes a difference. We work with hundreds of partners who are making a difference locally, in their communities, and in the world. You can feel good about the products you're taking home.
We've also got affordable stuff. We launched Co+op Basics a few years ago as a fresh take on everyday low prices, a collection of over 250 pantry staples priced far below comparable products at other grocery stores.
That's why we're super excited to share some big news.
Today, we're announcing a greatly expanded Co+op Basics program, now with over 450 everyday low prices on all of the good stuff!
We're redefining the Everyday Low Price to prove that all of the good stuff can be made affordable for all of the good people.
Here are some of our favorite new additions to Co+op Basics, along with some classics:
$2.69 for a dozen local Feather Ridge Farm Brown Eggs. These eggs come from Elizaville, NY, about fifty miles south of the co-op. Feather Ridge chickens are all free range, and eat feed that is milled right there on the farm, always 100% antibiotic and hormone free. Plus, the farm runs completely on solar power!
$9.99/lb Equal Exchange Bulk Coffee. A daily cup (or pot!) of joe can get expensive, but it doesn't have to. Equal Exchange is a worker-owned, Fair Trade organization offering sustainably grown and harvested coffee (and tea, sugar, bananas, avocados, cocoa, and chocolate bars). Equal Exchange pays fair wages to farmers in Latin America, Africa, and Asia.
$1.49/lb Local Apples. An apple a day keeps the doctor away. Local apples are as upstate NY as arguing about where upstate NY truly begins.
$2.99 Housemade Pizza Dough (1lb.) Our bakery kneads this dough to perfection fresh each day so that it's always ready for you to bring home for Pizza Night!
Field Day Organics is our partner in packaging dozens of organic pantry staples at super low prices, like Field Day Organic Canned Beans for $1.49, Field Day Organic Coconut Milk for $2.39, Field Day Organic Broths for $2.29, Field Day Organic Pasta Sauces for $2.99, and so many more!
Honest Weight Brand Vitamins & Minerals are all now priced below the suggested retail to help ensure health equity. Our house brand is produced by Reliance Private Label Supplements, a leader in the industry, GMP and NSF certified by UL and the Natural Products Association to independently confirm quality.
The Alaffia Everyday Shea line (including body lotion, body wash, shampoo & conditioner) is an incredible value at $12.99 for 32oz. These products are all Fair-Trade, environmentally safe and created under the values of beauty, equality, and empowerment for their employees. We love that Alaffia is certified as a minority-owned, managed, and controlled business.
We are committed to offering all of the good stuff at prices that are affordable and accessible to all. And we've got some big plans… so, stay tuned as we continue to share budget-friendly recipes, co-op shopping tips, and ways to help you enjoy all of the good stuff without breaking the bank.
Visit www.honestweight.coop/basics to learn more about Eating Good on the Cheap!