Now Seeking Meat and Seafood Associates!
Honest Weight is currently seeking to hire full- and part-time Meat and Seafood Associates. Our Meat and Seafood Department is one of our fastest-growing departments in a thriving natural foods store, and the team that runs it is small, tight-knit, creative, and passionate.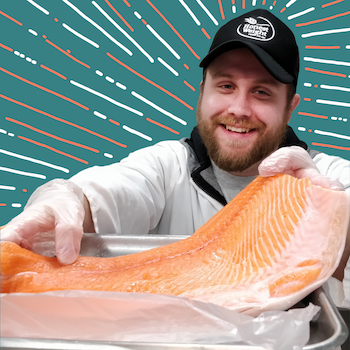 At Honest Weight, we follow strict buying guidelines and prioritize local and regional organic and grass-fed meats whenever possible. We supplement with U.S.-grown organic products as needed. We're looking for someone who shares these values and wants to be part of a progressive, cooperatively-owned grocery store.
What's your passion?
The right candidate is friendly, committed to advocating for natural foods and supporting local food systems, and has experience with or is interested in learning more about meat and seafood processing and preparation.
Creatives apply within.
We make our own sausages and ground meats, brine our rotisserie chickens, craft our own crab cakes, flavor and craft our burger patties, and salt cure our own corned beef--all from scratch. We also make value-added products, like marinades and spice blends. We break down primal cuts and make special cuts to order for customers. Ever spatchcock a chicken? Here's a chance to learn how! Want to play around with flavors and create a new spice rub? Opportunity is a-knocking.
Perks and Benefits
Honest Weight is proud to complement our employee wages with a benefits package that includes paid time off, flexible scheduling, a retirement savings plan, health insurance for full and part time employees (including dental, vision, and options for alternative insurances), a store discount, and free food and other perks throughout the year.
Our ideal candidate
Provides outstanding customer service
Is familiar with or interested in learning more about the local farming community and local food systems
Is familiar with or interested in learning more about natural, sustainable, and organic foods, including grass-fed, free-range, humane practices, and wild-caught and sustainably-farmed seafood
Doesn't mind spending time working in cold temps
Has previous experience cutting meat and/or seafood for retail
Is organized
Has basic computer skills
Loves working on a team
Has a solid work ethic
See all the details and apply on our employment page!