Tour de Chocolate Winners Chosen from 101 Entries!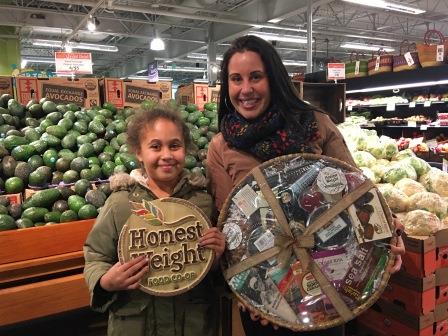 Our Tour de Chocolate scavenger hunt was a total success with 101 entries! Shoppers answered eight questions by finding cocoa products throughout the aisles at Honest Weight.
On Valentine's Day, we drew the winning Passport. Mother-daughter team Jillian and Myia won our basket of chocolate and said they had a blast going through the prizes and ate chocolate until they were blue in the face.
Jillian added, "We love the Co-op! I have been coming since you guys were on Central; I always feel like it's family in there."
Congratulations to Jillian and Myia, and thanks to everyone else who played!
The answers to the Tour de Chocolate questions are below:
1. GROCERY DEPARTMENT
According to the package, Chocolove bars are made where in Colorado? Boulder
2. WELLNESS DEPARTMENT
Queen Helene's was founded in what year, according to their tubes of Cocoa Butter? 1930
3. BAKERY
How many ingredients in HWFC's Chocolate Truffle Cookies are fair trade or local? four
4. PRODUCE DEPARTMENT
How many chocolate strawberries did Honest Weight sell leading up to Valentines Day, 2016? 976
5. BULK DEPARTMENT
Callebaut Unsweetened Chocolate Chunks contain how many ingredients? one
6. GROCERY DEPARTMENT
Equal Exchange Baking Cocoa uses cacao from the Dominican Republic and Peru
7. BEER AISLE
Westbrook Brewing Company's Hazelnut Chocolate Imperial Stout celebrates their 6th anniversary.
8. CHEESE & SPECIALTY FOODS
Barkeater Chocolate is handmade in the heart of what mountain range? The Adirondacks
HWFC Fresh News
This Friday, February 9th, from 11am to 2pm, stop by Honest Weight's Cheese and Specialty Department to meet Berle Farm's cheesemakers and dairy artisans, Beatrice Berle and Vi Huu Wood....
Did you know Honest Weight hosts community art exhibits? Our gallery is located in the hallway outside of the Community Room and Teaching Kitchen. Our winter show's theme is "Whatever Your...
Spicy food fans will find plenty to cheer about with these jalapeños stuffed with spiced pork and smoked cheddar. Serves: 18. Prep time: 10 minutes active; 30 minutes total. Ingredients