Co-op Community Spotlight: Stephen Piorkowski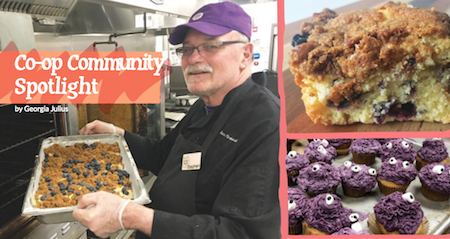 Our co-op community spotlight features an employee or member-owner who does great work at the Co-op and in the community.Our inspiring highlight is on Stephen Piorkowski, a baker, student, artist, and epilepsy advocate.
An abridged version, along with photos, was published in the May/June 2018 issue of the Coop Scoop Magazine.
Hello Stephen! Tell us a little bit about yourself!
My name is Stephen Piorkowski. I've been living in the Capital Region, Delmar, for about 7 years, I grew up on the Jersey Shore in a town called Belmar so when I was looking for a place to move and found out there was a town called Delmar, I had to move there. When I moved up here, from the sea to the mountains, I didn't have a lot of connections. But I think it's one of the best areas around, I love it up here.
What do you do at Honest Weight?
I'm a baker. We do all the standard desserts, but then I have my own projects—I research a lot of recipes at home. I've developed my own recipes that we use for coffee cake, strawberry cheesecake, lemon bars, and more. I've got one called the Double Chocolate Double Espresso Cookie. That's one thing about Honest Weight I love—they allow me to become more proficient at my talents and create my own recipes to share with our members and shoppers. I couldn't be happier.
How did you get into cooking?
My mother was an immigrant from Hungary and my father was from Poland. His family owned a Polish deli in Perth Amboy, NY. My mother was a Hungarian-Austrian pastry chef. I moved out at an early age and but I learned all the recipes i could to preserve my family's traditions. I went through recipes and researched and tested until I found ones authentic to my mother's cooking.
When I moved here, I got support from Jean Holland, a now retired counselor from ACCES/VR (Adult Career and Continuing Education Services-Vocational Rehabilitation). She helped me register for Schenectady County Community College. My first degree was a dual concentration in culinary and baking.
People will ask me, Do you like to bake or cook? I like to do both. My mother would cook dinner from scratch, at least three courses every night. I like shopping for food, I like preparing food, I like everything with food.
You do a lot of advocacy work for epilepsy. Can you tell us about it?
I've had epilepsy since I was two years old, but now I've had it under control for six years. I'm a volunteer and advocate for Epilepsy Foundation. In New Jersey, I had my own office at the community college where I worked as a Print Shop Manager, and there I had self-help groups for people with epilepsy.
I love organizing and coordinating events. I requested that the Co-op allow us to have the Epilepsy Foundation's art therapy group, Studio E, meet here. We meet once a month at HWFC and once a month at the Center for Disability Services. I've been working closely with Studio E for over four years. In May, we're having an art show at the Co-op in conjunction with the Honest Arts committee. The art will be for sale and proceeds will be donated to the Epilepsy Foundation of New York.
I started The Purple Cupcake Project which happens every year around March 26th. [Editor's note: March 26th is Purple Day, an international grassroots effort dedicated to increasing awareness about epilepsy worldwide.] I recruit bakeries, including Honest Weight, to donate cupcakes, and get culinary students and alumni to donate their time and bake at the community college. The first year, that effort raised $40. The second year, we raised $400. By the third year, we'd raised $1,300, which was enough to start a scholarship through a foundation of Schenectady County Community College. The Stephen Piorkowski Epilepsy Scholarship is eligible to students of SCCC who are or have been affected by epilepsy, including family members of those with epilepsy.
I'm working on another project called the Wall of Hope Tile Project, where we are having ceramic tiles painted by persons with disabilities and mental illnesses to raise awareness. We are in the process of finishing, firing, mounting the tiles at Schenectady County Community College.
I'm also a volunteer for National Association for Mental Illness, which is a current recipient of the Enviro Tokens program at the Co-op!
What brought you to Honest Weight?
I was a member at the Central Avenue store and I would volunteer my time to bake for demos. I would take cheese and make and sample puff pastries to help sales. I started working at Honest Weight on March 25th—my birthday—two years ago. Also the day before Purple Cupcake Day, so it was a very busy time. I was three months away from graduating from culinary school and my baking instructor, Bill Benson, who was Honest Weight's Bakery Manager at the time, suggested I take the job. I started at 30 hours a week while I finished my degree. It was a hard time for me; I'd leave home at 6am and take the bus from Delmar to Schenectady for 8am class, then to Albany and home at 11pm.
What's your favorite thing to bake?
My favorite thing outside of here is my mother's Beigli. It's a special type of jelly-rolled pastry that has walnuts, sometimes poppy seeds, rolled very tight. It's like a coffeecake. They're delicious and one time i went to a Hungarian event at the German American club in Albany. I had six of those pastries and and they sold out in half an hour.
My most popular recipe at the Co-op is a coffeecake that I created. It has streusel topping. First I made it with blueberries. In the fall, blueberries became too expensive and I adapted it to feature apples. When the spring came, I made a tropical version with pineapples and coconut. And today, I'm going to make one with peaches and blueberries!
Do you have any favorite words of wisdom you'd like to share with us?
"Anybody can make you enjoy the first bite of a dish, but only a real chef can make you enjoy the last." – Francois Minot
You can find Stephen making magic in the Co-op bakery Mondays, Wednesdays, and Saturdays. He is open to speaking about his epilepsy to anyone who wants to learn more.