Meet our Producers: Aqua ViTea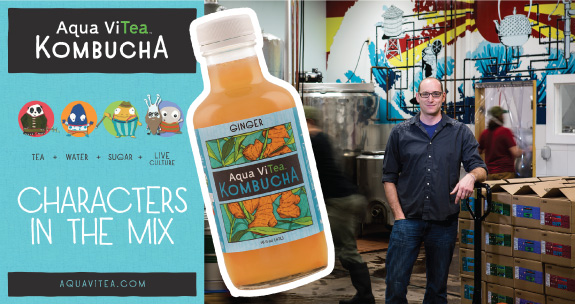 At the Co-op, in the area between the produce and bulk departments, you will find the kombucha fountain. It is one of the store's most popular browsing spots; there is almost always someone sipping samples of the six available flavors: BlueBernie, Ginger, Hibiscus Ginger Lime, Turmeric Sunrise, Strawberry Sage, or Blood Orange.
What is this unusual drink, and why do so many people want to try it?
As explained on the Aqua ViTea website, kombucha is "…an authentic, raw probiotic drink that has been revered for centuries around the world for its life-enhancing qualities. It's made from tea, water, sugar, and a symbiotic culture of yeast and bacteria. During fermentation, the sugar and tea nutrients convert into vitamins, minerals, enzymes, and organic acids." The result of this fermentation process is a healthful beverage that "is refreshingly fizzy, non-alcoholic, and good for your gut."
Jeff Weaber is the creator of Aqua ViTea, now located in Middlebury, Vermont. Weaber learned the craft of brewing and fermentation while working for the Lucky Labrador Brewing Co. in Portland, Oregon. Eventually he was introduced to kombucha through Sally Fallon's Nourishing Traditions Cookbook and the Weston Price Foundation, an organization focused on health, nutrition, and traditional foods. In 2005 Weaber and his wife, Dr. Katina Martin, who holds degrees in naturopathy, midwifery, and acupuncture, moved to Vermont where he began producing his own brand of kombucha and sharing it with his friends. The more he learned about the health benefits of this drink, the more determined he became to make it available to the wider community. In 2005, Weaber and Martin established Natural Family Health, and Weaber started what would become Aqua ViTea, the combination of which allows Weaber and Martin to work as partners to educate people about "bringing their lives into healthy balance."
In a quickly growing industry, Weaber focuses on producing authentic kombucha that is not only unpasteurized and undiluted, but non-alcoholic as well. He does so through the combination of ancient traditions, modern techniques, and precise scientific testing methods. Additionally, as a responsible business owner, he continually evaluates the impact of his business decisions on the environment and on his community.
For more information about this producer, go to www.aquavitea.com.

We truly value the small businesses and dedicated individuals who work hard to create the exceptional goods and products we carry here at Honest Weight Food Co-op. We think these inspirational stories demonstrate the importance of supporting local businesses, and why we're so committed to it!