Meet our Producers: Tidy Thyme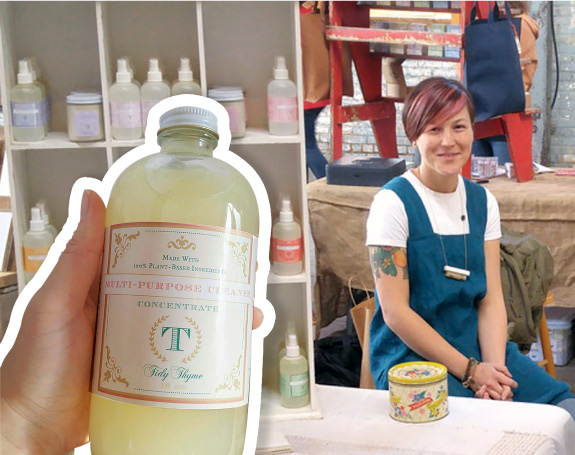 So many cleaning products on the market today are chemical concoctions that wreak havoc on both the environment and human health. Even those cleaners that are touted as eco-friendly contain potentially hazardous ingredients. Tidy Thyme cleaning products, developed by Michelle Boyle of Altamont, New York, are a refreshing departure from these false "greenies."
At an early age, Boyle was inspired by the work ethic of her parents and by the support of her surrogate grandmother and childhood caretaker, Alice. Boyle's husband's chemical sensitivities were the catalyst for educating herself on the chemicals in cleaning products and their effects, and the recognition that environmental toxins can lead to disease. Alice's battle with cancer and her ultimate death was also an inspiration for wanting to make a difference—"Do something about it!"
As a result, Boyle began to experiment with making her own basic plant-based cleaning solutions, and by 2008 she was using and testing these solutions in her professional cleaning business, Green Genies.
In 2014 Boyle introduced her Multi-Purpose Cleaner at Honest Weight. Today four additional Tidy Thyme products are on the shelf at the co-op: Glass and Stainless Steel Cleaner, Room & Linen Spray, Yoga Mat Cleaner, and Scrubbing Powder. All these products are crafted in small batches in Boyle's home, and all are made from 100 percent natural ingredients, such as lemons, vinegar, and essential oils.
In Boyle's words, Tidy Thyme products are for "conscious, compassionate consumers who don't want to poison themselves, their families, or the planet."
Visit www.tidythyme.com for more information

We truly value the small businesses and dedicated individuals who work hard to create the exceptional goods and products we carry here at Honest Weight Food Co-op. We think these inspirational stories demonstrate the importance of supporting local businesses, and why we're so committed to it!