National Potato Chip Day Sale!

America's #1 snack food is recognized each year on March 14th. This year, Honest Weight is joining the fun with 2/$6 bags of Kettle Brand and The Original Saratoga Potato Chips!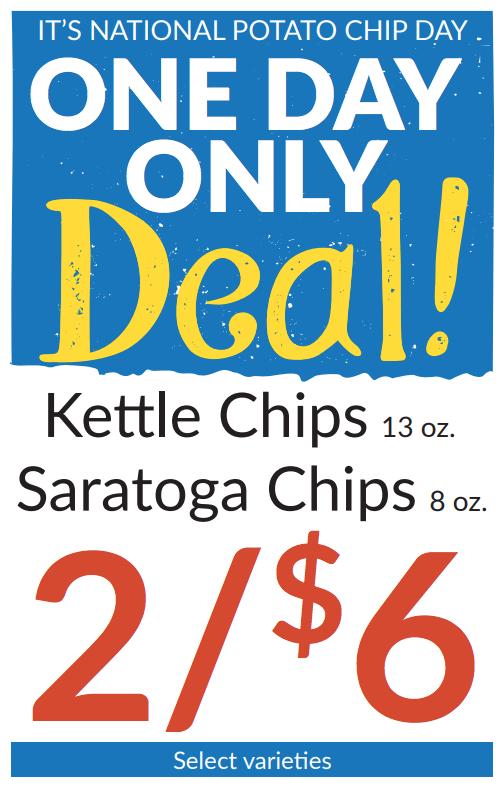 Did you know that Potato Chips were created right here in Upstate New York?
The legendary snack food was invented by a man named George Speck, better known by the name George Crum, who cooked at the Moons Lake House in Saratoga Springs, N.Y.
Legend has it that in 1853 a wealthy customer ordered a house specialty of fried potatoes, but kept sending them back because they were too thick and soggy, even though that was the traditional way to make them.
Frustrated with the picky customer, Crum sliced the potatoes as paper thin as he could, and attempted to over-salt them and make them inedible. But when he deep fried them, they became crispy, and apparently delicious, because the customer then sent back for another order.
Soon, Crum's Saratoga Chips were a popular request, and in 1860, Crum opened his own restaurant, and served Original Saratoga Chips at the tables.
By the late 1870s, the term "Saratoga Chips" was being widely used as a standard menu item on train cars, hotel restaurants, and street carts. The name carried on into grocers when the chips were made in larger batches by bakeries. They shipped them by wagon to the restaurants and grocers by the barrel, and the grocers would then sell to private families by the pound. Folks were instructed to bake the chips in a hot oven for a few minutes, and they would be as crisp as if fried that same day.
The Dayton, Ohio-based Mike-sell's Potato Chip Company, founded in 1910, also calls itself the "oldest potato chip company in the United States." New England-based Tri-Sum Potato Chips, originally established in 1908 as the Leominster Potato Chip Company, in Leominster, Massachusetts, claims to be America's first potato chip manufacturer.
In the 20th century, potato chips spread beyond chef-cooked restaurant fare and began to be mass-produced for home consumption.
Flavored chips were introduced in the 1950s.
Potato Chip revenues are over $15 billion a year worldwide!
HOW TO OBSERVE
Grab a bag of potato chips on sale at Honest Weight. Enjoy and share on social media using the hashtag #NationalPotatoChipDay!
Sources: NationalDayCalendar.com and Syracuse.com, credit Ben Axelson