Pull Up 111 Plastic Bottles!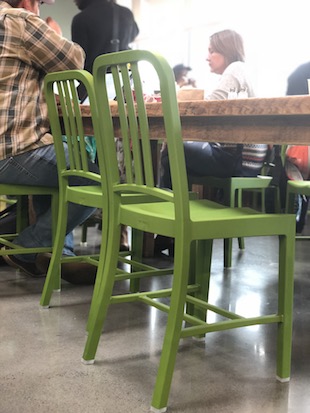 You may have noticed our cafe seating recently changed and that our new chairs are made of green plastic. What you can't tell just by looking is that they're actually made of GREEN plastic--each of those plastic chairs is made of 111 up-cycled Polyethylene Terephthalate (PET) soda bottles.
PET is probably the most common plastic on earth and, like other plastics, can take between 500 and 1000 years to break down. PET is soft, and used mostly for a single use. In a typical best case scenario, they're recycled into new single-use plastics forever. In a worst case scenario, at some point in their plastic lives, they end up in a landfill, or worse.
So why not turn everlasting single-use plastic into something that SHOULD be made to last forever, like furniture? At the Emeco chair factory in Pennsylvania, over 200,000 plastic bottles arrive each weekday for processing. There, they are sorted, ground, and washed. The plastic is reconstituted into rPET, a much sturdier material than the original soft, single-use substance plastic. rPET is sturdy, scratch-resistant, and built-to-last, even with heavy duty use like our cafe tables see!
Emeco also makes chairs and stools from recycled aluminum, reclaimed wood, eco-concrete, and cork. Their original chair was designed for the U.S. Navy in 1944 and made from aluminum. The Emeco chair we have at Honest Weight is an exact replica, made from pigmented plastic. "Although reengineering a core product was a significant investment for us, I was excited about the impact of using the rPET from millions of bottles each year. We've turned something many people throw away into something you want and keep for long, long time," says Emeco's Gregg Buchbinder.
As part of our dedication to environmental sustainability, we try to buy local and eco-friendly as much as possible, from companies that do good work and share our mission. High-quality chairs that are made by hand in a neighboring state from an otherwise problematic medium are a great example of this. Thanks for seeing the world the way we see it, Emeco!