Squash Hunger with Donations of Fresh Produce!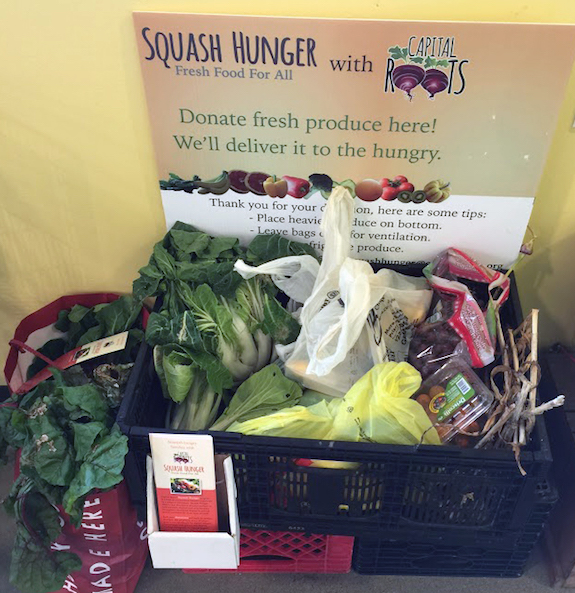 Our
Capital Roots
Squash Hunger bin has arrived for the season!
Capital Roots, a Troy-based food non-profit with a vision of a Capital Region where every person has access to fresh, affordable, healthy food, has been a longtime partner of Honest Weight. One of their many successful programs is "Squash Hunger," a food donation initiative that collects and distributes more than 40 tons of fresh, top-quality produce to our region's food pantries and shelters each year.
This initiative is super important because the bulk of donated food to food pantries and other food access drives consists of canned and boxed goods. You're familiar with these efforts--non-perishable food drives are and have been at the forefront of food access efforts for decades. Though processed foods do fill up empty bellies, fresh food adds nutritional value to the meals served in pantries and shelters. Nutritious food empowers the hungry with the energy they need to lead healthy, productive lives.
How It Works
For this initiative, Capital Roots relies on generous gardeners, farmers and grocery shoppers to donate fresh produce to their collection bins and on volunteers to deliver it to food pantries and shelters, some of which feed more than 100 people three meals a day, every day.
At Honest Weight, we donate culled produce (fruits and veggies that are still good to eat but not pretty or fresh enough to sell in our store) to Capital Roots and other organizations several times each week. We also host a Squash Hunger donation bin starting June 6th and throughout the growing season.
How YOU can help!
Purchase extra produce when you shop at Honest Weight and stick it in the bin for others to enjoy!
Are you a gardener? Bring in your bumper crops of fruits and veggies that are too much for you to eat!
Encourage your neighbors and friends with gardens to do the same!
You'll find the Squash Hunger bin near the exit doors at Honest Weight. Capital Roots staff and volunteers will collect the contents of the bin on Mondays, Tuesdays, Thursdays, & Fridays.
For more information about the Squash Hunger program at Capital Roots, contact Cheryl at squashhunger-AT-capitalroots.org or 518-274-8685.