What do you give a mother who seems to have everything for her special day? How about a little LESS?
As Earth Day approaches, we are all encouraged to celebrate the planet and enjoy the bountiful gifts that she gives us — the mountains to hike, the oceans and lakes to swim in, sunrises and sunsets to enjoy, flowers and trees — the list is endless. Perhaps we get outside and spend time in nature, which is a great way to honor her. But as her children and stewards of her legacy, what gifts do we give Mother Earth?
Well, let's take a look at just a few of the things we've given her recently*:
11 million tons of recyclable clothing, shoes, and textiles each year for her landfills
65 billion aluminum soda cans each year
18 billion pounds of plastic trash each year for her oceans
Approximately 4 million tons of wrapping paper and shopping bag waste every holiday season
And this is the short list. Not exactly the gifts a mother would love. The numbers are staggering. They may even make you anxious and leave you wondering how any small changes you make would actually make a difference. We think about it all the time.
This year, we'd like to challenge you to give Mother Earth the gift of less. What do we mean? We're specifically challenging you to re-think the things you buy based on how they are packaged. Have you ever really looked at the items you bring home from the store and considered just how much of the packaging gets thrown in the garbage without a second thought?
Imagine what would happen if everyone who shops at Honest Weight committed to purchase products without packaging or with minimal packaging for the next year? Think of the difference we could make right here in our own little community!
You may be wondering where to start. Giving the gift of less may sound like a daunting task, but that's where we can help. Honest Weight offers so many opportunities for you to purchase the things you need every day in ways that drastically reduce your consumption of plastic and glass.
One of the simplest ways to reduce packaging waste is to do as much of your shopping as possible in our Bulk Department. We have over 1,000 different items available virtually zero-waste — everything from flour to coffee, honey to nuts, dried fruits, granolas, coconut oil, and all the good stuff in between! Whatever you need, chances are that we have it in the Bulk Department.
Shopping our bulk department is super easy! We sell a vast array of reusable bags, jars, containers, even silverware if you want to purchase them, but you probably have these items in your home already! Look around and you'll be surprised at what you can repurpose for your next shopping trip. Simply bring in your favorite clean container (or buy one of ours), stop by our Customer Service Desk to have it weighed, then shop away!
We also have over 200 herbs and spices in the Bulk Department. Unique things like truffle sea salt and dried rosebuds, lots of whole seeds and ground spices, even ready-to-use blends like Z'atar and Everything but the Bagel.
The beauty of shopping Bulk is that you can buy just enough for a recipe or to experiment with, without having to purchase more than you need. How many of us have bought a whole jar of a particular spice for the ½ tsp that the recipe called for, and the rest has been wasting away in the cupboard for years? Buying in Bulk can seriously reduce food waste. That impacts the space in your cupboard and your wallet!
Did you also know that you can buy soap, shampoo, conditioner, and lotion in bulk in our Wellness Department? Or laundry detergent in bulk from Grocery? We even have bulk eggs in the Cheese Department! And you can refill your own coffee mug for an additional discount at the register. So many ways to make a difference!
Our Produce Department is another great place to reduce waste. We strive to provide produce without packaging, allowing you to hand-select the items you want and take them home as is, or in your own reusable bags. Another opportunity for immediate impact!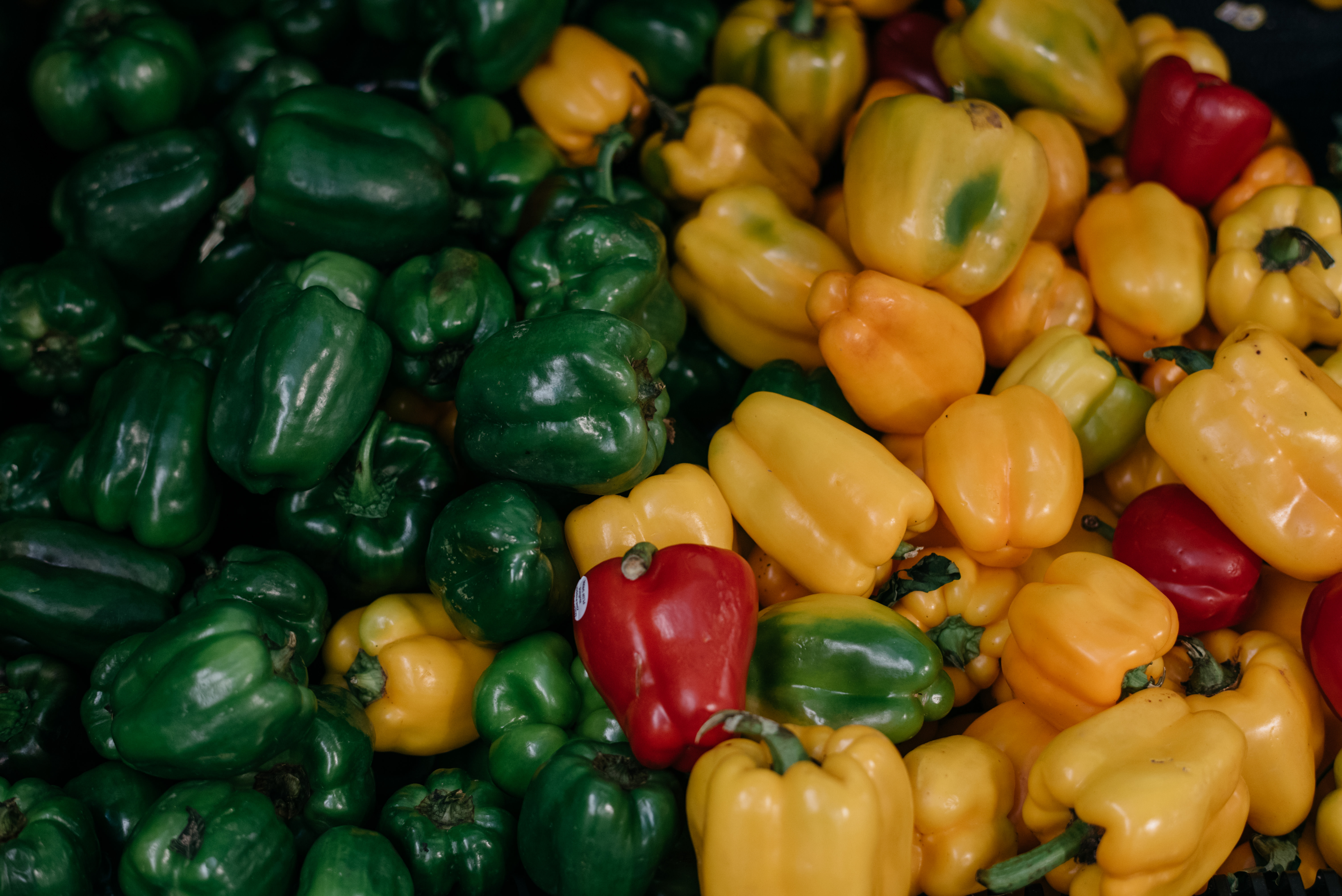 Yet another way to reduce waste is to bring your own shopping bags, a common practice at most stores now. But, when you bring your bags to Honest Weight, we give you the option to donate 5 cents per bag to our EnviroTokens Program. We disperse all the money collected between five local organizations that change every quarter. That's 2x the impact!
So, what do you think? Will you join us in this challenge to Give Less to Mother Earth this year? Let's all pitch in to make Earth Day, Every Day more than just another slogan. Let's show Mother Earth just how much we appreciate her and all the gifts she gives us every day. Let's give her LESS!
If you decide to take this challenge on, we'd love to hear from you. What changes will you commit to? How will you track your success? Any tips or suggestions for others? Send an email to deannab@honestweight.coop
*https://www.rubicon.com/blog/statistics-trash-recycling/