What's Fresh: HWFC Utensil Set, radcbd, Co+op Basics Beef, and Urban Farm Fermentory!
We're always working to improve your shopping experience, along with our store's social and environmental impacts. We regularly assess and update our product offerings, educational programs, policies, and store infrastructure. We seek suggestions from our Member-Owners, staff, and shoppers and consider every single one. It's a lot of work, but it's totally worth it.
Here's what's fresh for you this month at Honest Weight.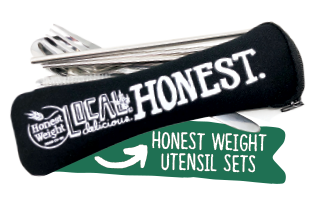 You don't think too much about how great spoons are until you're caught without one and have to drink your yogurt in the car. You know what I mean? These stainless steel utensil sets are highly useful and waste-free for picnics, take-out, and any and all eating or drinking emergencies. I can tell you firsthand that it's extremely satisfying to turn down a single-use plastic straw, pull a metal one out of your bag, and avoid restaurant ice water hitting your front teeth. Kit includes stainless steel fork, knife, spoon, chopsticks, straw and straw brush, all stowed in a convenient Honest Weight branded case.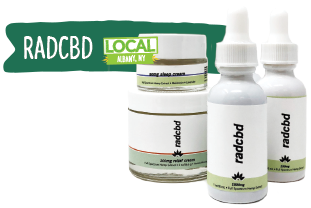 RAD Soap Co. is an Albany-based family-owned business that's made a big impression in our shared hometown and all across the country. Susan Kerby started crafting homemade body products when her son, Zak, was born with eczema. Now Zak is in his 30s and helps run the company with his mom and brother, Max.
We're excited to be one of the first to carry Rad's new line of CBD products, formulated from the highest quality full spectrum hemp extract. Try radcbd's tinctures and topicals, made with vapor-extracted CBD and other all natural ingredients to help penetrate at the cellular level and optimize results.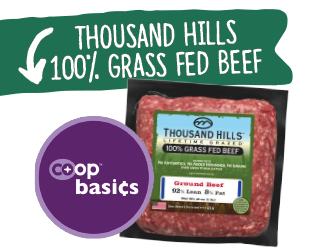 Introducing a new line of grass fed beef as part of our Co+op Basics everyday low priced offerings! Lower cost, in this case, does not mean lower quality--Thousand Hills 100% Grass Fed Beef is antibiotic & hormone-free as well as lifetime grazed with regenerative practices to heal degraded land, restore wildlife habitats, boost nutrition, and capture carbon. This group of independent family farms follows strict protocol: NON-GMO, holistically managed, free-range grazing environments, suitable heritage breed cattle genetics, raised and finished on a 100% grass and forage diet, proven humane handling through the entire life of the animal and, finally, processed at the cleanest facilities possible, with stringent, proactive food safety testing. Honest Weight offers many cuts of Thousand Hills Beef, all at everyday low prices.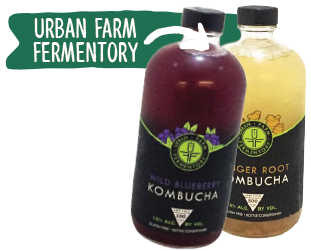 This new-to-us line of kombucha from Portland, Maine lives amongst our beers and ciders, rather than with its kombucha cousins near the dairy. That's because the folks at Urban Farm Fermentory bottle their product in its natural state, which lands at 1.5% alcohol, while other makers modify their kombucha to reduce alcohol to less than .5% in order to sell it as a non-alcoholic beverage. In their words, "We simply reject any process that compromises the flavor, inherent bite, or living culture in our kombucha." There you have it. Try it in Wild Blueberry and Ginger Root and see what you think of this slightly boozy booch!