Honest Weight Food Co-op has agreed to join Electric City Food Co-op's joint committee to explore bringing a food cooperative to downtown Schenectady.
Cooperatives around the world operate according to the same set of core principles and values, adopted by the International Cooperative Alliance. One of these principles is "Cooperation Among Cooperatives," which states that by working together, cooperatives bolster local economies and effectively innovate to meet social and community needs.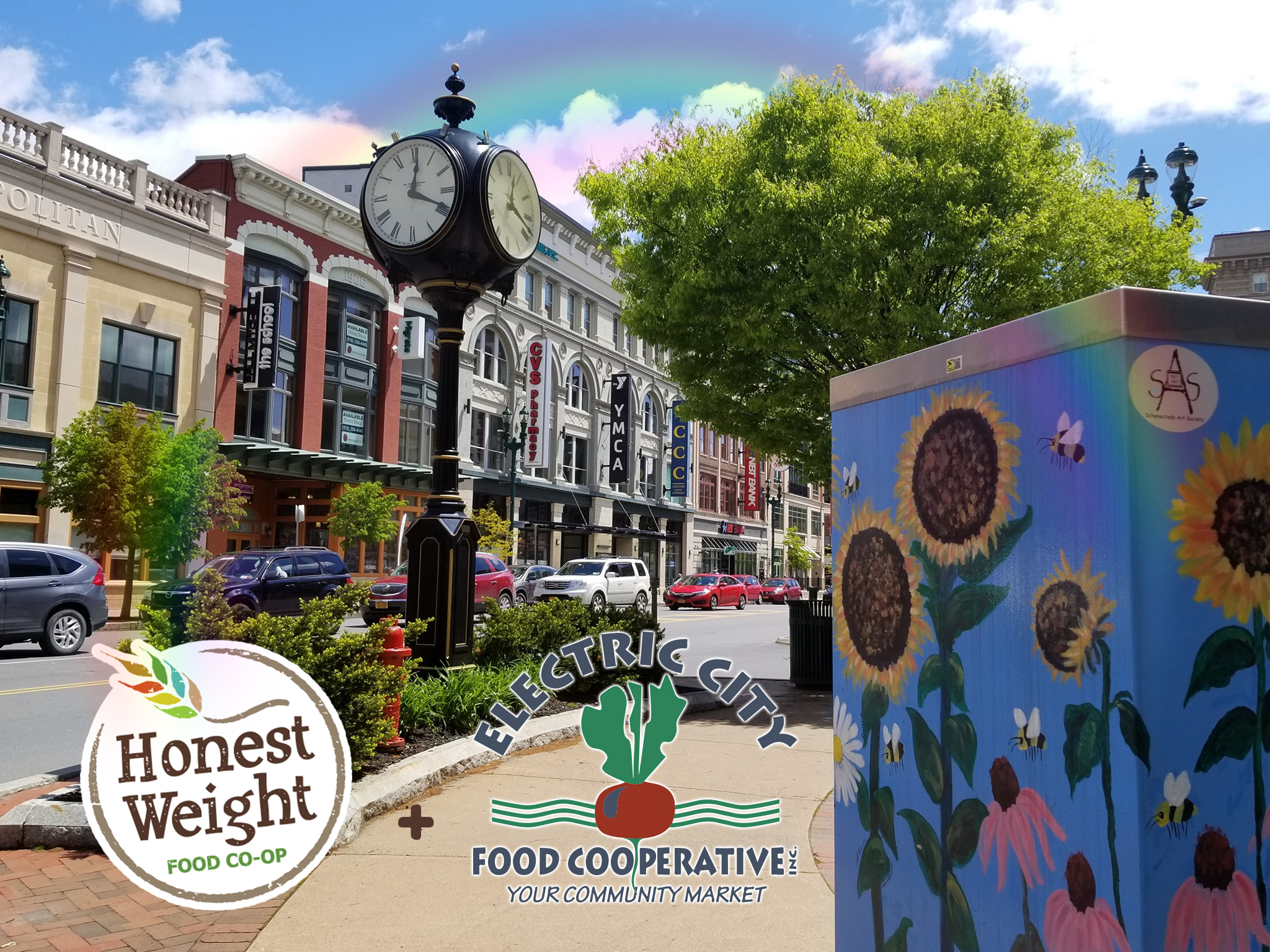 Wednesday, February 16, 2022
In the spirit of cooperation, Honest Weight Food Co-op is excited to announce that we have agreed to join Electric City Food Co-op's joint exploratory committee on the topic of bringing a food co-op to the food desert in downtown Schenectady.
Honest Weight has been successfully operating as a cooperative grocer in Albany for over 45 years, and currently has over 10,000 Owners and nearly 200 employees. In 2013, Honest Weight expanded to their current 30,000 sq. ft. location at 100 Watervliet Ave., in the West Hill Neighborhood of Albany. In 2021, their annual sales were nearly $29 million. The Honest Weight Kitchen also operates satellite locations in the concourse of Empire State Plaza, and a brand-new location open to the public on campus at Maria College.
Electric City Food Co-op has been working since 2013 to bring a new cooperative market to Schenectady featuring local, organic, and sustainably produced natural foods, supporting the regional economy and farmers, and creating a local food revolution. With 435 Member-Owners and counting, Schenectady area residents have shown that there is both an interest and a need for a cooperative grocer in their locale. Starting a dialogue around partnership with Honest Weight will allow both food co-ops to explore the possibilities of working together to bring a member-owned food store to Schenectady. The exploratory committee will meet over the course of the next 2-3 months.
Solving the food desert in Schenectady is a regional priority, and one that is shared by both Electric City and Honest Weight. It is a conversation that we were approached about very recently and we are incredibly excited to be a part of. We will be focusing on what this means for the operation of, and memberships of, both cooperatives during the exploratory process. If we choose to propose plans to HWFC membership, we will provide information in multiple formats including feedback and informational sessions, email updates, and tabling events as conditions allow in the coming weeks and months.
We welcome your questions, we are committed to keeping our membership updated on progress and next steps. Please send any questions to BoardAdmin@honestweight.coop.
Wednesday, May 25, 2022
Honest Weight Members Approve Downtown Schenectady Exploration
By an overwhelming margin, Honest Weight Food Co-op (Albany) member-owners voted to continue exploring the prospect of opening a food cooperative in downtown Schenectady in collaboration with the Electric City Food Co-op. 191 Honest Weight member-owners attended a Special Membership Meeting held via Zoom on Sunday, May 22, 2022, for a thoughtful presentation and discussion. 149 voted yes, and 24 voted no.
This was the first membership vote to take place as the two Capital Region-based food cooperatives continue to explore a potential partnership.
The joint exploratory committee is reviewing a potential site at 530 Liberty Street in the city of Schenectady. The site is currently occupied by OrthoNY, which plans to move to a different location in Schenectady in the near future. Further details on a potential Schenectady location will be made available when it is appropriate.
Honest Weight's Interim Chief Cooperative Officer Stephen Quickenton described the proposed location as "a great downtown location with ample parking, right across the street from the public library, near the popular Schenectady Greenmarket, and really right in the middle of all the exciting things that downtown Schenectady has to offer." Nearby busy roads Erie Boulevard and State Street provide high visibility and easy access from highway I-890.
"We are excited to be one step closer to realizing a downtown grocery store in Schenectady that mirrors the values and goals of both the Electric City Food Co-op and Honest Weight Food Co-op, and food cooperatives in general. These ongoing collaborative discussions have been very productive and informative. This potential location in Schenectady could be a game-changer," said Matt Robbins, president of the Electric City Food Co-op Board of Directors.