The Dust Bunnies Are Here!!
By Natalie Criscione
Although you might run across creatures from the Dust Bunny's Boutique throughout the year in a handful of local businesses, at the Honest Weight Food Co-op their "breeding season" is typically from Valentine's Day through Easter.
We are in the midst of it, in case you have not noticed.
And, in the unlikely event that you really have NOT noticed, you will notice now.
They are breeding. Regularly. Friday is typically the day when the new ones arrive. The babies of the bunch, you could say.
Although they are referred to as "Dust Bunnies," there are many animals represented (hedgehogs, squirrels, raccoons, pigs, cats, and dogs, for example). At every register, atop the bakery display, and nestled on the front customer service counter are animals in various sizes, some in baskets or little beds, and some sitting on chairs or riding bikes. Some wearing hats and some playing musical instruments. No two are exactly the same, although there is a common cuteness factor AND they are all selling fast.
The Dust Bunny's Boutique has been making a seasonal appearance at the co-op since 2012, when the "bunnies" first appeared at the Central Avenue store. But their story actually began about eight years earlier, in 2006.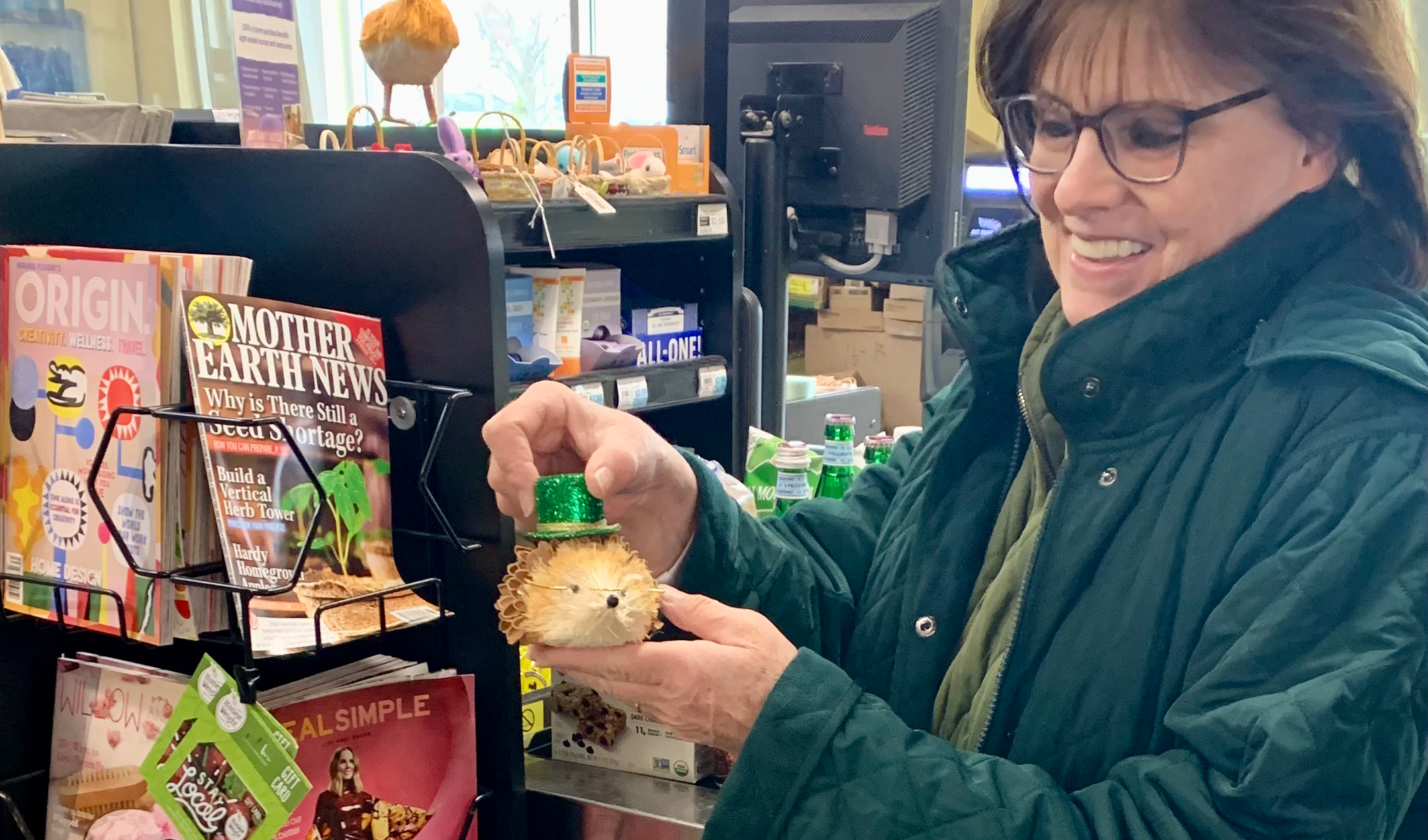 Mary Jane Serfilippi's daughter Abby learned to search the web about the same time she purchased her first guinea pig from a pet store. Between the information shared by her new pet's veterinarian and details she discovered on-line, Abby quickly learned about the crowded and unsanitary conditions that exist not only within the pet guinea pig market, but in so many animal breeding situations. She was shocked and horrified by what she learned, and decided she had to do something. And so began a different kind of breeding!
Abby and her mom collected and purchased craft supplies. Then with some glue, ribbon, every bit of free space on their kitchen table, and an abundance of "bunnies," they began to assemble the little creatures into baskets of cuteness and sell them at craft fairs. They decided they would donate all the money raised to animal sanctuaries and rescues. During their first year, they made $100 and contributed $50 to North Country Wild Care and $50 to the Mohawk Hudson Humane Society. It was not long before the "bunny's" popularity caught on and the Serfilippis turned their attention from craft fairs to stores.
Since then, they have grown to have permanent, year-long displays in 7 area businesses and a handful of other seasonal displays like those at the co-op. To date,they have donated more than $78,200 to over 30 animal sanctuaries and rescue organizations.
Although Abby (now grown) continues her animal rights activism as she did throughout college and beyond (she is a strict vegan), the day-to-day duties of maintaining the business have largely fallen to her mom. Mary Jane Serfilippi is now the sole face behind the Dust Bunny's Boutique. She arrives weekly to check supplies and quietly restock as needed. It is truly a labor of love. Over the years, Mary Jane has developed a relationship with the caretakers of the various animal organizations she supports and it is not uncommon for her to say "I'll help you," when she hears that they are "taking in sick animals." She continues to invest her own time and money so that every penny earned through the sales of the "dust bunnies" goes directly to an animal shelter or sanctuary, just as it did when they began. So, if you purchase a $10 Dust Bunny, then $10 will be donated.
This year's recipients of the proceeds include the following: Mohawk Hudson Humane Society, The Animal Protective Foundation, NY State Wildlife Rehabilitators, Woodstock Farm Sanctuary, Catskill Animal Sanctuary, Broome Animal Sanctuary, Red Robin Song Animal Sanctuary, and Indraloka Animal Sanctuary.
Your purchase matters. So, if you're thinking about "adopting" a Dust Bunny this season, do it soon. And be comforted in knowing that 100% of your money will help animals in need.
For more pictures, visit the Dust Bunny Boutique Facebook page: https://www.facebook.com/dustbunnysboutique