Each month, our cheesemongers pick a different favorite local or international cheese to highlight and offer at a sale price for the entire month. Throughout the month, we offer the chosen cheese for sampling in our Cheese & Specialty department. Whenever possible, we bring in cheesemakers or experts for a "Meet the Maker" event and provide recipes or serving suggestions for using the Cheese of the Month!
MAY: 1-Year El Trigal Manchego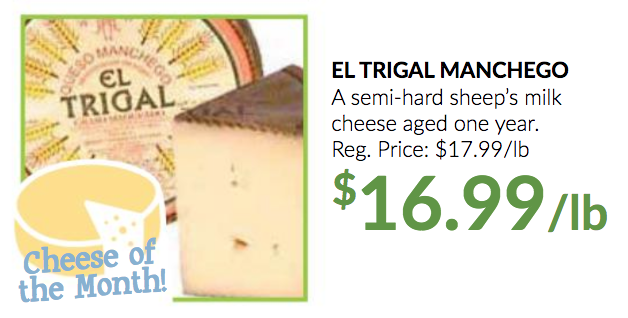 Origin: La Mancha, Spain
Milk: Pasteurized Sheep's
Tasting notes: mild, salty, nutty
Use for: Salads, sauces, and baking
Pair with: Quince paste for a traditional pairing
A refreshingly simple and laid-back offering in a world of so many complex cheeses, Manchego is Spain's most popular cheese. Wrapped snuggly in a recognizable wax rind, this raw sheep milk cheese is aged for eight months and develops a salty, briny flavor that marries well with a variety of accompaniments, quince paste being the traditional pairing.
El Trigal Manchego is named for the Spanish region of La Mancha, also home of Don Quixote. The cheese is produced in the La Mancha region from pasteurised sheep's milk. It has a black gray or buff coloured rind with a crosshatch pattern, the paste colour is stark white when young, becomes yellowish as it ages. The fully aged cheese is usually smeared with olive oil and surface mould is removed. The cheese has holes throughout the paste with a mild, slightly briny, nutty flavor.