Each month, our cheesemongers pick a different favorite local or international cheese to highlight and offer at a sale price for the entire month. Throughout the month, we offer the chosen cheese for sampling in our Cheese & Specialty department. Whenever possible, we bring in cheesemakers or experts for a "Meet the Maker" event and provide recipes or serving suggestions for using the Cheese of the Month!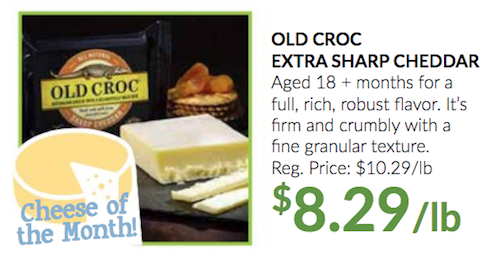 JUNE: Old Croc Extra Sharp White Cheddar
Origin: Australia
Milk: Pasteurized Cow's
Tasting notes: sharp, bold
Use for: snacking with fruit and crackers
Pair with: tangy Granny Smith apple slices, dark, multigrain crackers, a dark, spicy Shiraz or robust Brown Ale.
Savings: $2/lb (sale price $8.29/lb, regular price $10.29/Lb
A truly bold adventure from the "Land Down Under", Old Croc Extra Sharp White Cheddar is aged 18 + months for a full, rich, robust flavor, not for the faint of heart. It's firm and crumbly with a fine granular texture—the true sign of an authentic, mature cheddar.

All Natural, Non-GMO, No Hormones Added
Crafted with Milk from Grass Fed Cows