Green Habit Shift: Charging for Paper Bags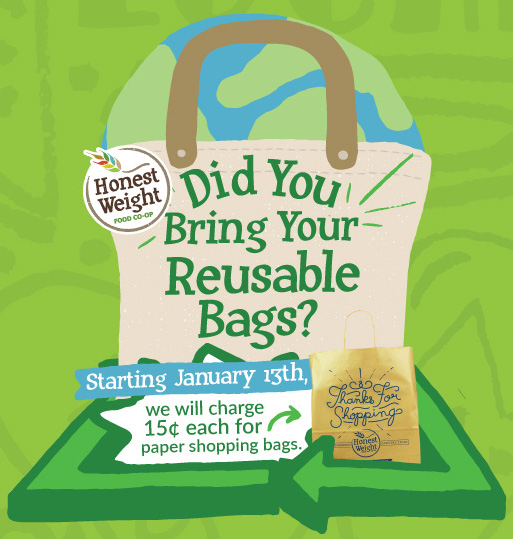 On January 13th, we will begin charging 15¢ for all paper shopping bags.
While Honest Weight has never offered new plastic shopping bags, we're now making additional moves to reduce the usage of paper bags, which carry their own set of environmental ramifications. This change precedes an Albany County law that will charge retailers 5¢ for all Paper Carryout Bags beginning March 1st, 2020, at which time our fee will remain at 15¢. In April 2019, New York became the second state, after California, to ban most plastic carryout shopping bags. The statewide plastic bag ban will go into effect in March of 2020.
Shoppers are encouraged to bring their own bags or use the cardboard boxes that we offer free of charge at the front of the store. We also have new reusable bags for sale that will drop in price from $1.99 to 99¢ in conjunction with the paper bag charge. The green bags are decorated with the Co-op's mission statement and made from 100% recycled plastic water bottles.
The 15¢ fee will be waived for shoppers using SNAP benefits.
Don't worry, EnviroTokens enthusiasts! Our EnviroTokens program will remain unchanged: For every reusable bag you use, you'll receive either a nickel or a token to donate 5¢ to an organization of your choosing on our EnviroTokens wall!