Introducing Jurassic Mask and Jurassic Mud from RAD Soap Co!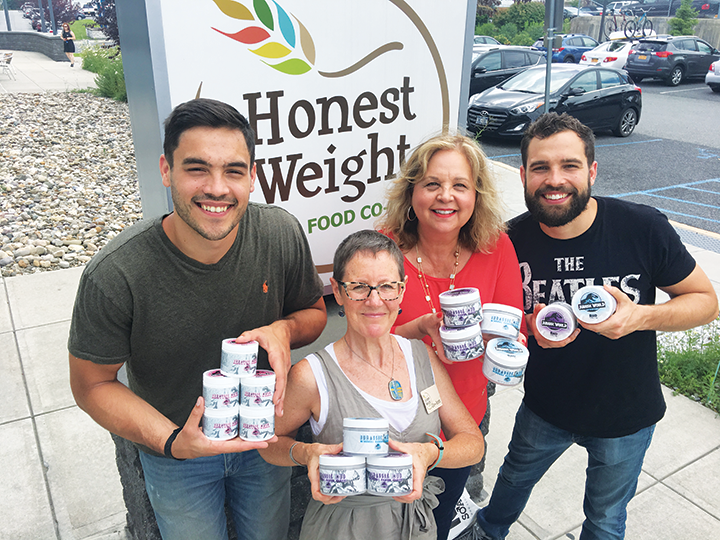 RAD Soap Co. is an Albany-based family-owned business that's making a big impression in our shared hometown and all across the country. Susan Kerby started crafting homemade body products when her son, Zak, was born with eczema. Now Zak is in his 30s and, along with his brother Max, a founding partner in Rad Soap Co. which aims to bring natural bath and beauty products to women, men, and children everywhere.
Honest Weight welcomed RAD Soap to the store over a year ago, and they keep on surprising us with innovative products. RAD offers everything from soaps and scrubs to deodorants, bath potions, and healing creams. These are formulated from powerful plants like arnica, black currants, and hemp, and boosted with heavy hitters like Chaga, from the mushroom kingdom.
Now, RAD is taking their products back in time...by about 200 million years, long before humans, cars, and the Industrial Revolution. A sheep farmer in Nevada discovered mineral deposits in a stream bed that have since been dated back to the Jurassic period, when certain, now famous, dinosaurs roamed the earth.
The mineral compound is untouched by modern pollution, having been encapsulated in freshwater seabed rocks, and is now being exposed to oxygen for the first time. The 'world's oldest mineral compound,' containing over 80 different essential minerals, includes the highest amounts of magnesium and calcium of any other natural substance known to humankind.
A chance meeting with Universal Studios representative after the chance mineral compound discovery led RAD's Susan, Zak, and Max to grab opportunity by the (Stegosaurus) horns. Their new, limited-time-only Jurassic World line offers a mask and two scented scrubs made from the mineral compound, which RAD has dubbed Jurassic Clay.
"It's not just a facial treatment," says RAD's Max Kerber. "it's an incredible breakthrough in the world of beauty and skin care products."
Honest Weight is so excited to be one the only places where you can purchase their special, limited-time Jurassic World mineral products!
Read about the three products here!