RAD Soap Co. meets Jurassic World!

Available at Honest Weight
for a limited time only!
Honest Weight is so excited to be one of the only places where you can purchase RAD Soap's special, limited-time Jurassic World mineral products! Learn more about RAD Soap Co. and their partnership with Universal Studios here, and read about the three products below.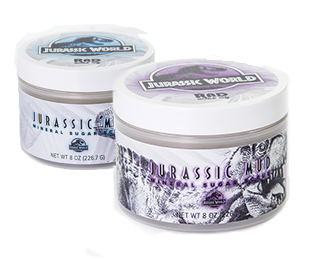 Jurassic Mud Mineral Sugar Scrub
Scrub the day away with Jurassic Mud, containing 200 million-year-old Jurassic Clay mineral compound, granulated sugar, and RAD's blend of plant-based oils. Jurassic Mud is designed as an exfoliant to even out the skin tone, eliminate dead skin cells, tighten pores, and reduce signs of aging. The magnesium- and calcium-rich Jurassic-era mineral compound pulls away excess dirt, oil and residue while keeping the skin happy and calm. RAD's unique sugar scrub creation lathers like a bar of soap to gently moisturize while exfoliating.
Jurassic Mud Mineral Sugar Scrub comes in two different Jurassic World-inspired scents to choose from: Blue, a freshwater seabed aroma, and Indoraptor, for a crisp, woodsy aroma.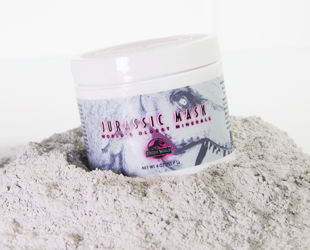 Jurassic Mask
RAD Soap Co.'s naturally gentle Jurassic Mask is extremely mild on the skin and offers numerous benefits. The compound pulls dirt and grease from the skin, while certain trace minerals are absorbed to help maintain moisture levels and prevent over-drying. One of the most prevalent minerals, magnesium, is also an anti inflammatory and a natural stress-reducer. You'll look and feel clean, fresh, and relaxed without the tightness that comes with most clays.
Jurassic Mask has just one amazing ingredient: a natural clay made from the world's oldest mineral compound, containing over 80 different essential minerals. This special mineral compound, uncovered by chance after 200 million years underground, includes the highest amounts of magnesium and calcium of any other substance found in the earth.
RAD recommends mixing Jurassic Mask with GT's Kombucha, found in Honest Weight's dairy aisle (near the coffee) for added benefit from the living probiotics, antioxidants, and acidic pH that kombucha provides. Here's how:

In keeping with Honest Weight's Banned List, RAD's Jurassic World products are without parabens, sulfates, phthalates, and harsh chemicals. Additionally, they are formulated without gluten, GMOs, animal byproducts, and nut oils.