Talking Turkey: How Much To Buy, How Long to Cook It, and Other Helpful Tips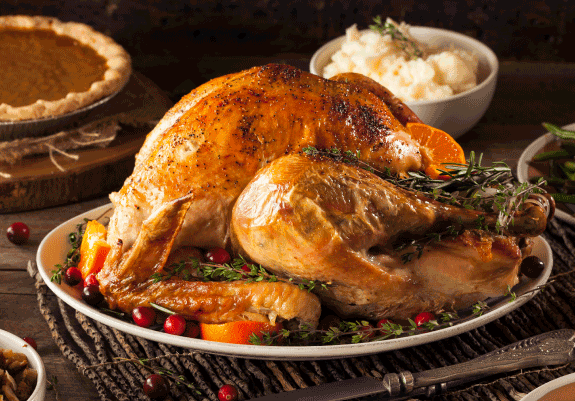 This Thanksgiving is coming up quick, isn't it?! This year, Thanksgiving falls on November 28th (it's always the 4th Thursday in November). Make sure you're ready by ordering your all-natural, local, pasture-raised turkey from Honest Weight starting on Monday, November 4th, and by following the advice below!
Whether you're eating with two people or twenty, and whether this is your first Thanksgiving or your 60th, there are always little tricks to make the meal prep go more smoothly. Here are a few thoughts, including what size bird to buy, how long to cook it, and how to safely store and use leftovers. Have anything to add for our 2019 Thanksgiving Guide? Send 'em along to georgiaj@honestweight.coop.
Enjoy!
Prep the Week Prior
Finalize your guest list as best you can, so that you know how many to shop for. Make sure you know what dietary restrictions to be aware of.
Plan your menu. Don't be afraid to try slight variations on traditions, but know your audience: your Great Uncle Bill may not be interested in how successful your quinoa salad turned out if it means you didn't make your classic green bean casserole. You might consider saving experimental dishes for Friendsgiving.
Create a shopping list. Check your pantry to make sure you have enough of the staples (butter, onions, garlic, stock, spices).
Shop early to beat the crowds, but don't stress if you have to run out the day before (or better yet, send a helper!) to grab an extra bag of cranberries. Honest Weight is open until 10p.m. on the 22nd!
Some things can be done ahead of time, like making this yummy raw cranberry relish. Make and freeze what you can (stock is another useful thing to have frozen for use day of). Closer to Thanksgiving, you can mix together the dry and wet stuffing ingredients separately to blend right before putting in the bird).
Pro Tips
If you have a dishwasher, do a load and empty it before you start cooking so that you can fill up as you go.
Remember that fresh herbs always taste better than dried, and whole are better than ground. Toasting dried spices brings out the flavors.
Outsource some items (Hors d'oeuvres? Dessert? Wine or cocktail ingredients?) to guests who offer to bring something. You'll be glad you did when there's no room in your fridge or oven on the morning of the 28th.
Presentation goes a long way. Buy a bunch of parsley or chives and sprinkle chopped on top of mashed potatoes, stuffing, salad and sides for extra points.
What Size Bird?
We recommend buying a turkey that's one pound per person you're feeding. Twelve guests? Twelve pound bird.
Thawing
At Honest Weight, we only sell fresh, unfrozen turkeys. IF you bought a frozen turkey from elsewhere, we're not mad. Just use this handy guide from the USDA to thaw your turkey in the fridge or in cold water.
In the refrigerator
Place frozen bird in original wrapper in the refrigerator (40 °F or below). Allow approximately 24 hours per 4 to 5 pounds of turkey. A thawed turkey can remain in the refrigerator for 1-2 days.
Thawing Time in the Refrigerator

Size of Turkey

Number of Days

4 to 12 pounds

1 to 3 days

12 to 16 pounds

3 to 4 days

16 to 20 pounds

4 to 5 days

20 to 24 pounds

5 to 6 days
In cold water
If you forget to thaw the turkey or don't have room in the refrigerator for thawing, don't panic. You can submerge the turkey in cold water and change the water every 30 minutes. Allow about 30 minutes defrosting time per pound of turkey. The following times are suggested for thawing turkey in water. Cook immediately after thawing.
Thawing Time in Cold Water

Size of Turkey

Hours to Defrost

4 to 12 pounds

2 to 6 hours

12 to 16 pounds

6 to 8 hours

16 to 20 pounds

8 to 10 hours

20 to 24 pounds

10 to 12 hours
How Long do you Cook A Turkey?
Well, that depends if it's stuffed or not (and if you do stuff it, do so loosely with moist stuffing right before cooking). Cook at 325 °F for the following times, according to the USDA. A whole turkey is safe cooked to a minimum internal temperature of 165 °F throughout the bird. Check the internal temperature in the innermost part of the thigh and wing and the thickest part of the breast. All turkey meat, including any that remains pink, is safe to eat as soon as all parts reach at least 165 °F. The stuffing should reach 165 °F, whether cooked inside the bird or in a separate dish.
When turkey is removed from the oven, let it rest for 20 minutes before carving.
Cooking Time — Unstuffed

Size of Turkey

Hours to Prepare

8 to 12 pounds

2 3/4 to 3 hours

12 to 14 pounds

3 to 3 3/4 hours

14 to 18 pounds

3 3/4 to 4 1/4 hours

18 to 20 pounds

4 1/4 to 4 1/2 hours

20 to 24 pounds

4 1/2 to 5 hours
Cooking Time — Stuffed

Size of Turkey

Hours to Prepare

8 to 12 pounds

3 to 3 1/2 hours

12 to 14 pounds

3 1/2 to 4 hours

14 to 18 pounds

4 to 4 1/4 hours

18 to 20 pounds

4 1/4 to 4 3/4 hours

20 to 24 pounds

4 3/4 to 5 1/4 hours
Safely Storing Leftovers
Cut the turkey into small pieces; refrigerate stuffing and turkey separately in shallow containers within 2 hours of cooking. Use leftover turkey and stuffing within 3-4 days or freeze these foods. Reheat thoroughly to a temperature of 165 °F or until hot and steaming.
Source: https://www.fsis.usda.gov/wps/portal/fsis/topics/food-safety-education/get-answers/food-safety-fact-sheets/seasonal-food-safety/countdown-to-the-thanksgiving-holiday