Be the Change: The Mr. Mo Project
By Natalie Criscione
Do you know Mr. Mo?
What happens to a dog who, as they are nearing those twilight years of life, becomes homeless through no fault of their own? Perhaps their owners find themselves unable to meet the financial demands of elder care. Or, maybe their owner has passed away. Where do they go? How do they manage? They are one of the voiceless, powerless, and forgotten. Stories about dogs who are abandoned, surrendered, and euthanized are not uncommon casualties. Dogs are at the mercy of their circumstances, and, for an elderly dog (sometimes 7 years or older—depending on the breed), adoption is often a challenge; young, healthy shelter dogs are the most likely to find homes, not the elderly ones.
When Chris and Mariesa Hughes of Clifton Park, NY experienced the heartbreak and expense of their rescued dog Moses's (aka Mo) senior years, they found themselves confronted with unexpected medical costs beyond their budget; they were desperate. "We didn't know how to lose a dog," Mariesa says. And surrendering their beloved Moses, or euthanizing him too soon was out of the question. So, they scrambled to sell their hot tub to help pay for a $3,000 MRI before Moses eventually succumbed to an inoperable spinal tumor in 2014. At the point of diagnosis, though he was given 4 weeks to live, he instead gifted them with five. Although their time with Moses was brief, as they had rescued him only a few years earlier, he left behind a lasting legacy.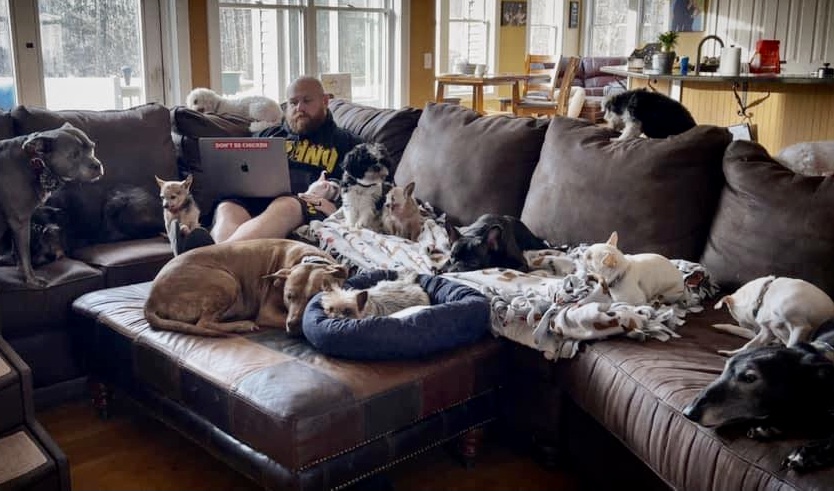 Moses is the dog whom Mariesa describes as the one who "brought our home together" when she and Chris were newlyweds. "He was just a great soulful dog" and well known and loved within their circle of friends.
In a 2015 Huffington Post interview, Chris describes Moses as "a brave, strong soul who taught us about forgiveness, joy and unconditional love…..everyday he showed us love and peace." When Moses passed away, crossing the Rainbow Bridge into pet heaven, Chris and Mariesa decided to honor his life by helping other elderly dogs. In 2014, they founded the organization known as the Mr. Mo Project.
Through the Mr. Mo Project, Chris and Mariesa rescue and re-home senior dogs (and some young dogs with congenital defects) nationwide through partnerships that provide ongoing support for the duration of the dogs' lives. In doing so, they reframe the conversation that tends to define homeless, elderly dogs as unworthy or dispensable. "Age is not a disease," says Mariesa. The dogs still have a lot of love and hugs to share as they are placed in "forever foster" homes to live out their golden years. Chris and Mariesa understand first hand about what the dogs contribute, since it is not uncommon for over a dozen dogs awaiting foster placements to be in their own home at any given time. For an elderly and/or homeless dog, such a placement is like winning the lottery. Correction: it IS winning the lottery. And for the people who foster an elderly dog, it is a WIN as well.
What does it mean to become a forever foster parent to a Mr. Mo dog? It means you fall deeply in love with and care for a dog whose time with you on earth may be brief but whose place in your heart is forever.
Through donations, merchandise sales, fundraising events, Amazon Smile, word of mouth, a business partnership with "YuMove," community support (local veterinarians and Benson's Pet Center), and mostly "a lot of begging" says Chris, the Mr. Mo Project generates funds, discounts, and services to support the much needed medical care that is required for the dogs they have rescued and re-homed. Chris and Mariesa oversee every dog's medical treatment plan and it is not unusual for them to talk to nearly a half dozen foster families every day regarding dogs' care. (And this on top of their own full-time jobs!) Their website states: "The Mr. Mo Project is with the dogs and their foster families from tip to tail, providing ongoing support for foster families and covering vet bills for all of the dogs rescued for as long as they live." Anyone who has pets of their own understands not only the monetary demands but also the impact that lifesaving measures can provide: a prime quality of life. Mr. Mo extends his legacy of unconditional love, joy, and peace through Chris and Mariesa's daily outreach; it is played out over and over again in homes of the many foster families within their network and every time they race the clock to rescue a dog from a kill shelter.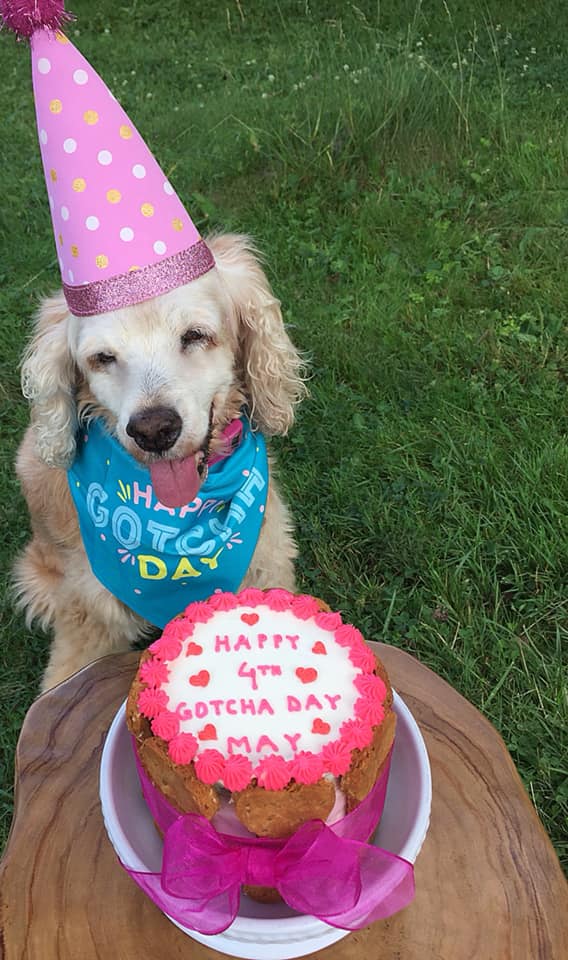 One only has to visit their YouTube channel, Life in the Dog House, website ( https://www.mrmoproject.com/about/ ) or social media sites to see the many testimonials, silliness, cuddles, and fun that senior dogs can offer. And while you're surfing, you will likely discover some videos of Mr. Mo himself. You'll be hooked!
During the month of April, Honest Weight Food Co-op's Be the Change program will contribute to the Mr. Mo Project. Every time you visit the register you will have the opportunity to say "yes" to the question, "would you like to round up for the Mr. Mo Project?"
And then you can say to yourself, "I know Mr. Mo!"
REFERENCES
https://www.huffpost.com/entry/the-mr-mo-project-gets-senior-dogs-out-of-the-shelter-and-into-loving-homes_n_55ad2c0ae4b065dfe89edcb6
https://www.mrmoproject.com/about/
https://www.nationalgeographic.com/animals/article/rainbow-bridge-poem-pet-death-mourning-origin-revealed
https://www.facebook.com/mrmoproject
https://instagram.com/mrmoproject?igshid=YmMyMTA2M2Y=