Zero Waste Capital District Glass Recycling Pilot Program Launches at HWFC
But wait a minute… don't we already recycle glass?
Apr 26, 2021
by Justin Hardecker, Bulk Department Manager at HWFC
In line with our efforts toward sustainability and decreasing our environmental footprint, Honest Weight is preparing to serve as ground zero for Zero Waste Capital District's exciting new glass recycling initiative.
But wait a minute… don't we already recycle glass? For those who (as I did two years ago) assume that placing a rinsed salsa jar in your single stream recycling bin will ultimately result in that jar being used to make more glass jars, allow me to explain.
Over the past several years, a conversation about glass recycling has emerged both locally and nationally. The topic first tripped my radar about two years ago, when a group of HWFC staff including then-Bulk Department Manager Tom Gillespie toured a local recycling facility. I learned a lot about the single stream process, mechanics, and logistics from what he shared of his observations and conversations from that trip. What I learned left me dismayed—at the realities of single stream recycling in general, and of glass recycling in particular. At the same time, articles were being published in outlets like ACS's Chemical & Engineering News featuring titles like "Why Glass Recycling in the US is Broken."* Such articles both confirm what we learned from our local facility and point to a problem that is pervasive, national in scope, and profoundly complex.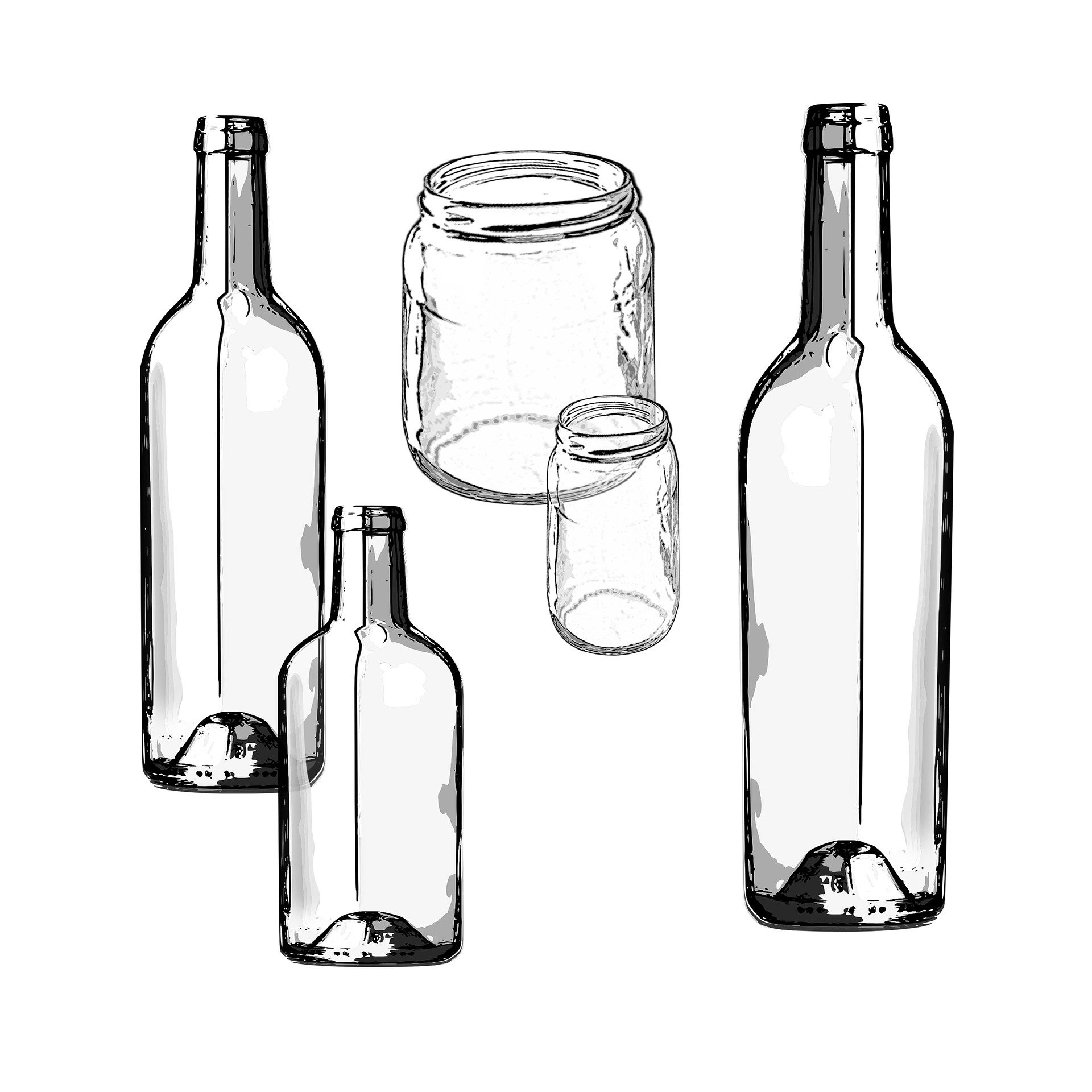 One way to view the problem of recycling is in terms of internalities and externalities. While in many cases glass containers could be reused for the same purpose they served initially, the companies that produce products in glass containers are not forced to account for the cost—monetary or environmental—of disposing of used containers. That cost is an externality, whereas the cost of acquiring containers in which to package products does fall on the companies in question, making that cost an internality. Since it is cheaper for now to purchase new glass jars than it is to collect, sort, and process used glass jars for reuse, companies purchase new glass jars.
Understanding how and where costs are imposed is key to understanding the concrete realities of our current situation. Glass, as it turns out, can be recycled indefinitely. When glass "cullet" (crushed glass from used containers) is used to manufacture more glass, the resulting glass is more consistent, of higher quality, requires lower furnace temperatures, and releases less CO2 from the glassmaking components.*
For glass to be useful as a cullet it needs to be sorted from other trash and recyclable materials, and it needs to be sorted by color. This requires multi stream recycling, which—across the whole recycling process—is cheaper, more efficient, and results in more materials actually being recycled. However, it is much more expensive for municipalities responsible for higher collection costs and robust consumer education to ensure compliance. Since that cost is imposed on our local governments without being offset by the environmental benefits and cost savings of multi stream recycling on the same balance sheet, local governments across the US stick overwhelmingly with single stream collection.*
But what about the externalized costs of single stream recycling? Contamination from inappropriate materials, such as food, plastic bags, and non-recyclable glass, plastic, and metal items is a huge issue that decreases the utility of the collected materials, results in more waste in landfills, and makes the job of processing recyclable materials more difficult and dangerous.
The premise on which most recycling is based—that after processing recycled materials have a market value to producers of new products and are therefore purchased and used rather than being landfilled—does not hold true for a number of recycled materials, including glass. What we learned from that tour of the recycling facility was that glass moves its way through the sorting procedures, damaging very expensive sorting equipment at every stage of the process (it was described as a continuous "sand-blasting" of the equipment). The glass is then crushed and moved into piles, where it is stored in wait for a potential buyer. Beyond the damage done to the equipment, the problem with this arrangement is the lack of buyers for partially-contaminated, mixed, crushed glass. Nearly all such glass ultimately makes its way to landfills.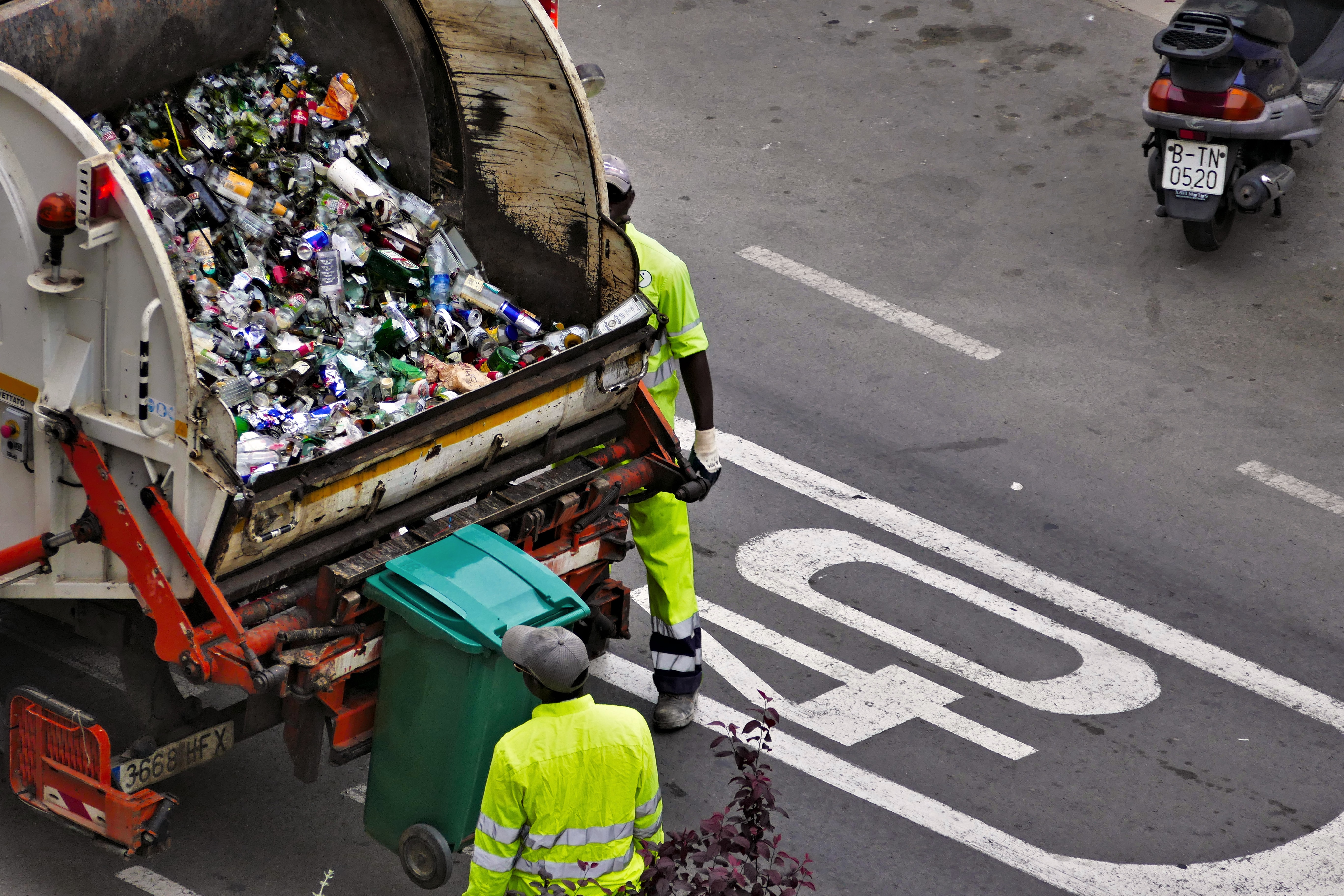 So let's turn to the small part we can play in our own lives and community to increase the amount of glass we actually, meaningfully recycle.
Zero Waste Capital District has coordinated with HWFC to launch a glass recycling pilot project that we hope will expand to the rest of Albany County. Honest Weight now has several bins specifically for the collection of clear glass, free from any metal or plastic contaminants (this includes lids and little plastic rings around the necks of bottles), and rinsed reasonably clean of food residue. The content of the bins will be collected and transported to Tomra in Schenectady by Foodscraps360, a local compost pick up service, which is volunteering to transport the glass to Tomra, free of charge. Tomra will then pass the glass on to Strategic Materials in Connecticut, which sells processed glass to a facility in Delmar. According to Madeline Frank of Zero Waste Capital District, "Every day, Strategic Materials drops off 35 tons of glass in Delmar and picks up 35 tons of glass in Schenectady from Tomra. Since this pathway already exists, we are going to be adding our glass to what is already being picked up daily."
This is a truly ambitious endeavor. For it to work, we need to count on participants ensuring that the correct type of glass makes it into the bins with no contamination by other materials. That means we need:
only clear glass from non-deposit containers with minimal food residue, no lids or plastic rings attached

no colored glass, no dishware or cookware, no metal, and no plastic
The bins are located by the bike lockers on the side of the building and are clearly marked with signage. If this pilot project is successful, we hope to eventually accept colored glass and Zero Waste will look to expand to other collection sites in the county.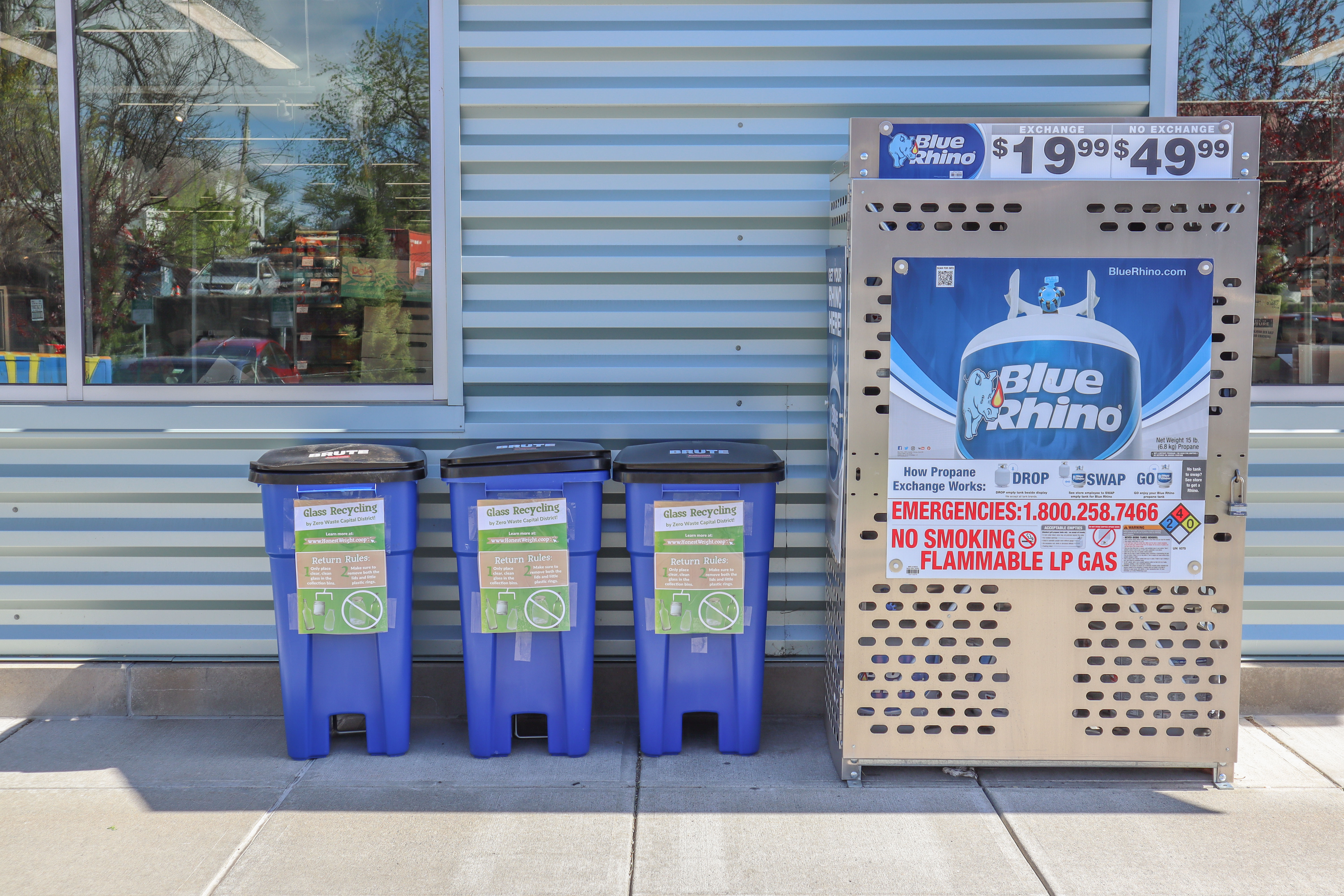 Let's work together to help push the percentage of glass actually recycled in the US from our paltry 33% to something approaching the 90% seen in some European countries. We will be conserving precious resources, limiting emissions, and landfilling less waste.* It's our hope that this initiative can serve as a model for grass-roots activism to enact positive change and make progress on otherwise intractable problems.
* https://cen.acs.org/materials/inorganic-chemistry/glass-recycling-US-broken/97/i6