We now have Nitro Cold Brew! Here's why you should try it.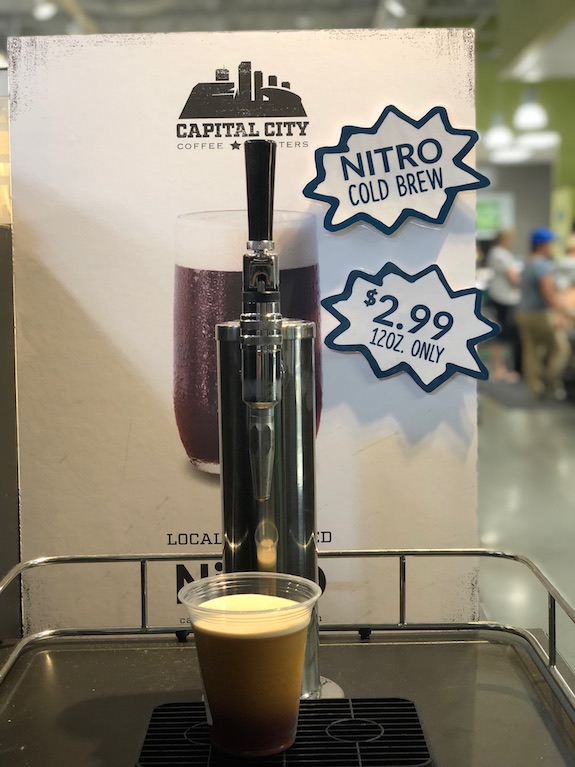 Nitro cold brew coffee, known amongst coffee insiders as "NCB," is quickly becoming many people's favorite way to sip coffee in the summertime, and this past week, it made it into our very own Honest Weight Food Co-op.
So what is it, and what's all the buzz about?
It all starts with cold brew coffee, which is steeped in cold or room temperature water for 12 to 24 hours before being strained and chilled. Because it is never heated, the coffee is less bitter than it's traditional, piping hot cousin or its hot-coffee-made-cold iced sister. At Honest Weight, we make our cold brew in house with Capital City Coffee Roasters Espresso Blend.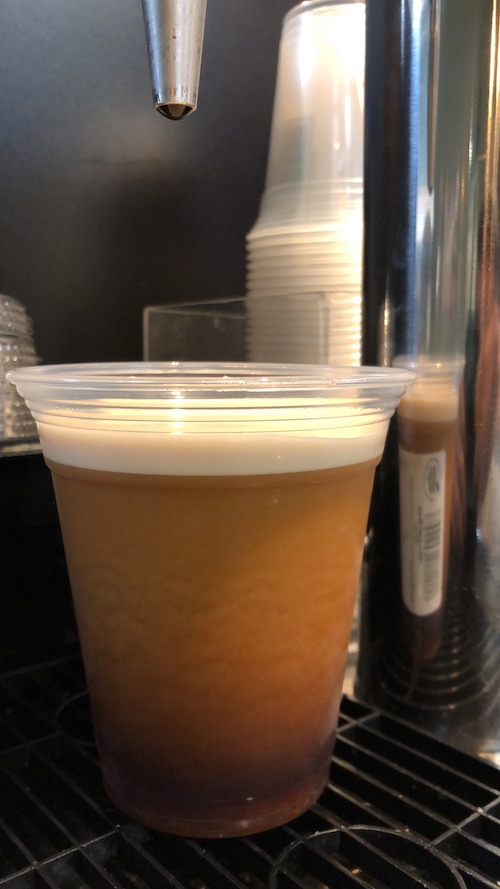 But it doesn't stop there--through ingenuity, science, and the eternal search for a better cuppa, coffee-makers started experimenting with infusing nitrogen into cold coffee sometime between 2011 and 2015 (sources vary and the exact inventor is hard to pin down, though many attribute NCB to Stumptown Roasters in Portland, Oregon). The inspiration comes from creamy Nitro Beers (think Guinness). Compared to the traditional method of infusing beer or other liquids with carbon dioxide, nitrogen bubbles are much smaller and less likely to dissolve in liquid. This creates beer, or, in this case, coffee, that has a thicker, creamier mouthfeel, sweeter taste, and smooth finish.
So when you pour a cup of our Nitro Cold Brew, you'll notice a foamy head, variegated coloring as the bubbles rise to the top, and a rich, full-bodied taste.
And there you have it! Better coffee through science. Try some in one of our compostable cups or bring your own 12 oz. thermos!


Did you know that Honest Weight only sells coffee and teas that are organic and fair-trade?
Upcoming Classes & Events
Cancelled - All Upcoming Classes & Events Until Further Notice
HWFC Fresh News
Honest Weight Food Co-op is happy to announce that we will be 100% Community Solar Powered beginning in January 2021. Want to join us?
Updated Thursday, October 1, 9:00 AM Monday, Wednesday, Friday: Open to elder and high risk shoppers 7am-8am Every Day: Open to all 8am-8pm NEW UPDATE (effective Monday, October 19th) All who enter the co-op must...
We're ecstatic to be the first sponsor of Free Food Fridge Albany, a new grassroots initiative working to provide free and accessible food for marginalized neighborhoods and people. We are...