Honest Weight Goes Community Solar

Let the Sunshine In!
Honest Weight Food Co-op is happy to announce that we will be 100% Community Solar powered beginning in early 2021. We are working with a local company, Bullrock Community Solar, to achieve this exciting goal.  This collaboration is a result of a member-driven initiative to shift the co-op toward more sustainable energy sources, reduce carbon emissions, and protect the future of our planet.
You might be wondering, "What exactly is "Community Solar?" Community Solar is unique in that the power generation system derives its energy from a large number of solar collection panels. These "solar farms" are typically located on large remote tracts of open land. The electricity generated on these farms is channeled directly into the area's power grid, allowing it to be used by anyone once they subscribe to a community solar program. 
There are some amazing benefits of using Community Solar:
It's clean, renewable and safe
It generates zero carbon emissions
It can be used by any National Grid customer
No need to change providers
Renters, homeowners, and many businesses can participate
Doesn't require the purchase/rental of roof-top/backyard panels
There is NO cost to join, participate, or leave the program
No long-term commitment
Reduction of up to 10% on your electricity costs
Honest Weight's Environment Committee has spent the past year carefully reviewing and vetting a number of local solar providers. The committee is comprised of staff and member-owners. They eventually made the recommendation to move forward with Bullrock Solar, one of the most experienced and respected solar companies in the Northeast with deep New York roots.
The great news is that Honest Weight member-owners and customers are invited to join us and make the switch to clean solar energy! By signing up, you can experience all of the benefits of Community Solar with no cost or long-term commitment. 
It's super easy to participate! All you need to do is sign up. Bullrock will analyze your past electricity usage and will reserve a portion of the solar farm's expected output to meet your expected usage. Bullrock communicates your usage information directly with National Grid, who then reduces your electric bill accordingly. You continue to pay your utility bill as usual through National Grid. Pretty simple.

As a thank you for your participation in this program, Bullock will send you either a $25 Honest Weight gift card or make a $25 donation to The Sky is Not Limited, a nonprofit that uses solar to power water project in rural Tanzania. Whichever you choose.
We all know that climate change is happening. It is critical that we continue to find ways to use sustainable, renewable energy and reduce our impact on the planet. Honest Weight is committed to doing our part. Join us and make a difference in our community!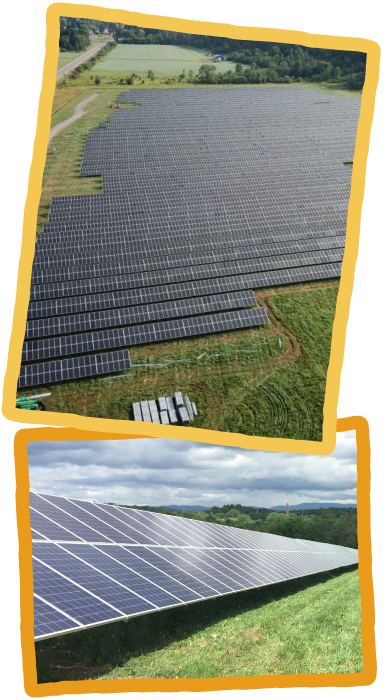 Upcoming Classes & Events
Cancelled - All Upcoming Classes & Events Until Further Notice