Co-op Café Daily Hot Bar Menu
Our Hot Bar offerings change daily, with each menu crafted by one of our entrée chefs.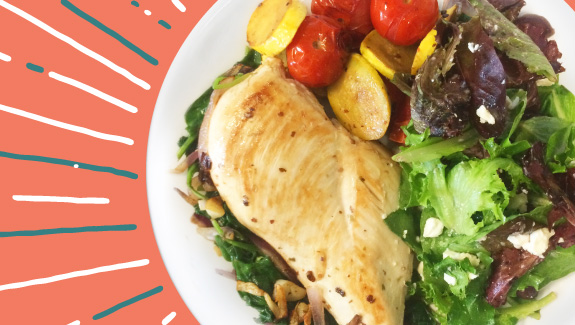 All our food is made fresh from scratch using only natural ingredients, following our strict buying policies, which you can read about in our Food & Product Manual. We always offer vegetarian, vegan, and gluten-free alternatives. Our chefs use organic ingredients whenever feasible, and have partnered with three local farms to provide us with our eleven most-used fruits and vegetables throughout the summer:
You'll notice that the menus often honor the cuisine of a different country or people. Not sure what something is? Just ask! Ingredients are listed at the Hot Bar so you know exactly what you're eating. Enjoy!
Wednesday, July 5th
Chicken Francaise, Tofu Primavera, Penne alla Vodka, Roasted Garlic Parm Potatoes, Balsamic Vegetables, & Broccoli
Thursday, July 6
Honey Mustard Chicken, BBQ Seitan, Parmesan Roasted Cauliflower, Chipotle Sweet Potatoes, Squash and Mushrooms, Broccoli
Friday, July 7
Herbed Wine Fish, Vegan Lasagna, Tarragon Potatoes And Zucchini, Dijon Walnut Quinoa, Roasted Garlic Green Beans, Broccoli
Saturday, July 8
Garlic Caper Chicken, Paprika Tofu, Roasted Onions & Peppers, Wild Rice Pilaf, Ginger Honey Carrots, Broccoli
Sunday, July 9
Grass Fed Beef Taco Bake, Chipotle Seitan & Veggies, Cheesy Jalapeno Corn, Maple Chipotle, Sweet Potatoes, Cilantro Lime Rice, Broccoli
Meatless Monday, July 10
Mexican Polenta, Stuffed Poblanos, Chipotle Lime Sweet Potato, Vegetable Medley, Rice and Beans, Broccoli
Tuesday, July 11
Honey Garlic Ginger Chicken, Orange Tofu and Vegetables, Fried Rice, Ginger Scallion Noodles, Asian Vegetable Trio, and Broccoli
Wednesday, July 12
Sweet Garlic Chicken, Vegetable Fried Rice, Sesame Tofu, Cauliflower Stir Fry, Ginger Chili Sweet Potatoes, Broccoli
Thursday, July 13
Hawaiian BBQ Chicken, Sweet and Sour Tofu, Coconut Rice and Beans, Mango Sesame Carrots
Garlic Pepper Zucchini and Mushrooms, Broccoli
Friday, July 14
Red Pepper Olive Tapenade, Tempeh Mushroom Bean Stew, Creamy Penne, Lemon Kale Quinoa, Dilled Cabbage And Green Beans, Broccoli
Saturday, July 15
Chicken Marsala, Stuffed Peppers, Mashed Potatoes, Green Beans With Almonds, Garlic Yellow Squash, Broccoli
Sunday, July 16
Thai Peanut Chicken, Thai Coconut Curry Tofu, Ginger Lime Stir Fry, Thai Slaw, Basmati Rice with Cumin Seeds, Broccoli
Meatless Monday, July 17
Orange Sesame Tofu, Seitan Asparagus Stir Fry, Miso Sesame Green Bean, Brown Rice, Baby Bok Choy and Mushrooms, Broccoli
Tuesday, July 18
Lemon garlic Chicken, Seitan Con Salsa Verde, Cumin Corn, Peas with Mint, Roasted Potatoes
Wednesday, July 19
Wine Chicken, Smashed Potatoes, Candied Carrots, Seitan Stew, Brown Rice, Broccoli
Thursday, July 20
Chicken Piccata, Marsala Tofu, Penne Alfredo, Balsamic Eggplant, Garlicky Green Beans, Broccoli
Friday, July 21
Blackened Tilapia, Cheesy Corn Rice Bake, Smoky Sweet Potatoes, Baked Beans, Garlic Green Beans with Onions, Broccoli
Saturday, July 22
Beef Lasagna, Ratatouille, Roasted Green Beans, Dill Carrots, Roasted Cauliflower, Broccoli
Sunday, July 23
BBQ Pulled Pork, Seitan & Bean Chili, Corn Bread, Garlic Herb Potatoes, Collard Greens, Broccoli
Meatless Monday, July 24
Kerala Seitan, Vegetable Biryani, Dal, Curried Cauliflower and Potato, Indian-Style Cabbage, Broccoli
Tuesday, July 25
Chicken Riggies, Green Beans with Tomatoes, Utica Greens, Polenta with a Mushroom Ragoût, Pesto Rice
Wednesday, July 26
Citrus Chipotle BBQ Chicken, Golden BBQ Seitan, Peas & Corn, Mac & Cheese, Herb Roasted Potatoes
Thursday, July 27
Oven Fried Chicken, Seitan with Mushroom Gravy, garlic parm potatoes, Green Beans and Peppers, Squash Succotash, Broccoli
Friday, July 28
Tandoori Fish, Indian Lentil Mushroom Stew, Fruit And Nut Basmati, Samosa Potatoes, Curried Cabbage, Broccoli
Saturday, July 29
Herb & Wine Chicken, Mushroom & Swiss Polenta, Garlic Squash, Brown Rice, Roasted Tomatoes & Onions, Broccoli
Sunday, July 30
Chicken with Broccoli & Garlic Sauce, Tofu Stir Fry, Blanched Bok Choy, Szechuan Green Beans, Veggie Fried Rice, Broccoli
Meatless Monday, July 31
TBD
Tuesday, August 1
Char Siu style Chicken, Mock Shredded Szechuan Beef (Seitan), Eggplant Szechuan, Sesame Green beans, Rice