Our most recent Food and Product Manual was approved by our member-owner community and went into effect on 1/29/2017. We routinely change this manual to make sure that we keep current on changes in food, vendors and farms and producers.
Our current manual covers a wide range of ingredients, including artificial flavors, colors and sweeteners, GMO ingredients - all of which we NEVER knowingly sell.
Please Note:
This PDF has been moved to Dropbox. NO Dropbox account is required to view this file.
The below link takes you to Dropbox. All you have to do once you get there is to make sure you click in the text box like in the image below, enter the PDF's password then click OK.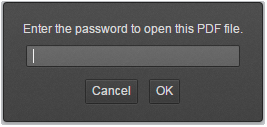 Please make sure that your web browser is updated. We recommend the most current version of Google's Chrome, Apple's Safari or Microsoft's Internet Explorer.

See the PDF of our most current, 2017 Food and Product Manual.



HWFC Fresh News
Where the term "Nest Egg" comes from, what it means, and how to get one.
The more time children spend outdoors, experiencing all nature offers to them, the more likely they will grow to love,...
Indian Ladder Farms just celebrated its centennial. Founded by Peter Gansevoort Ten Eyck in 1916 and located in Altamont, New...