Our Member-Owner Manual offers a tremendous amount of information about being a part of Honest Weight.
Welcome! You are most likely reading this manual because you recently joined the Honest Weight Food Co-op. In so doing, you have become part of not only a local community but a worldwide movement. We want your participation in the Co-op to be an enjoyable and rewarding experience.
This manual is intended to provide you with information about the Co-op's history, guiding principles, and day-to-day operations.
Please Note:
This PDF file has been moved to Dropbox. NO Dropbox account is required to view these files.
The below links take you to Dropbox. All you have to do once you get there is to make sure you click in the text box like in the image below, enter the PDF's password then click OK.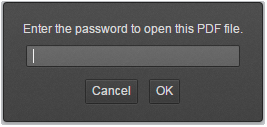 Please make sure that your web browser is updated. We recommend the most current version of Google's Chrome, Apple's Safari or Microsoft's Internet Explorer.

We hope that the manual will answer your questions and encourage you.
Please see our Member-Owner Manual PDF.

HWFC Fresh News
Where the term "Nest Egg" comes from, what it means, and how to get one.