There's Never Been A Better Time to Try Bulk!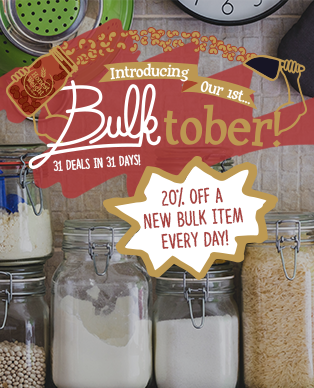 Every day in October, we're featuring a different bulk item on sale. That means our most economical goods are even MORE affordable during the month of Bulktober! With over 999 options, you'll find favorites like freshly-ground peanut butter and coffee, the most affordable dried herbs and spices anywhere, oils, grains, sweets, and healthy alternatives!
Shopping bulk reduces lots of wasteful packaging and it saves you money. Plus, our bulk department is stocked with of whole, unprocessed or minimally processed foods, and lots of organic, Fair Trade, and local options. Buy as much as you want or as little as you need and stock up in Bulktober!
Week #3 Deals!
Saturday, October 13th Organic Blackstrap Molasses, PLU #1404
Sunday, October 14th Organic Yellow Popcorn, PLU#1087
Monday, October 15th Balsamic Vinegar, PLU #1587
Tuesday, October 16th Bella Bounty Biscotti, PLU #1645 LOCAL
Wednesday, October 17th Lotus Bhutanese Red Rice, PLU #1062
Thursday, October 18th Organic Soba Noodles, PLU #1320
Friday, October 19th Organic Regular Rolled Oats, PLU #1055
Saturday, October 20th Freshly Ground Almond Butter, PLU #1796
Sunday, October 21st Sweet Brown Rice Vinegar, PLU #1689