Game Day Recipes: Stuffed Jalapeño Peppers
Spicy food fans will find plenty to cheer about with these jalapeños stuffed with spiced pork and smoked cheddar.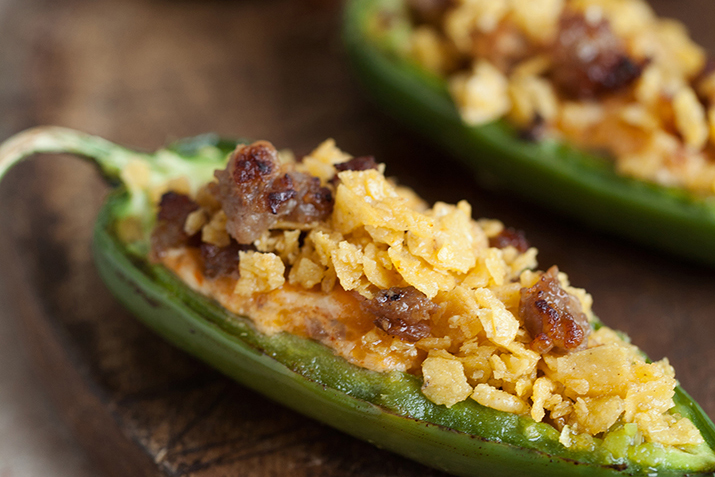 Serves: 18. Prep time: 10 minutes active; 30 minutes total.
Ingredients
9 medium-sized jalapeño peppers
½ pound ground pork sausage
8 ounces cream cheese, softened
1 cup shredded Honest Weight's Moo York Stout Cheddar
2 teaspoons taco seasoning
2 tablespoons butter, melted
½ cup finely-crushed tortilla chips
Preparation
Preheat oven to 375 degrees F. Remove stems and slice each pepper in half lengthwise. Use a spoon to scoop out any seeds and some of the rib to make a boat. Place sausage in a skillet over medium heat and cook until evenly brown. Remove to a paper towel and allow grease to drain. In a bowl, mix the sausage, cream cheese, shredded cheese and seasoning. Press about 1 tablespoon of the sausage mixture into each jalapeño half. The sausage mixture should be just enough to mound above the pepper. Combine the melted butter and crushed tortilla chips in a small bowl or plate. Gently press each pepper, cheese side down, into the chip mixture and arrange the stuffed pepper halves in baking dishes. Bake for 20 minutes, remove from the oven and let sit for a few minutes before serving.